Abstract
Stenotrophomonas maltophilia (Sm) is an archetypal environmental opportunistic bacterium responsible for health care-associated infections. The role of animals in human Sm infections is unknown. This study aims to reveal the genetic and phylogenetic relationships between pathogenic strains of Sm, both animal and human, and identify a putative role for animals as a reservoir in human infection. We phenotypically and genotypically characterized 61 Sm strains responsible for animal infections (mainly respiratory tract infections in horses) from a French nationwide veterinary laboratory network. We tested antimicrobial susceptibility and performed MLST and genogrouping using the concatenation of the seven housekeeping genes from the original MLST scheme. Excluding the eight untypeable strains owing to the lack of gene amplification, only 10 out of the 53 strains yielded a known ST (ST5, ST39, ST162, ST8, ST27, ST126, ST131). The genogroup distribution highlighted not only genogroups (genogroups 5 and 9) comprised exclusively of animal strains but also genogroups shared by human and animal strains. Interestingly, these shared genogroups were primarily groups 2 and 6, which have previously been identified as the two most frequent genogroups among human-pathogenic Sm strains, especially among respiratory pathogens. The antimicrobial susceptibility testing underlined the presence of acquired resistance: 18.8 and 7.5% of the tested isolates were resistant to the sulfonamide-trimethoprim combination and ciprofloxacin, respectively. Animal strains of Sm shared phylogenetic traits with some of the most successful human strains. The exact relationships between the human and animal strains, and the genetic support of these common traits, need to be determined.
Access options
Buy single article
Instant access to the full article PDF.
USD 39.95
Price excludes VAT (USA)
Tax calculation will be finalised during checkout.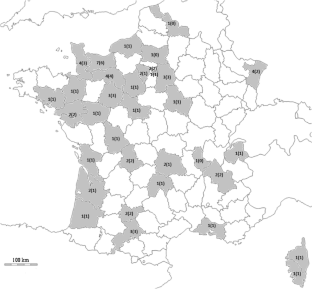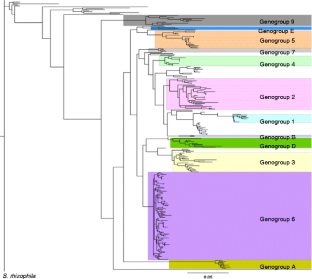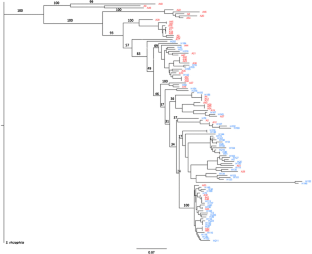 References
Brooke JS (2012) Stenotrophomonas maltophilia: an emerging global opportunistic pathogen. Clin Microbiol Rev 25:2–41

Valdezate S, Vindel A, Martín-Dávila P, Del Saz BS, Baquero F, Cantón R (2004) High genetic diversity among Stenotrophomonas maltophilia strains despite their originating at a single hospital. J Clin Microbiol 42:693–699

Hauben L, Vauterin L, Moore ER, Hoste B, Swings J (1999) Genomic diversity of the genus Stenotrophomonas. Int J Syst Bacteriol 49:1749–1760

Coenye T, Vanlaere E, LiPuma JJ, Vandamme P (2004) Identification of genomic groups in the genus Stenotrophomonas using gyrB RFLP analysis. FEMS Immunol Med Microbiol 40:181–185

Minkwitz A, Berg G (2001) Comparison of antifungal activities and 16S ribosomal DNA sequences of clinical and environmental isolates of Stenotrophomonas maltophilia. J Clin Microbiol 39:139–145

Adamek M, Overhage J, Bathe S, Winter J, Fischer R, Schwartz T (2011) Genotyping of environmental and clinical Stenotrophomonas maltophilia isolates and their pathogenic potential. PLoS One 6(11):e27615. https://doi.org/10.1371/journal.pone.0027615

Kaiser S, Biehler K, Jonas D (2009) A Stenotrophomonas maltophilia multilocus sequence typing scheme for inferring population structure. J Bacteriol 191:2934–2943

Corlouer C, Lamy B, Desroches M, Ramos-Vivas J, Mehiri-Zghal E, Lemenand O et al (2017) Stenotrophomonas maltophilia healthcare-associated infections: identification of two main pathogenic genetic backgrounds. J Hosp Infect 96:183–188

Cerezer VG, Bando SY, Pasternak J, Franzolin MR, Moreira-Filho CA (2014) Phylogenetic analysis of Stenotrophomonas spp. isolates contributes to the identification of nosocomial and community-acquired infections. Biomed Res Int 2014:151405

Winther L, Andersen RM, Baptiste KE, Aalbæk B, Guardabassi L (2010) Association of Stenotrophomonas maltophilia infection with lower airway disease in the horse: a retrospective case series. Vet J 186:358–363

Aujoulat F, Jumas-Bilak E, Masnou A, Sallé F, Faure D, Segonds C, Marchandin H, Teyssier C (2011) Multilocus sequence-based analysis delineates a clonal population of Agrobacterium (Rhizobium) radiobacter (Agrobacterium tumefaciens) of human origin. J Bacteriol 193:2608–2618

Romano S, Aujoulat F, Jumas-Bilak E, Masnou A, Jeannot JL, Falsen E, Marchandin H, Teyssier C (2009) Multilocus sequence typing supports the hypothesis that Ochrobactrum anthropi displays a human-associated subpopulation. BMC Microbiol 9:267

Sorbe A, Chazel M, Gay E, Haenni M, Madec JY, Hendrikx P (2011) A simplified method of performance indicators development for epidemiological surveillance networks—application to the RESAPATH surveillance network. Rev Epidemiol Sante Publique 59:149–158

Dahmen S, Haenni M, Châtre P, Madec JY (2013) Characterization of blaCTX-M IncFII plasmids and clones of Escherichia coli from pets in France. J Antimicrob Chemother 68:2797–2801

Roscetto E, Rocco F, Carlomagno MS, Casalino M, Colonna B, Zarrilli R et al (2008) PCR-based rapid genotyping of Stenotrophomonas maltophilia isolates. BMC Microbiol 8:202

Haenni M, Saras E, Châtre P, Médaille C, Bes M, Madec JY et al (2012) A USA300 variant and other human-related methicillin-resistant Staphylococcus aureus strains infecting cats and dogs in France. J Antimicrob Chemother 67:326–329

Stolle I, Prenger-Berninghoff E, Stamm I, Scheufen S, Hassdenteufel E, Guenther S et al (2013) Emergence of OXA-48 carbapenemase-producing Escherichia coli and Klebsiella pneumoniae in dogs. J Antimicrob Chemother 68:2802–2808

van Belkum A, Melles DC, Peeters JK, van Leeuwen WB, van Duijkeren E, Huijsdens XW et al (2008) Methicillin-resistant and -susceptible Staphylococcus aureus sequence type 398 in pigs and humans. Emerg Infect Dis 14:479–483

Aujoulat F, Roger F, Bourdier A, Lotthé A, Lamy B, Marchandin H, Jumas-Bilak E (2012) From environment to man: genome evolution and adaptation of human opportunistic bacterial pathogens. Genes (Basel) 3:191–232

Domosławska A, Zduńczyk S, Jurczak A, Janowski T (2017) Stenotrophomonas maltophilia isolated from prostatic fluid as an infertility factor in a male dog. Andrologia 2017. https://doi.org/10.1111/and.12769

Johnson EH, Al-Busaidy R, Hameed MS (2003) An outbreak of lymphadenitis associated with Stenotrophomonas (Xanthomonas) maltophilia in Omani goats. J Vet Med B Infect Dis Vet Public Health 50(2):102–104

Pompilio A, Pomponio S, Crocetta V, Gherardi G, Verginelli F, Fiscarelli E et al (2011) Phenotypic and genotypic characterization of Stenotrophomonas maltophilia isolates from patients with cystic fibrosis: genome diversity, biofilm formation, and virulence. BMC Microbiol 11:159

Gherardi G, Creti R, Pompilio A, Di Bonaventura G (2015) An overview of various typing methods for clinical epidemiology of the emerging pathogen Stenotrophomonas maltophilia. Diagn Microbiol Infect Dis 81:219–226

Cho HH, Sung JY, Kwon KC, Koo SH (2012) Expression of Sme efflux pumps and multilocus sequence typing in clinical isolates of Stenotrophomonas maltophilia. Ann Lab Med 32:38–43

Falagas ME, Kastoris AC, Vouloumanou EK, Dimopoulos G (2009) Community-acquired Stenotrophomonas maltophilia infections: a systematic review. Eur J Clin Microbiol Infect Dis 28:719–730

Ohnishi M, Sawada T, Marumo K, Harada K, Hirose K, Shimizu A et al (2012) Antimicrobial susceptibility and genetic relatedness of bovine Stenotrophomonas maltophilia isolates from a mastitis outbreak. Lett Appl Microbiol 54:572–576

Grave K, Torren-Edo J, Muller A, Greko C, Moulin G, Mackay D et al (2014) Variations in the sales and sales patterns of veterinary antimicrobial agents in 25 European countries. J Antimicrob Chemother 69:2284–2291
Acknowledgments
The authors would like to thank the veterinary laboratories participating to the RESAPATH network and Professor Henri-Jean Boulouis (Ecole nationale vétérinaire d'Alfort, France).
Ethics declarations
Conflict of interest
The authors declare that they have no conflicts of interest.
Ethical approval
Not applicable
Informed consent
Not applicable
Electronic supplementary material
About this article
Cite this article
Jayol, A., Corlouer, C., Haenni, M. et al. Are animals a source of Stenotrophomonas maltophilia in human infections? Contributions of a nationwide molecular study. Eur J Clin Microbiol Infect Dis 37, 1039–1045 (2018). https://doi.org/10.1007/s10096-018-3203-0
Received:

Accepted:

Published:

Issue Date:

DOI: https://doi.org/10.1007/s10096-018-3203-0
Keywords
Genogroup

Animal Strains

Multilocus Sequence Typing (MLST)

Human Strains

Trimethoprim-sulfonamide Combinations