Abstract
Pneumocystis pneumonia is a serious complication that may affect immunosuppressed patients. The absence of reliable and safe therapeutic alternatives to trimethoprim–sulfamethoxazole (TMP/SMX) justifies the search for more effective and less toxic agents. In this study, the in vitro and in vivo anti-Pneumocystis jirovecii activity of iclaprim, a diaminopyrimidine compound that exerts its antimicrobial activity through the inhibition of dihydrofolate reductase (DHFR), as does TMP, was evaluated alone or in combination with SMX. The antimicrobial activity of iclaprim was tested in vitro using an efficient axenic culture system, and in vivo using P. carinii endotracheally inoculated corticosteroid-treated rats. Animals were orally administered iclaprim (5, 25, 50 mg/kg/day), iclaprim/SMX (5/25, 25/125, 50/250 mg/kg/day), TMP (50 mg/kg/day), or TMP/SMX (50/250 mg/kg/day) once a day for ten consecutive days. The in vitro maximum effect (Emax) and the drug concentrations needed to reach 50% of Emax (EC50) were determined, and the slope of the dose–response curve was estimated by the Hill equation (Emax sigmoid model). The iclaprim EC50 value was 20.3 μg/mL. This effect was enhanced when iclaprim was combined with SMX (EC50: 13.2/66 μg/mL) (p = 0.002). The TMP/SMX EC50 value was 51.4/257 μg/mL. In vivo, the iclaprim/SMX combination resulted in 98.1% of inhibition compared to TMP/SMX, which resulted in 86.6% of inhibition (p = 0.048). Thus, overall, the iclaprim/SMX combination was more effective than TMP/SMX both in vitro and in vivo, suggesting that it could be an alternative therapy to the TMP/SMX combination for the treatment of Pneumocystis pneumonia.
This is a preview of subscription content, log in to check access.
Access options
Buy single article
Instant access to the full article PDF.
US$ 39.95
Price includes VAT for USA
Subscribe to journal
Immediate online access to all issues from 2019. Subscription will auto renew annually.
US$ 99
This is the net price. Taxes to be calculated in checkout.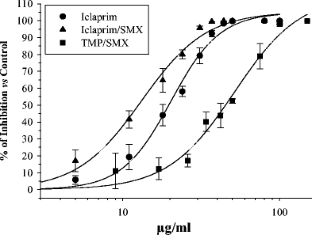 References
1.

Bonnet F, Lewden C, May T, Heripret L, Jougla E, Bevilacqua S, Costagliola D, Salmon D, Chêne G, Morlat P; Mortalité 2000 Study Group (2005) Opportunistic infections as causes of death in HIV-infected patients in the HAART era in France. Scand J Infect Dis 37:482–487. https://doi.org/10.1080/00365540510035328

2.

Li MC, Lee NY, Lee CC, Lee HC, Chang CM, Ko WC (2014) Pneumocystis jiroveci pneumonia in immunocompromised patients: delayed diagnosis and poor outcomes in non-HIV-infected individuals. J Microbiol Immunol Infect 47:42–47. https://doi.org/10.1016/j.jmii.2012.08.024

3.

Lv J, Zhang H, Cui Z, Su T, Zhang Y, Wang H (2008) Delayed severe pneumonia in mycophenolate mofetil-treated patients with IgA nephropathy. Nephrol Dial Transplant 23(9):2668–2672. https://doi.org/10.1093/ndt/gfn161

4.

Ye WL, Tang N, Wen YB, Li H, Li MX, Du B, Li XM (2016) Underlying renal insufficiency: the pivotal risk factor for Pneumocystis jirovecii pneumonia in immunosuppressed patients with non-transplant glomerular disease. Int Urol Nephrol 48(11):1863–1871. https://doi.org/10.1007/s11255-016-1324-x

5.

Martin SI, Fishman JA; AST Infectious Diseases Community of Practice (2013) Pneumocystis pneumonia in solid organ transplantation. Am J Transplant 13(Suppl 4):272–279. https://doi.org/10.1111/ajt.12119

6.

Yale SH, Limper AH (1996) Pneumocystis carinii pneumonia in patients without acquired immunodeficiency syndrome: associated illnesses and prior corticosteroid therapy. Mayo Clin Proc 71:5–13. https://doi.org/10.4065/71.1.5

7.

Boonsarngsuk V, Sirilak S, Kiatboonsri S (2009) Acute respiratory failure due to Pneumocystis pneumonia: outcome and prognostic factors. Int J Infect Dis 13:59–66. https://doi.org/10.1016/j.ijid.2008.03.027

8.

Wakefield AE, Stewart TJ, Moxon ER, Marsh K, Hopkin JM (1990) Infection with Pneumocystis carinii is prevalent in healthy Gambian children. Trans R Soc Trop Med Hyg 84:800–802. https://doi.org/10.1016/0035-9203(90)90087-U

9.

Larsen HH, von Linstow ML, Lundgren B, Høgh B, Westh H, Lundgren JD (2007) Primary Pneumocystis infection in infants hospitalized with acute respiratory tract infection. Emerg Infect Dis 13(1):66–72. https://doi.org/10.3201/eid1301.060315

10.

Medrano FJ, Montes-Cano M, Conde M, de la Horra C, Respaldiza N, Gasch A, Perez-Lozano MJ, Varela JM, Calderon EJ (2005) Pneumocystis jirovecii in general population. Emerg Infect Dis 11:245–250. https://doi.org/10.3201/eid1102.040487

11.

Chabé M, Vargas SL, Eyzaguirre I, Aliouat EM, Follet-Dumoulin A, Creusy C, Fleurisse L, Recourt C, Camus D, Dei-Cas E, Durand-Joly I (2004) Molecular typing of Pneumocystis jirovecii found in formalin-fixed paraffin-embedded lung tissue sections from sudden infant death victims. Microbiology 150:1167–1172. https://doi.org/10.1099/mic.0.26895-0

12.

Vargas SL, Ponce CA, Gálvez P, Ibarra C, Haas EA, Chadwick AE, Krous HF (2007) Pneumocystis is not a direct cause of sudden infant death syndrome. Pediatr Infect Dis J 26(1):81–83. https://doi.org/10.1097/01.inf.0000247071.40739.fd

13.

Vargas SL, Ponce CA, Sanchez CA, Ulloa AV, Bustamante R, Juarez G (2003) Pregnancy and asymptomatic carriage of Pneumocystis jiroveci. Emerg Infect Dis 9(5):605–606. https://doi.org/10.3201/eid0905.020660

14.

Calderón EJ, Regordan C, Medrano FJ, Ollero M, Varela JM (1996) Pneumocystis carinii infection in patients with chronic bronchial disease. Lancet 347(9006):977

15.

Calderón EJ, Rivero L, Respaldiza N, Morilla R, Montes-Cano MA, Friaza V, Muñoz-Lobato F, Varela JM, Medrano FJ, De La Horra C (2007) Systemic inflammation in patients with chronic obstructive pulmonary disease who are colonized with Pneumocystis jiroveci. Clin Infect Dis 45(2):e17–e19. https://doi.org/10.1086/518989

16.

Probst M, Ries H, Schmidt-Wieland T, Serr A (2000) Detection of Pneumocystis carinii DNA in patients with chronic lung diseases. Eur J Clin Microbiol Infect Dis 19:644–645. https://doi.org/10.1007/s100960000329

17.

Vilar FJ, Khoo SH, Walley T (1999) The management of Pneumocystis carinii pneumonia. Br J Clin Pharmacol 47(6):605–609. https://doi.org/10.1046/j.1365-2125.1999.00966.x

18.

WHO Media centre (2007) Fact sheet: the top ten causes of death. World Health Organization (WHO). Available online at: http://www.who.int/mediacentre/factsheets/fs310.pdf. Accessed 14 Nov 2017

19.

Lawson DH, Paice BJ (1982) Adverse reactions to trimethoprim–sulfamethoxazole. Rev Infect Dis 4:429–433

20.

Fraser TN, Avellaneda AA, Graviss EA, Musher DM (2012) Acute kidney injury associated with trimethoprim/sulfamethoxazole. J Antimicrob Chemother 67:1271–1277. https://doi.org/10.1093/jac/dks030

21.

Lee KY, Huang CH, Tang HJ, Yang CJ, Ko WC, Chen YH, Lee YC, Hung CC (2012) Acute psychosis related to use of trimethoprim/sulfamethoxazole in the treatment of HIV-infected patients with Pneumocystis jirovecii pneumonia: a multicentre, retrospective study. J Antimicrob Chemother 67:2749–2754. https://doi.org/10.1093/jac/dks283

22.

Ho JM, Juurlink DN (2011) Considerations when prescribing trimethoprim–sulfamethoxazole. CMAJ 183:1851–1858. https://doi.org/10.1503/cmaj

23.

Yang JJ, Huang CH, Liu CE, Tang HJ, Yang CJ, Lee YC, Lee KY, Tsai MS, Lin SW, Chen YH, Lu PL, Hung CC (2014) Multicenter study of trimethoprim/sulfamethoxazole-related hepatotoxicity: incidence and associated factors among HIV-infected patients treated for Pneumocystis jirovecii pneumonia. PLoS One 9(9):e106141. https://doi.org/10.1371/journal.pone.0106141

24.

Helweg-Larsen J, Benfield TL, Eugen-Olsen J, Lundgren JD, Lundgren B (1999) Effects of mutations in Pneumocystis carinii dihydropteroate synthase gene on outcome of AIDS-associated P carinii pneumonia. Lancet 354:1347–1351. https://doi.org/10.1016/S0140-6736(99)03320-6

25.

Alvarez-Martínez MJ, Moreno A, Miró JM, Valls ME, Rivas PV, de Lazzari E, Sued O, Benito N, Domingo P, Ribera E, Santín M, Sirera G, Segura F, Vidal F, Rodríguez F, Riera M, Cordero ME, Arribas JR, Jiménez de Anta MT, Gatell JM, Wilson PE, Meshnick SR; Spanish PCP Working Group (2008) Pneumocystis jirovecii pneumonia in Spanish HIV-infected patients in the combined antiretroviral therapy era: prevalence of dihydropteroate synthase mutations and prognostic factors of mortality. Diagn Microbiol Infect Dis 62:34–43. https://doi.org/10.1016/j.diagmicrobio.2008.04.016

26.

Navin TR, Beard CB, Huang L, del Rio C, Lee S, Pieniazek NJ, Carter JL, Le T, Hightower A, Rimland D (2001) Effect of mutations in Pneumocystis jirovecii dihydropteroate synthase gene on outcome of P jirovecii pneumonia in patients with HIV-1: a prospective study. Lancet 358:545–549. https://doi.org/10.1016/S0140-6736(01)05705-1

27.

Queener SF, Cody V, Pace J, Torkelson P, Gangjee A (2013) Trimethoprim resistance of dihydrofolate reductase variants from clinical isolates of Pneumocystis jirovecii. Antimicrob Agents Chemothdicper 57:4990–4998. https://doi.org/10.1128/AAC.01161-13

28.

Crothers K, Beard CB, Turner J, Groner G, Fox M, Morris A, Eiser S, Huang L (2005) Severity and outcome of HIV-associated Pneumocystis pneumonia containing Pneumocystis jirovecii dihydropteroate synthase gene mutations. AIDS 19(8):801–805. https://doi.org/10.1097/01.aids.0000168974.67090.70

29.

Ma L, Borio L, Masur H, Kovacs JA (1999) Pneumocystis carinii dihydropteroate synthase but not dihydrofolate reductase gene mutations correlate with prior trimethoprim–sulfamethoxazole or dapsone use. J Infect Dis 180(6):1969–1978. https://doi.org/10.1086/315148

30.

Vedantam G, Guay GG, Austria NE, Doktor SZ, Nichols BP (1998) Characterization of mutations contributing to sulfathiazole resistance in Escherichia coli. Antimicrob Agents Chemother 42:88–93

31.

Lopez P, Espinosa M, Greenberg B, Lacks SA (1987) Sulfonamide resistance in Streptococcus pneumoniae: DNA sequence of the gene encoding dihydropteroate synthase and characterization of the enzyme. J Bacteriol 169:4320–4326. https://doi.org/10.1128/jb.169.9.4320-4326.1987

32.

Brooks DR, Wang P, Read M, Watkins WM, Sims PF, Hyde JE (1994) Sequence variation of the hydroxymethyldihydropterin pyrophosphokinase: dihydropteroate synthase gene in lines of the human malaria parasite, Plasmodium falciparum, with differing resistance to sulfadoxine. Eur J Biochem 224:397–405. https://doi.org/10.1111/j.1432-1033.1994.00397.x

33.

Triglia T, Menting JG, Wilson C, Cowman AF (1997) Mutations in dihydropteroate synthase are responsible for sulfone and sulfonamide resistance in Plasmodium falciparum. Proc Natl Acad Sci U S A 94:13944–13949

34.

Kazanjian P, Armstrong W, Hossler PA, Burman W, Richardson J, Lee CH, Crane L, Katz J, Meshnick SR (2000) Pneumocystis carinii mutations are associated with duration of sulfa or sulfone prophylaxis exposure in AIDS patients. J Infect Dis 182:551–557. https://doi.org/10.1086/315719

35.

Huang L, Morris A, Limper AH, Beck JM; ATS Pneumocystis Workshop Participants (2006) An Official ATS Workshop Summary: recent advances and future directions in Pneumocystis pneumonia (PCP). Proc Am Thorac Soc 3(8):655–664. https://doi.org/10.1513/pats.200602-015MS

36.

Briceland LL, Bailie GR (1991) Pentamidine-associated nephrotoxicity and hyperkalemia in patients with AIDS. DICP 25:1171–1174

37.

Lachaal M, Venuto RC (1989) Nephrotoxicity and hyperkalemia in patients with acquired immunodeficiency syndrome treated with pentamidine. Am J Med 87:260–263. https://doi.org/10.1016/S0002-9343(89)80147-0

38.

Haile LG, Flaherty JF (1993) Atovaquone: a review. Ann Pharmacother 27(12):1488–1494. https://doi.org/10.1177/106002809302701215

39.

Hawser S, Lociuro S, Islam K (2006) Dihydrofolate reductase inhibitors as antibacterial agents. Biochem Pharmacol 71:941–948. https://doi.org/10.1016/j.bcp.2005.10.052

40.

Kohlhoff SA, Sharma R (2007) Iclaprim. Expert Opin Investig Drugs 16(9):1441–1448. Erratum in: Expert Opin Investig Drugs. 2007 Nov;16(11):1867. https://doi.org/10.1517/13543784.16.9.1441

41.

Dei-Cas E, Cailliez JC; European Concerted Action on Pneumocystis carinii (1996) In vitro systems in Pneumocystis research. Parasitol Today 12:245–249. https://doi.org/10.1016/0169-4758(96)80812-X

42.

Dei-Cas E, Brun-Pascaud M, Bille-Hansen V, Allaert A, Aliouat EM (1998) Animal models of pneumocystosis. FEMS Immunol Med Microbiol 22:163–168. https://doi.org/10.1111/j.1574-695X.1998.tb01201.x

43.

Aviles P, Aliouat EM, Martinez A, Dei-Cas E, Herreros E, Dujardin L, Gargallo-Viola D (2000) In vitro pharmacodynamic parameters of sordarin derivatives in comparison with those of marketed compounds against Pneumocystis carinii isolated from rats. Antimicrob Agents Chemother 44:1284–1290. https://doi.org/10.1128/AAC.44.5.1284-1290.2000

44.

Aliouat EM, Martinez A, Jimenez E, Dei-Cas E, Mullet C, Delcourt P, Gargallo-Viola D (1997) Development of pneumocystosis animal models: corticosteroid-treated Wistar rat; SCID mouse and nude rat. J Eukaryot Microbiol 44:41S–42S. https://doi.org/10.1111/j.1550-7408.1997.tb05765.x

45.

Aliouat el-M, Dujardin L, Martínez A, Duriez T, Ricard I, Dei-Cas E (1999) Pneumocystis carinii growth kinetics in culture systems and in hosts: involvement of each life cycle parasite stage. J Eukaryot Microbiol 46:116S–117S

46.

Garry S, Nesslany F, Aliouat E, Haguenoer JM, Marzin D (2003) Hematite (Fe(2)O(3)) enhances benzo[a]pyrene genotoxicity in endotracheally treated rat, as determined by comet assay. Mutat Res 538:19–29. https://doi.org/10.1016/S1383-5718(03)00082-2

47.

Schmatz DM, Powles M, McFadden DC, Pittarelli LA, Liberator PA, Anderson JW (1991) Treatment and prevention of Pneumocystis carinii pneumonia and further elucidation of the P. carinii life cycle with 1,3-beta-glucan synthesis inhibitor L-671,329. J Protozool 38(6):151S–153S

48.

Cushion MT, Linke MJ, Ashbaugh A, Sesterhenn T, Collins MS, Lynch K, Brubaker R, Walzer PD (2010) Echinocandin treatment of Pneumocystis pneumonia in rodent models depletes cysts leaving trophic burdens that cannot transmit the infection. PLoS One 5(1):e8524. https://doi.org/10.1371/journal.pone.0008524

49.

Beltz K, Kramm CM, Laws HJ, Schroten H, Wessalowski R, Göbel U (2006) Combined trimethoprim and caspofungin treatment for severe Pneumocystis jiroveci pneumonia in a five year old boy with acute lymphoblastic leukemia. Klin Padiatr 218:177–179. https://doi.org/10.1055/s-2006-933433

50.

Utili R, Durante-Mangoni E, Basilico C, Mattei A, Ragone E, Grossi P (2007) Efficacy of caspofungin addition to trimethoprim–sulfamethoxazole treatment for severe Pneumocystis pneumonia in solid organ transplant recipients. Transplantation 84:685–688. https://doi.org/10.1097/01.tp.0000280546.91617.6c

51.

Tu GW, Ju MJ, Xu M, Rong RM, He YZ, Xue ZG, Zhu TY, Luo Z (2013) Combination of caspofungin and low-dose trimethoprim/sulfamethoxazole for the treatment of severe Pneumocystis jirovecii pneumonia in renal transplant recipients. Nephrology (Carlton) 18:736–742. https://doi.org/10.1111/nep.12133

52.

Li H, Huang H, He H (2016) Successful treatment of severe Pneumocystis pneumonia in an immunosuppressed patient using caspofungin combined with clindamycin: a case report and literature review. BMC Pulm Med 16:144. https://doi.org/10.1186/s12890-016-0307-0

53.

Lee WS, Hsueh PR, Hsieh TC, Chen FL, Ou TY, Jean SS (2017) Caspofungin salvage therapy in Pneumocystis jirovecii pneumonia. J Microbiol Immunol Infect 50(4):547–548. https://doi.org/10.1016/j.jmii.2016.03.008

54.

National Committee for Clinical Laboratory Standards (NCCLS) (1997) Reference method for broth dilution antifungal susceptibility testing of yeasts; Approved standard M27-A. NCCLS, Villanova

55.

Stringer JR (1996) Pneumocystis carinii: what is it, exactly? Clin Microbiol Rev 9:489–498

56.

Cailliez JC, Séguy N, Denis CM, Aliouat EM, Mazars E, Polonelli L, Camus D, Dei-Cas E (1996) Pneumocystis carinii: an atypical fungal micro-organism. J Med Vet Mycol 34:227–239

57.

Dei-Cas E, Aliouat EM, Cailliez JC (2004) Cellular structure. In: Walzer PD, Cushion MT (eds) Pneumocystis pneumonia, 3rd edn. Marcel Dekker, New York, pp 61–94

58.

Pasqualotto AC, Denning DW (2008) New and emerging treatments for fungal infections. J Antimicrob Chemother 61(Suppl 1):i19–i30. https://doi.org/10.1093/jac/dkm428

59.

Dei-Cas E, Fleurisse L, Aliouat EM, Bahon-Le Capon J, Cailliez JC, Creusy C (1998) Morphological and ultrastructural methods for Pneumocystis. FEMS Immunol Med Microbiol 22:185–189. https://doi.org/10.1111/j.1574-695X.1998.tb01205.x

60.

Dei-Cas E, Chabé M, Moukhlis R, Durand-Joly I, Aliouat el M, Stringer JR, Cushion M, Noël C, de Hoog GS, Guillot J, Viscogliosi E (2006) Pneumocystis oryctolagi sp. nov., an uncultured fungus causing pneumonia in rabbits at weaning: review of current knowledge, and description of a new taxon on genotypic, phylogenetic and phenotypic bases. FEMS Microbiol Rev 30:853–871. https://doi.org/10.1111/j.1574-6976.2006.00037.x

61.

Bartlett MS, Fishman JA, Queener SF, Durkin MM, Jay MA, Smith JW (1988) New rat model of Pneumocystis carinii infection. J Clin Microbiol 26(6):1100–1102

62.

Andrews J, Honeybourne D, Ashby J, Jevons G, Fraise A, Fry P, Warrington S, Hawser S, Wise R (2007) Concentrations in plasma, epithelial lining fluid, alveolar macrophages and bronchial mucosa after a single intravenous dose of 1.6 mg/kg of iclaprim (AR-100) in healthy men. J Antimicrob Chemother 60:677–680. https://doi.org/10.1093/jac/dkm242

63.

Huang DB, File TM Jr, Torres A, Shorr AF, Wilcox MH, Hadvary P, Dryden M, Corey GR (2017) A phase II randomized, double-blind, multicenter study to evaluate efficacy and safety of intravenous iclaprim versus vancomycin for the treatment of nosocomial pneumonia suspected or confirmed to be due to gram-positive pathogens. Clin Ther 39:1706–1718. https://doi.org/10.1016/j.clinthera.2017.07.007
Funding
This study was funded by Motif BioSciences Inc., New York, USA.
Ethics declarations
Conflict of interest
DBH is an employee of Motif BioSciences. SH is an employee of IHMA.
Ethical approval
This research involved animals. All procedures in this research were in compliance with the Animal Welfare Act, the Guide for the Care and Use of Laboratory Animals, and the Office of Laboratory Animal Welfare.
Additional information
E. Dei-Cas died before publication of this work was completed.
About this article
Cite this article
Aliouat, E.M., Dei-Cas, E., Gantois, N. et al. In vitro and in vivo activity of iclaprim, a diaminopyrimidine compound and potential therapeutic alternative against Pneumocystis pneumonia. Eur J Clin Microbiol Infect Dis 37, 409–415 (2018). https://doi.org/10.1007/s10096-018-3184-z
Received:

Accepted:

Published:

Issue Date:
Keywords
Iclaprim

Pneumocystis Pneumonia (PcP)

To Trimethoprim-sulfamethoxazole (TMP/SMX)

Jirovecii

Dihydrofolate Reductase