Abstract
Multidrug-resistant (MR) Gram-negative (GN) pathogens pose a major and growing threat for healthcare systems, as therapy of infections is often limited due to the lack of available systemic antibiotics. Well-tolerated antiseptics, such as octenidine dihydrochloride (OCT), may be a very useful tool in infection control to reduce the dissemination of MRGN. This study aimed to investigate the bactericidal activity of OCT against international epidemic clones of MRGN. A set of five different species (Escherichia coli, Klebsiella pneumoniae, Enterobacter cloacae, Acinetobacter baumannii, and Pseudomonas aeruginosa) was studied to prove OCT efficacy without organic load, under "clean conditions" (0.3 g/L albumin) and under "dirty conditions" (3 g/L albumin + 3 mL/L defibrinated sheep blood), according to an official test norm (EN13727). We used five clonally unrelated isolates per species, including a susceptible wild-type strain, and four MRGN isolates, corresponding to either the 3MRGN or 4MRGN definition of multidrug resistance. A contact time of 1 min was fully effective for all isolates by using different OCT concentrations (0.01% and 0.05%), with a bacterial reduction factor of >5 log10 systematically observed. Growth kinetics were determined with two different wild-type strains (A. baumannii and K. pneumoniae), proving a time-dependent efficacy of OCT. These results highlight that OCT may be extremely useful to eradicate emerging highly resistant Gram-negative pathogens associated with nosocomial infections.
Access options
Buy single article
Instant access to the full article PDF.
US$ 39.95
Tax calculation will be finalised during checkout.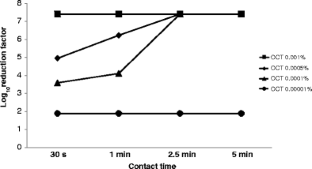 References
1.

Laxminarayan R, Duse A, Wattal C, Zaidi AK, Wertheim HF, Sumpradit N, Vlieghe E, Hara GL, Gould IM, Goossens H, Greko C, So AD, Bigdeli M, Tomson G, Woodhouse W, Ombaka E, Peralta AQ, Qamar FN, Mir F, Kariuki S, Bhutta ZA, Coates A, Bergstrom R, Wright GD, Brown ED, Cars O (2013) Antibiotic resistance—the need for global solutions. Lancet Infect Dis 13(12):1057–1098

2.

Cerceo E, Deitelzweig SB, Sherman BM, Amin AN (2016) Multidrug-resistant gram-negative bacterial infections in the hospital setting: overview, implications for clinical practice, and emerging treatment options. Microb Drug Resist 22(5):412–431

3.

Potron A, Poirel L, Nordmann P (2015) Emerging broad-spectrum resistance in Pseudomonas aeruginosa and Acinetobacter baumannii: mechanisms and epidemiology. Int J Antimicrob Agents 45(6):568–585

4.

Nordmann P, Poirel L (2014) The difficult-to-control spread of carbapenemase producers among Enterobacteriaceae worldwide. Clin Microbiol Infect 20(9):821–830

5.

Huang SS, Septimus E, Kleinman K, Moody J, Hickok J, Avery TR, Lankiewicz J, Gombosev A, Terpstra L, Hartford F, Hayden MK, Jernigan JA, Weinstein RA, Fraser VJ, Haffenreffer K, Cui E, Kaganov RE, Lolans K, Perlin JB, Platt R; CDC Prevention Epicenters Program; AHRQ DECIDE Network and Healthcare-Associated Infections Program (2013) Targeted versus universal decolonization to prevent ICU infection. N Engl J Med 368(24):2255–2265

6.

Climo MW, Yokoe DS, Warren DK, Perl TM, Bolon M, Herwaldt LA, Weinstein RA, Sepkowitz KA, Jernigan JA, Sanogo K, Wong ES (2013) Effect of daily chlorhexidine bathing on hospital-acquired infection. N Engl J Med 368(6):533–542

7.

Apisarnthanarak A, Yang Hsu L, Lim TP, Mundy LM (2014) Increase in chlorhexidine minimal inhibitory concentration of Acinetobacter baumannii clinical isolates after implementation of advanced source control. Infect Control Hosp Epidemiol 35:98–99

8.

Naparstek L, Carmeli Y, Chmelnitsky I, Banin E, Navon-Venezia S (2012) Reduced susceptibility to chlorhexidine among extremely-drug-resistant strains of Klebsiella pneumoniae. J Hosp Infect 81:15–19

9.

Fernández-Cuenca F, Tomás M, Caballero-Moyano FJ, Bou G, Martínez-Martínez L, Vila J, Pachón J, Cisneros JM, Rodríguez-Baño J, Pascual Á; Spanish Group of Nosocomial Infections (GEIH) from the Spanish Society of Clinical Microbiology and Infectious Diseases (SEIMC) and the Spanish Network for Research in Infectious Diseases (REIPI); Spanish Group of Nosocomial Infections GEIH from the Spanish Society of Clinical Microbiology and Infectious Diseases SEIMC and the Spanish Network for Research in Infectious Diseases REIPI (2015) Reduced susceptibility to biocides in Acinetobacter baumannii: association with resistance to antimicrobials, epidemiological behaviour, biological cost and effect on the expression of genes encoding porins and efflux pumps. J Antimicrob Chemother 70(12):3222–3229

10.

Conceição T, de Lencastre H, Aires-de-Sousa M (2016) Efficacy of octenidine against antibiotic-resistant Staphylococcus aureus epidemic clones. J Antimicrob Chemother 71(10):2991–2994

11.

Goroncy-Bermes P, Brill FHH, Brill H (2013) Antimicrobial activity of wound antiseptics against extended-spectrum β-lactamase-producing bacteria. Wound Med 1:41–43

12.

Koburger T, Hübner NO, Braun M, Siebert J, Kramer A (2010) Standardized comparison of antiseptic efficacy of triclosan, PVP-iodine, octenidine dihydrochloride, polyhexanide and chlorhexidine digluconate. J Antimicrob Chemother 65(8):1712–1719

13.

European Committee on Antimicrobial Susceptibility Testing (EUCAST) (2016) Breakpoint tables for interpretation of MICs and zone diameters. Version 6.0. http://www.eucast.org/fileadmin/src/media/PDFs/EUCAST_files/Breakpoint_tables/v_6.0_Breakpoint_table.pdf. Accessed 7 Dec 2016

14.

Robert Koch-Institut (2012) Hygienemaßnahmen bei Infektionen oder Besiedlung mit multiresistenten gramnegativen Stäbchen. Empfehlung der Kommission für Krankenhaushygiene und Infektionsprävention (KRINKO) beim Robert Koch-Institut (RKI). Bundesgesundheitsbl 55:1311–1354

15.

Clinical and Laboratory Standards Institute (CLSI) (2007) Performance standards for antimicrobial susceptibility testing; 17th informational supplement. CLSI document M100-S17. CLSI, Wayne, PA

16.

British Standards Institute (2013) BS EN 13727:2012+A1:2013. Chemical disinfectants and antiseptics. Quantitative suspension test for the evaluation of fungicidal or yeasticidal activity in the medical area. Test method and requirements (phase 2, step 1), English version. European Committee for Standardization, Brussels

17.

Morrissey I, Oggioni MR, Knight D, Curiao T, Coque T, Kalkanci A, Martinez JL; BIOHYPO Consortium (2014) Evaluation of epidemiological cut-off values indicates that biocide resistant subpopulations are uncommon in natural isolates of clinically-relevant microorganisms. PLoS One 9(1):e86669

18.

Hübner NO, Siebert J, Kramer A (2010) Octenidine dihydrochloride, a modern antiseptic for skin, mucous membranes and wounds. Skin Pharmacol Physiol 23:244–258

19.

Gastmeier P, Kämpf KP, Behnke M, Geffers C, Schwab F (2016) An observational study of the universal use of octenidine to decrease nosocomial bloodstream infections and MDR organisms. J Antimicrob Chemother 71(9):2569–2576
Acknowledgments
This study was partially supported by Schülke & Mayr GmbH and the University of Fribourg. Active compounds were provided by Schülke & Mayr GmbH, Norderstedt, Germany.
Ethics declarations
Ethical approval
Not applicable.
Conflict of interest
L.P. received honoraria from Schülke & Mayr GmbH as a speaker for presenting data resulting from this study in international conferences.
Informed consent
Not applicable.
About this article
Cite this article
Alvarez-Marin, R., Aires-de-Sousa, M., Nordmann, P. et al. Antimicrobial activity of octenidine against multidrug-resistant Gram-negative pathogens. Eur J Clin Microbiol Infect Dis 36, 2379–2383 (2017). https://doi.org/10.1007/s10096-017-3070-0
Received:

Accepted:

Published:

Issue Date:
Keywords
Multidrug-resistant Gram-negative Pathogens

Octenidine Dihydrochloride

Dirty Conditions

Defibrinated Sheep Blood

Time-dependent Efficacy