Abstract
Cross-resistance (CR) between voriconazole and fluconazole for non-albicans Candida (NAC) species is not uncommon, but little is known about the risk factors and clinical consequences associated with this resistance phenotype. A case-case-control study was performed at a university-affiliated hospital in China between November 2012 and April 2016. The two case groups respectively comprised patients with a mono-resistance (MR) NAC infection (fluconazole or voriconazole resistance) and patients with a CR NAC infection (fluconazole and voriconazole resistance). Patients with a no-resistance (NR) NAC infection were included as the control group. Models were adjusted for demographic and clinical risk factors, and the risk of resistance associated with exposure to specific antibiotics or non-antibiotics were assessed. Of 259 episodes, 33 (12.7%) and 27 (10.4%) were identified as MR and CR NAC infections, respectively. The broad use of azoles was strongly associated with the emergence of MR and CR NAC infections (adjusted odds ratio [95% confidence interval] = 2.69 [1.10–6.58] and 2.53 [1.02–6.28], respectively). The time at risk (1.02 [1.00–1.03]) with 12 days as a breakpoint was also an independent risk factor for CR NAC infection. The number of species associated with a high minimum inhibitory concentration (≥128 μg/mL) of fluconazole was higher for CR NAC infections than for MR NAC infections. Different resistance phenotypes (CR vs. MR vs. NR) were associated with all-cause mortality rates. These findings indicate a worrisome propensity of CR NAC infections and emphasize the need for strict antifungal stewardship.
This is a preview of subscription content, log in to check access.
Access options
Buy single article
Instant access to the full article PDF.
US$ 39.95
Price includes VAT for USA
Subscribe to journal
Immediate online access to all issues from 2019. Subscription will auto renew annually.
US$ 99
This is the net price. Taxes to be calculated in checkout.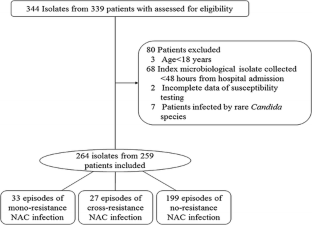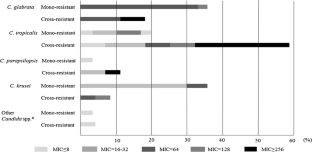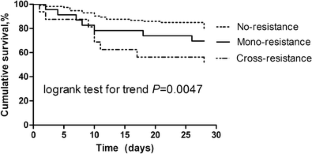 References
1.

Dodds Ashley E, Drew R, Johnson M, Danna R, Dabrowski D, Walker V, Prasad M, Alexander B, Papadopoulos G, Perfect J (2012) Cost of invasive fungal infections in the era of new diagnostics and expanded treatment options. Pharmacotherapy 32(10):890–901. doi:10.1002/j.1875-9114.2012.01124

2.

Marra AR, Camargo LF, Pignatari AC, Sukiennik T, Behar PR, Medeiros EA, Ribeiro J, Girao E, Correa L, Guerra C, Brites C, Pereira CA, Carneiro I, Reis M, de Souza MA, Tranchesi R, Barata CU, Edmond MB, Brazilian SSG (2011) Nosocomial bloodstream infections in Brazilian hospitals: analysis of 2,563 cases from a prospective nationwide surveillance study. J Clin Microbiol 49(5):1866–1871. doi:10.1128/JCM.00376-11

3.

Wisplinghoff H, Bischoff T, Tallent SM, Seifert H, Wenzel RP, Edmond MB (2004) Nosocomial bloodstream infections in US hospitals: analysis of 24,179 cases from a prospective nationwide surveillance study. Clin Infect dis 39(3):309–317. doi:10.1086/421946

4.

Pfaller MA, Diekema DJ (2007) Epidemiology of invasive candidiasis: a persistent public health problem. Clin Microbiol Rev 20(1):133–163. doi:10.1128/CMR.00029-06

5.

Colombo AL, Guimaraes T, Sukienik T, Pasqualotto AC, Andreotti R, Queiroz-Telles F, Nouer SA, Nucci M (2014) Prognostic factors and historical trends in the epidemiology of candidemia in critically ill patients: an analysis of five multicenter studies sequentially conducted over a 9-year period. Intensive Care med 40(10):1489–1498. doi:10.1007/s00134-014-3400-y

6.

Cruciani M, Serpelloni G (2008) Management of Candida infections in the adult intensive care unit. Expert Opin Pharmacother 9(2):175–191. doi:10.1517/14656566.9.2.175

7.

Lortholary O, Renaudat C, Sitbon K, Madec Y, Denoeud-Ndam L, Wolff M, Fontanet A, Bretagne S, Dromer F, French Mycosis Study G (2014) Worrisome trends in incidence and mortality of candidemia in intensive care units (Paris area, 2002-2010). Intensive Care med 40(9):1303–1312. doi:10.1007/s00134-014-3408-3

8.

Bassetti M, Merelli M, Righi E, Diaz-Martin A, Rosello EM, Luzzati R, Parra A, Trecarichi EM, Sanguinetti M, Posteraro B, Garnacho-Montero J, Sartor A, Rello J, Tumbarello M (2013) Epidemiology, species distribution, antifungal susceptibility, and outcome of candidemia across five sites in Italy and Spain. J Clin Microbiol 51(12):4167–4172. doi:10.1128/JCM.01998-13

9.

Montagna MT, Lovero G, Borghi E, Amato G, Andreoni S, Campion L, Lo Cascio G, Lombardi G, Luzzaro F, Manso E, Mussap M, Pecile P, Perin S, Tangorra E, Tronci M, Iatta R, Morace G (2014) Candidemia in intensive care unit: a nationwide prospective observational survey (GISIA-3 study) and review of the European literature from 2000 through 2013. European Review for Medical and Pharmacological Sciences 18(5):661–674

10.

Lortholary O, Desnos-Ollivier M, Sitbon K, Fontanet A, Bretagne S, Dromer F, French Mycosis Study G (2011) Recent exposure to caspofungin or fluconazole influences the epidemiology of candidemia: a prospective multicenter study involving 2,441 patients. Antimicrob Agents Chemother 55(2):532–538. doi:10.1128/AAC.01128-10

11.

Alexander BD, Johnson MD, Pfeiffer CD, Jimenez-Ortigosa C, Catania J, Booker R, Castanheira M, Messer SA, Perlin DS, Pfaller MA (2013) Increasing echinocandin resistance in Candida Glabrata: clinical failure correlates with presence of FKS mutations and elevated minimum inhibitory concentrations. Clin Infect Dis 56(12):1724–1732. doi:10.1093/cid/cit136

12.

Guo F, Yang Y, Kang Y, Zang B, Cui W, Qin B, Qin Y, Fang Q, Qin T, Jiang D, Li W, Gu Q, Zhao H, Liu D, Guan X, Li J, Ma X, Yu K, Chan D, Yan J, Tang Y, Liu W, Li R, Qiu H, China ST (2013) Invasive candidiasis in intensive care units in China: a multicentre prospective observational study. J Antimicrob Chemother 68(7):1660–1668. doi:10.1093/jac/dkt083

13.

Klingspor L, Tortorano AM, Peman J, Willinger B, Hamal P, Sendid B, Velegraki A, Kibbler C, Meis JF, Sabino R, Ruhnke M, Arikan-Akdagli S, Salonen J, Doczi I (2015) Invasive Candida infections in surgical patients in intensive care units: a prospective, multicentre survey initiated by the European Confederation of Medical Mycology (ECMM) (2006-2008). Clin Microbiol Infect 21(1):87 e81–87 e10. doi:10.1016/j.cmi.2014.08.011

14.

Liu W, Tan J, Sun J, Xu Z, Li M, Yang Q, Shao H, Zhang L, Liu W, Wan Z, Cui W, Zang B, Jiang D, Fang Q, Qin B, Qin T, Li W, Guo F, Liu D, Guan X, Yu K, Qiu H, Li R, China S (2014) Invasive candidiasis in intensive care units in China: in vitro antifungal susceptibility in the China-SCAN study. J Antimicrob Chemother 69(1):162–167. doi:10.1093/jac/dkt330

15.

Xiao M, Fan X, Chen SC, Wang H, Sun ZY, Liao K, Chen SL, Yan Y, Kang M, Hu ZD, Chu YZ, Hu TS, Ni YX, Zou GL, Kong F, Xu YC (2015) Antifungal susceptibilities of Candida Glabrata species complex, Candida krusei, Candida parapsilosis species complex and Candida tropicalis causing invasive candidiasis in China: 3 year national surveillance. J Antimicrob Chemother 70(3):802–810. doi:10.1093/jac/dku460

16.

Farmakiotis D, Tarrand JJ, Kontoyiannis DP (2014) Drug-resistant Candida Glabrata infection in cancer patients. Emerg Infect Dis 20(11):1833–1840. doi:10.3201/eid2011.140685

17.

Ben-Ami R, Olshtain-Pops K, Krieger M, Oren I, Bishara J, Dan M, Wiener-Well Y, Weinberger M, Zimhony O, Chowers M, Weber G, Potasman I, Chazan B, Kassis I, Shalit I, Block C, Keller N, Kontoyiannis DP, Giladi M, Israeli Candidemia Study G (2012) Antibiotic exposure as a risk factor for fluconazole-resistant Candida bloodstream infection. Antimicrob Agents Chemother 56(5):2518–2523. doi:10.1128/AAC.05947-11

18.

Chow JK, Golan Y, Ruthazer R, Karchmer AW, Carmeli Y, Lichtenberg DA, Chawla V, Young JA, Hadley S (2008) Risk factors for albicans and non-albicans candidemia in the intensive care unit. Crit Care Med 36(7):1993–1998. doi:10.1097/CCM.0b013e31816fc4cd

19.

Garnacho-Montero J, Diaz-Martin A, Garcia-Cabrera E, Ruiz Perez de Pipaon M, Hernandez-Caballero C, Aznar-Martin J, Cisneros JM, Ortiz-Leyba C (2010) Risk factors for fluconazole-resistant candidemia. Antimicrob Agents Chemother 54(8):3149–3154. doi:10.1128/AAC.00479-10

20.

Lee I, Fishman NO, Zaoutis TE, Morales KH, Weiner MG, Synnestvedt M, Nachamkin I, Lautenbach E (2009) Risk factors for fluconazole-resistant Candida Glabrata bloodstream infections. Arch Intern Med 169(4):379–383. doi:10.1001/archinte.169.4.379

21.

Lee I, Zaoutis TE, Fishman NO, Morales KH, Nachamkin I, Lautenbach E (2010) Risk factors for fluconazole resistance in patients with Candida Glabrata bloodstream infection: potential impact of control group selection on characterizing the association between previous fluconazole use and fluconazole resistance. Am J Infect Control 38(6):456–460. doi:10.1016/j.ajic.2009.12.011

22.

Liao X, Qiu H, Li R, Guo F, Liu W, Kang M, Kang Y, China ST (2015) Risk factors for fluconazole-resistant invasive candidiasis in intensive care unit patients: an analysis from the China survey of candidiasis study. J Crit Care 30(4):862 e861–862 e865. doi:10.1016/j.jcrc.2015.04.002

23.

Lin MY, Carmeli Y, Zumsteg J, Flores EL, Tolentino J, Sreeramoju P, Weber SG (2005) Prior antimicrobial therapy and risk for hospital-acquired Candida Glabrata and Candida krusei fungemia: a case-case-control study. Antimicrob Agents Chemother 49(11):4555–4560. doi:10.1128/AAC.49.11.4555-4560.2005

24.

Playford EG, Marriott D, Nguyen Q, Chen S, Ellis D, Slavin M, Sorrell TC (2008) Candidemia in nonneutropenic critically ill patients: risk factors for non-albicans Candida spp. Crit Care Med 36(7):2034–2039. doi:10.1097/CCM.0b013e3181760f42

25.

Slavin MA, Sorrell TC, Marriott D, Thursky KA, Nguyen Q, Ellis DH, Morrissey CO, Chen SC, Australian Candidemia Study ASfID (2010) Candidaemia in adult cancer patients: risks for fluconazole-resistant isolates and death. J Antimicrob Chemother 65(5):1042–1051. doi:10.1093/jac/dkq053

26.

Kaye KS, Harris AD, Samore M, Carmeli Y (2005) The case-case-control study design: addressing the limitations of risk factor studies for antimicrobial resistance. Infect Control Hosp Epidemiol 26(4):346–351. doi:10.1086/502550

27.

Clinical and Laboratory Standards Institute (2012) Reference method for broth dilution antifungal susceptibility testing of yeasts, 4th ed, M27-S4. CLSI, Wayne, PA

28.

Pfaller MA, Diekema DJ (2012) Progress in antifungal susceptibility testing of Candida spp. by use of clinical and laboratory standards Institute broth microdilution methods, 2010 to 2012. J Clin Microbiol 50(9):2846–2856. doi:10.1128/JCM.00937-12

29.

Espinel-Ingroff A, Pfaller MA, Bustamante B, Canton E, Fothergill A, Fuller J, Gonzalez GM, Lass-Florl C, Lockhart SR, Martin-Mazuelos E, Meis JF, Melhem MS, Ostrosky-Zeichner L, Pelaez T, Szeszs MW, St-Germain G, Bonfietti LX, Guarro J, Turnidge J (2014) Multilaboratory study of epidemiological cutoff values for detection of resistance in eight Candida species to fluconazole, posaconazole, and voriconazole. Antimicrob Agents Chemother 58(4):2006–2012. doi:10.1128/AAC.02615-13

30.

Harris AD, Karchmer TB, Carmeli Y, Samore MH (2001) Methodological principles of case-control studies that analyzed risk factors for antibiotic resistance: a systematic review. Clin Infect Dis 32(7):1055–1061. doi:10.1086/319600

31.

Prkno A, Wacker C, Brunkhorst FM, Schlattmann P (2013) Procalcitonin-guided therapy in intensive care unit patients with severe sepsis and septic shock--a systematic review and meta-analysis. Crit Care 17(6):R291. doi:10.1186/cc13157

32.

de Jong E, van Oers JA, Beishuizen A, Vos P, Vermeijden WJ, Haas LE, Loef BG, Dormans T, van Melsen GC, Kluiters YC, Kemperman H, van den Elsen MJ, Schouten JA, Streefkerk JO, Krabbe HG, Kieft H, Kluge GH, van Dam VC, van Pelt J, Bormans L, Otten MB, Reidinga AC, Endeman H, Twisk JW, van de Garde EMW, de Smet AMGA, Kesecioglu J, Girbes AR, Nijsten MW, de Lange DW (2016) Efficacy and safety of procalcitonin guidance in reducing the duration of antibiotic treatment in critically ill patients: a randomised, controlled, open-label trial. Lancet Infect Dis 16(7):819–827. doi:10.1016/s1473-3099(16)00053-0

33.

Pham CD, Iqbal N, Bolden CB, Kuykendall RJ, Harrison LH, Farley MM, Schaffner W, Beldavs ZG, Chiller TM, Park BJ, Cleveland AA, Lockhart SR (2014) Role of FKS mutations in Candida Glabrata: MIC values, echinocandin resistance, and multidrug resistance. Antimicrob Agents Chemother 58(8):4690–4696. doi:10.1128/AAC.03255-14

34.

Orasch C, Marchetti O, Garbino J, Schrenzel J, Zimmerli S, Muhlethaler K, Pfyffer G, Ruef C, Fehr J, Zbinden R, Calandra T, Bille J (2014) Candida species distribution and antifungal susceptibility testing according to European Committee on antimicrobial susceptibility testing and new vs. old clinical and laboratory standards Institute clinical breakpoints: a 6-year prospective candidaemia survey from the fungal infection network of Switzerland. Clin Microbiol Infect 20(7):698–705. doi:10.1111/1469-0691.12440
Acknowledgements
The authors acknowledge the Junhui Liu for isolation and identification of isolates.
Ethics declarations
Funding
This work was supported by internal funding (i.e. the National Natural Science Foundation of China [No. 81672954], the Natural Science Foundation of Shaanxi Province [No. 2016JM8015], and the Clinical Research Subject of The First Affiliated Hospital of Xi'an Jiaotong University [No. XJTU1AHCR2014–002]).
Competing interests
On behalf of all authors, the corresponding author states that there is no competing interest.
Ethical approval
This study protocol was approved by the Hospital Ethics Committee of the First Affiliated Hospital of Xi'an Jiaotong University.
Informed consent
Informed consent was not required from the study subjects.
About this article
Cite this article
Wang, Y., Yang, Q., Chen, L. et al. Cross-resistance between voriconazole and fluconazole for non-albicans Candida infection: a case-case-control study. Eur J Clin Microbiol Infect Dis 36, 2117–2126 (2017). https://doi.org/10.1007/s10096-017-3034-4
Received:

Accepted:

Published:

Issue Date: