Abstract
About 7 million urinalyses are reimbursed yearly by the French public healthcare system, but the results of most of these tests are normal. The aim of this study was to estimate the prevalence of negative urinalyses in ambulatory care, identify the associated factors and assess the relevance of prescriptions by general practitioners (GPs) according to French guidelines. A cross-sectional study was conducted in patients over 18 coming for urinalyses in two French ambulatory laboratories. Patients received a questionnaire on their symptoms, the reason for performing urinalysis and the use of urinary dipsticks. GP who prescribed urinalyses received a questionnaire assessing their practice. A total of 510 patients were included, and 71% of urinalyses were negative. Urinalyses were prescribed to 283 patients by GPs. Compared to those of specialists, GP prescriptions were associated with fewer negative urinalyses (59 vs 86%; p < 0.01). Among the negative urinalyses prescribed by GPs, the reasons of prescription were as follows: suspected urinary tract infection (UTI) (42.7%), control of bacteriological cure after UTI (24%), fever or abdominal pain (13%) and routine test (7%). About 35% of urinalyses were not indicated according to guidelines. Only 12% of patients used dipsticks before performing urinalysis although 87% of GPs were favourable to their use if they were provided by healthcare services. The annual cost of non-indicated urinalyses is estimated at 13 million euro. A systematic use of dipsticks provided by healthcare services could help to reduce health costs and the unnecessary use of antibiotics.
Access options
Buy single article
Instant access to the full article PDF.
US$ 39.95
Tax calculation will be finalised during checkout.
Subscribe to journal
Immediate online access to all issues from 2019. Subscription will auto renew annually.
US$ 79
Tax calculation will be finalised during checkout.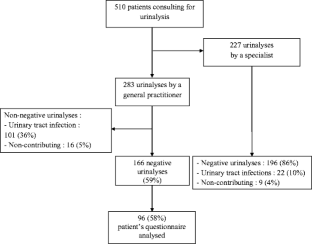 References
1.

Commission des comptes de la sécurité sociale (2008) Commission des comptes de la sécurité sociale. Tableau de bord de suivie de la biologie. Données Sniiram

2.

Lidsky V, Thiard P-E, Le Brignonen M et al (2012) Propositions pour la maîtrise de l'ONDAM 2013–2017

3.

Maugat S, Georges S, Nicolau J. (2011) Mise en oeuvre d'un recueil automatisé des données de bactériologie dans des laboratoires d'analyses de biologie médicale privés, 2005–2009. Bilan d'une expérimentation. Inst Veille Sanit:77p

4.

Malmartel A, Ghasarossian C (2016) Epidemiology of urinary tract infections, bacterial species and resistances in primary care in France. Eur J Clin Microbiol Infect Dis Off Publ Eur Soc Clin Microbiol 35:447–451. doi:10.1007/s10096-015-2560-1

5.

Patel HD, Livsey SA, Swann RA et al (2005) Can urine dipstick testing for urinary tract infection at point of care reduce laboratory workload? J Clin Pathol 58:951–954. doi:10.1136/jcp.2004.025429

6.

Société de Pathologie Infectieuse de Langue Française (2014) Diagnostic et antibiothérapie des infections urinaires bactériennes communautaires de l'adulte

7.

Pickard, B, Bjerklund J et al. (2016) Guidelines on urological infections 2015—European Association of Urology. https://uroweb.org/guideline/urological-infections/

8.

Rossignol L, Maugat S, Blake A et al. (2014) Etude Druti: Epidémiologie et prise en charge des infections urinaires en médecine générale en France métropolitaine

9.

Haab F, Costa P, Colau J-C et al. (2008) Les infections urinaires de la femme en médecine générale. Datarevues0755498200359-C11235 Published Online First. http://www.em-consulte.com/en/article/103145 (accessed 11 May 2016).

10.

Goudot C. (2008) Utilisation des bandelettes urinaires en médecine générale: enquête de pratique auprès des 229 médecins aubois

11.

Distrimed. http://www.distrimed.com (accessed 12 May 2016)

12.

ProMedis - BHV Médical. http://www.promedis.com/ (accessed 12 May 2016)

13.

Tests urinaires robe materiel medical. http://www.robe-materiel-medical.com/ (accessed 12 May 2016)

14.

NovusASC [Internet] (2016) available at: http://novusacs.com/lab-price-list/

15.

SIGN (2012) Management of suspected bacterial urinary tract infection in adults. http://www.sign.ac.uk/pdf/sign88.pdf (accessed 6 Dec 2016)

16.

Bent S, Nallamothu BK, Simel DL et al (2002) Does this woman have an acute uncomplicated urinary tract infection? JAMA 287:2701–2710

17.

Hay AD (2010) Managing UTI in primary care: should we be sending midstream urine samples? Br J Gen Pract 60:479–480. doi:10.3399/bjgp10X514701
Acknowledgements
We thank Dr. Duffier for the coordination of the study in the laboratories and Stéphanie Sidorkiewicz for her advices.
Ethics declarations
Funding
None.
Conflict of interest
The authors declare that they have no conflict of interest.
Ethical approval
The protocol was approved by an ethics committee (CPP Ile de France II).
Informed consent
Patients received an information letter and had to sign a consent form before their inclusion.
About this article
Cite this article
Malmartel, A., Dutron, M. & Ghasarossian, C. Tracking unnecessary negative urinalyses to reduce healthcare costs: a transversal study. Eur J Clin Microbiol Infect Dis 36, 1559–1563 (2017). https://doi.org/10.1007/s10096-017-2968-x
Received:

Accepted:

Published:

Issue Date:
Keywords
Urinary Tract Infection

Healthcare Service

Urinary Symptom

Urinary Dipstick

Bacteriological Cure