Abstract
Urine samples account for a significant part of the workload in clinical microbiology laboratories. However, the culture process is time-consuming and a large proportion is reported as negative. To reduce unnecessary culture procedures and speed up the reporting of negative results, a reliable screening method is needed. For this purpose, urine samples submitted to our clinical microbiology laboratory were simultaneously screened by a flow cytometry method (Sysmex UF-1000i, Japan). During screening, the evaluation of various combinations of leucocytes and bacteria cut-offs demonstrated that cut-offs of 30 and 50/μL, respectively, were the best threshold values to reach a 100% negative predictive value (NPV) with a culture reduction rate of 44.8% in adults and 61.9% in children between the ages of 6 and 17 years. With the culture reduction rates mentioned above, the screening method has provided at least 24% savings in expenditures of the routine clinical microbiology laboratory. Since we did not reach such an NPV with any combinations of screening parameters in children younger than 5 years of age, we recommend cultivation of all urine samples in those patients without a screening step. In conclusion, Sysmex UF-1000i as a screening method was capable of improving the efficiency of the routine microbiology laboratory by providing negative results in a few minutes in children greater than 6 years of age and in adults.
Access options
Buy single article
Instant access to the full article PDF.
US$ 39.95
Tax calculation will be finalised during checkout.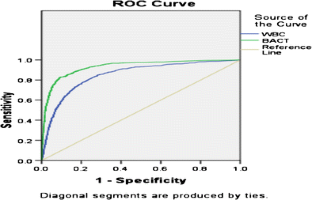 References
1.

Foxman B (2014) Urinary tract infection syndromes: occurrence, recurrence, bacteriology, risk factors, and disease burden. Infect Dis Clin North Am 28:1–13

2.

Tille PM (2014) Infections of the urinary tract. In: Tille PM (ed) Bailey & Scott's diagnostic microbiology, 13th edn. Elsevier, St. Louis, pp 919–930

3.

Kellogg JA, Manzella JP, Shaffer SN, Schwartz BB (1987) Clinical relevance of culture versus screens for the detection of microbial pathogens in urine specimens. Am J Med 83:739–745

4.

Okada H, Sakai Y, Miyazaki S, Arakawa S, Hamaguchi Y, Kamidono S (2000) Detection of significant bacteriuria by automated urinalysis using flow cytometry. J Clin Microbiol 38(8):2870–2872

5.

Pezzlo M (1988) Detection of urinary tract infections by rapid methods. Clin Microbiol Rev 1(3):268–280

6.

Ilki A, Bekdemir P, Ulger N, Soyletir G (2010) Rapid reporting of urine culture results: impact of the uro-quick screening system. New Microbiol 33(2):147–153

7.

Nicolai E, Garau S, Favalli C, D'Agostini C, Gratton E, Motolese G, Rosato N (2014) Evaluation of Biesse Bioscreen as a new methodology for bacteriuria screening. New Microbiol 37(4):495–501

8.

Spezzotti G (2014) Technical notes on the correct configuration of the Alfred 60/AST device for the detection of urinary tract infections. J Clin Microbiol 52(5):1805–1806. doi:10.1128/JCM.03241-13

9.

Okada H, Shirakawa T, Gotoh A, Kamiyama Y, Muto S, Ide H, Hamaguchi Y, Horie S (2006) Enumeration of bacterial cell numbers and detection of significant bacteriuria by use of a new flow cytometry-based device. J Clin Microbiol 44(10):3596–3599

10.

Tessari A, Osti N, Scarin M (2015) Screening of presumptive urinary tract infections by the automated urine sediment analyser sediMAX. Clin Chem Lab Med 53(Suppl 2):s1503–s1508

11.

Gur'ev AS, Volkov AY, Dolgushin II, Pospelova AV, Rastopov SF, Savochkina AY, Sergienko VI (2015) Coherent fluctuation nephelometry: a rapid method for urine screening for bacterial contamination. Bull Exp Biol Med 159(1):107–110. doi:10.1007/s10517-015-2902-0

12.

Gutiérrez-Fernández J, Lara A, Bautista MF, de Dios Luna J, Polo P, Miranda C, Navarro JM (2012) Performance of the Sysmex UF1000i system in screening for significant bacteriuria before quantitative culture of aerobic/facultative fast-growth bacteria in a reference hospital. J Appl Microbiol 113(3):609–614. doi:10.1111/j.1365-2672.2012.05369.x

13.

Pieretti B, Brunati P, Pini B, Colzani C, Congedo P, Rocchi M, Terramocci R (2010) Diagnosis of bacteriuria and leukocyturia by automated flow cytometry compared with urine culture. J Clin Microbiol 48(11):3990–3996. doi:10.1128/JCM.00975-10

14.

De Rosa R, Grosso S, Bruschetta G, Avolio M, Stano P, Modolo ML, Camporese A (2010) Evaluation of the Sysmex UF1000i flow cytometer for ruling out bacterial urinary tract infection. Clin Chim Acta 411(15–16):1137–1142. doi:10.1016/j.cca.2010.03.027

15.

Manoni F, Fornasiero L, Ercolin M, Tinello A, Ferrian M, Hoffer P, Valverde S, Gessoni G (2009) Cutoff values for bacteria and leukocytes for urine flow cytometer Sysmex UF-1000i in urinary tract infections. Diagn Microbiol Infect Dis 65(2):103–107. doi:10.1016/j.diagmicrobio.2009.06.003

16.

Kadkhoda K, Manickam K, Degagne P, Sokolowski P, Pang P, Kontzie N, Alfa M (2011) UF-1000i flow cytometry is an effective screening method for urine specimens. Diagn Microbiol Infect Dis 69(2):130–136. doi:10.1016/j.diagmicrobio.2010.09.013

17.

Broeren MA, Bahçeci S, Vader HL, Arents NL (2011) Screening for urinary tract infection with the Sysmex UF-1000i urine flow cytometer. J Clin Microbiol 49(3):1025–1029. doi:10.1128/JCM.01669-10

18.

van der Zwet WC, Hessels J, Canbolat F, Deckers MM (2010) Evaluation of the Sysmex UF-1000i® urine flow cytometer in the diagnostic work-up of suspected urinary tract infection in a Dutch general hospital. Clin Chem Lab Med 48(12):1765–1771. doi:10.1515/CCLM.2010.342
Ethics declarations
Funding
This study was partly supported by an in-kind grant from Sysmex Corp., Turkey.
Conflict of interest
The authors declare no conflict of interest.
Ethics approval
This article does not contain any studies with any human participants or animals performed by any of the authors.
Informed consent
This study did not involve human subjects or samples; therefore, no informed consent is required.
About this article
Cite this article
Ilki, A., Ayas, R., Ozsoy, S. et al. Cost-effectiveness of a new system in ruling out negative urine cultures on the day of administration. Eur J Clin Microbiol Infect Dis 36, 1119–1123 (2017). https://doi.org/10.1007/s10096-017-2898-7
Received:

Accepted:

Published:

Issue Date:
Keywords
Urine Sample

Negative Predictive Value

Microbiology Laboratory

Receiver Operating Curve

Clinical Microbiology Laboratory