Abstract
Surgical site infection (SSI) is a major infectious complication that increases mortality, morbidity, and healthcare costs. There are scores attempting to classify patients for calculating SSI risk. Our objectives were to validate the Australian Clinical Risk Index (ACRI) in a European population after cardiac surgery, comparing it against the National Nosocomial Infections Surveillance-derived risk index (NNIS) and analyzing the predictive power of ACRI for SSI in valvular patients. All the patients that who underwent cardiac surgery in a tertiary university hospital between 2011 and 2015 were analyzed. The patients were divided into valvular and coronary groups, excluding mixed patients. The ACRI score was validated in both groups and its ability to predict SSI was compared to the NNIS risk index. We analyzed 1,657 procedures. In the valvular patient group (n: 1119), a correlation between the ACRI score and SSI development (p < 0.05) was found; there was no such correlation with the NNIS index. The area under the receiver-operating characteristic curve (AUC) was 0.64 (confidence interval [CI] 95%, 0.5–0.7) for ACRI and 0.62 (95% CI, 0.5–0.7) for NNIS. In the coronary group (n: 281), there was a correlation between ACRI and SSI but no between NNIS and SSI. The ACRI AUC was 0.70 (95% CI, 0.5–0.8) and the NNIS AUC was 0.60 (95% CI, 0.4–0.7). The ACRI score has insufficient predictive power, although it predicts SSI development better than the NNIS index, fundamentally in coronary artery bypass grafting (CABG). Further studies analyzing determining factors are needed.
This is a preview of subscription content,
to check access.
Access this article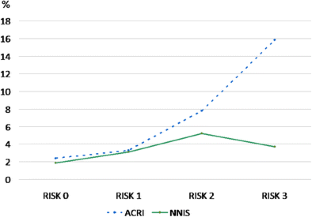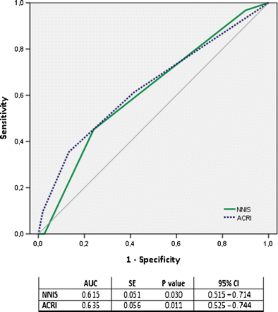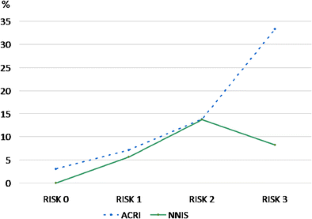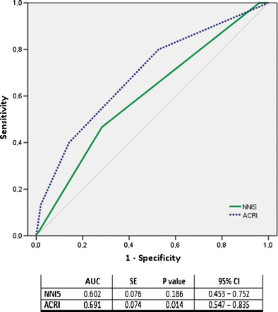 Similar content being viewed by others
References
Horan TC, Andrus M, Dudeck A (2008) CDC/NHSN surveillance definition of health care-associated infection and criteria for specific types of infections in the acute care setting. Am J Infect Control 36:309–332

2016 NHSN Patient Safety Component Manual. http://www.cdc.gov/nhsn/pdfs/pscmanual/pscmanual_current.pdf. Published 2016 Accessed January 13, 2016

Díaz-Agero-Pérez C, Robustillo Rodela A, Monge Jodrá V (2009) The Spanish national health care associated infection surveillance network (INCLIMECC): Data summary January 1997 through December 2006 adapted to the new National Healthcare Safety Network Procedure-associated module codes. Am J Infect Control 37:806–812

Díaz-Agero-Pérez C, Pita-López MJ, Robustillo-Rodela A, Figuerola-Tejerina A, Monge-Jodrá V, Grupo de Trabajo INCLIMECC de la Comunidad de Madrid (2011) Evaluación de la infección de herida quirúrgica en 14 hospitales de la Comunidad de Madrid: estudio de incidencia. Enferm Infecc Microbiol Clin 29(4):257–262

Emori TG, Culver DH, Horan TC, Jarvis WR, White JW, Olson DR, Banerjee S, Edwards JR, Martone WJ, Gaynes RP et al (1991) National nosocomial infections surveillance system (NNIS): description of surveillance methods. Am J Infect Control 19(1):19–35

Culver DH, Horan TC, Gaunes RP, Martone WJ, Jarvis WR, Emori TG, National Nosocomial Infection Surveillance System (1991) Surgical wound infection rates by wound class, operative procedure, and patient risk index. Am J Med 91:152S–157S

Friedman ND, Bull AL, Russo PL, Leder K, Reid C, Billah B, Marasco S, McBryde E, Richards MJ (2007) An alternative scoring system to predict risk for surgical site infection complicating coronary artery bypass graft surgery. Infect Control Hosp Epidemiol 28:1162–1168

Chen LF, Anderson DJ, Kaye KS, Sexton DJ (2010) Validating a 3-point prediction rule for surgical site infection after coronary artery bypass surgery. Infect Control Hosp Epidemiol 31(1):64–68

Mu Y, Edwards JR, Horan TC, Berrios-Torres SI, Fridkin SK (2011) Improving risk-adjusted measures of surgical site infection for the National Healthcare Safety Network. Infect Control Hosp Epidemiol 32:970–986

Haley VB, Van Antwerpen C, Tsivitis M, Doughty D, Gase KA, Hazamy P, Tserenpuntsag B, Racz M, Yucel MR, McNutt LA, Stricof RL (2012) Risk factors for coronary artery bypass graft chest surgical site infections in New York State, 2008. Am J Infect Control 40(1):22–28

Sharma M, Fakih MG, Berriel-Cass D, Meisner S, Saravolatz L, Khatib R (2009) Harvest surgical site infection following coronary artery bypass grafting: risk factors, microbiology, and outcomes. Am J Infect Control 37(8):653–657

Manniën J, Wille JC, Kloek JJ, van Benthem BHB (2011) Surveillance and epidemiology of surgical site infections after cardiothoracic surgery in The Netherlands, 2002–2007. J Thotac Cardiovasc Surg 141:899–904

Monge-Jodrá V, Díaz-Aguero C, Sainz-Terreros L, Saa C, Dacosta D (2006) Results of the Spanish national nosocomial infection surveillance network (VICONOS) for surgery patients from January 1997 through December 2003. Am J Infect Control 34:134–141

Alasmari FA, Tleyjeh IM, Riaz M, Greason KL, Berbari EF, Virk A, Baddour LM (2012) Temporal trends in the incidence of surgical site infections in patients undergoing coronary artery bypass graft surgery: a population-based cohort study, 1993 to 2008. Mayo Clin Proc 87(11):1054–1061

Cristofolini M, Worlitzsch D, Wienke A, Silber RE, Borneff-Lipp M (2012) Surgical site infections after coronary artery bypass graft surgery: incidence, perioperative hospital stay, readmissions, and revision surgeries. Infection 40(4):397–404

Filsoufi F, Castillo JG, Rahmanian PB, Broumand SR, Silvay G, Carpentier A, Adams DH (2009) Epidemiology of deep sternal wound infection in cardiac surgery. J Cardiothorac Vasc Anesth 23(4):488–494

Russo PL, Spelman DW (2002) A new surgical site infection risk index using risk factors identified by multivariante analisis for patients undergoing coronary artery bypass graft surgery. Infect Control Hosp Epidemiol 23:272–376

Figuerola-Tejerina A, Rodríguez-Caravaca G, Bustamante-Munguira J, SanRomán-Montero JM, Durán-Poveda M (2016) Epidemiological surveillance and surgical site infection risk factors after cardiac surgery: prospective cohort study. Rev Esp Cardiol 69(9):842–848

Sellick JA Jr, Stelmach M, Mylotte JM (1991) Surveillance of surgical wound infections following open heart surgery. Infect Control Hosp Epidemiol 12(10):591–596

Cayci C, Russo M, Cheema FH, Martens T, Ozcan V, Argenziano M, Oz MC, Ascherman J (2008) Risk analysis of deep sternal wound infections and their impact on long-term survival: a propensity analysis. Ann Plast Surg 61(3):294–301
Ethics declarations
Conflicts of interest
All authors report no conflicts of interest relevant to this article.
Financial Support
None reported.
Ethical approval
The study was approved by the Institutional Ethics Committee.
Informed consent
The patients gave their written consent to store their data anonymously in the hospital database.
About this article
Cite this article
Figuerola-Tejerina, A., Bustamante, E., Tamayo, E. et al. Ability to predict the development of surgical site infection in cardiac surgery using the Australian Clinical Risk Index versus the National Nosocomial Infections Surveillance-derived Risk Index. Eur J Clin Microbiol Infect Dis 36, 1041–1046 (2017). https://doi.org/10.1007/s10096-016-2889-0
Received:

Accepted:

Published:

Issue Date:

DOI: https://doi.org/10.1007/s10096-016-2889-0
Keywords