Abstract
The aim of this study was to evaluate the prevalence of fluoroquinolone resistance and mechanisms of selected fluoroquinolone resistance in Shigella flexneri isolates. A total of 624 S. flexneri strains isolated between 2001 and 2011 in Jiangsu Province of China were analysed for their fluoroquinolone susceptibility. The quinolone resistance-determining region of gyrA, gyrB, parC and parE were amplified and sequenced. In general, 90.5 % of S. flexneri exhibited resistance to nalidixic acid. The mean norfloxacin resistance rate was 22.4 % during the 11 years from 2001 to 2011 (6.4 % from 2001 to 2005 and 36.8 % from 2006 to 2011). Sequencing of gyrA, gyrB, parC and parE genes of all S. flexneri isolates showed that the mutation rate was as high as 93.9 %. In addition, 91.8 % and 92.3 % of S. flexneri harboured mutations in gyrA and parC, respectively. About 35.2 % of S. flexneri isolates susceptible to nalidixic acid contained mutations. Meanwhile, mutations were detected in 91.2 % of norfloxacin-susceptible strains, and almost all S. flexneri isolates resistant to fluoroquinolone contained mutations. To the best of our knowledge, this is the first study reporting the occurrence of point mutations Asn57Lys and His80Pro in gyrA and Ala85Thr, Asp111His and Ser129Pro in parC. Emerging fluoroquinolone resistance with a significantly high mutation rate of the gyrA and parC genes in S. flexneri in Jiangsu Province deserves attention, and monitoring antibiotic susceptibility is important for the effective management of S. flexneri infections.
This is a preview of subscription content, log in to check access.
Access options
Buy single article
Instant access to the full article PDF.
US$ 39.95
Price includes VAT for USA
Subscribe to journal
Immediate online access to all issues from 2019. Subscription will auto renew annually.
US$ 99
This is the net price. Taxes to be calculated in checkout.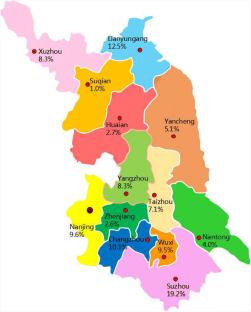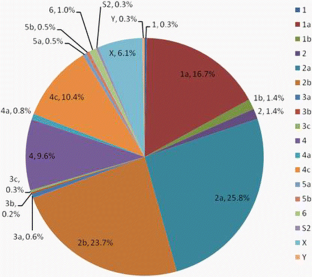 References
1.

Lanata CF, Fischer-Walker CL, Olascoaga AC, Torres CX, Aryee MJ, Black RE; Child Health Epidemiology Reference Group of the World Health Organization and UNICEF (2013) Global causes of diarrheal disease mortality in children <5 years of age: a systematic review. PLoS One 8, e72788

2.

Kotloff KL, Nataro JP, Blackwelder WC, Nasrin D, Farag TH, Panchalingam S et al (2013) Burden and aetiology of diarrhoeal disease in infants and young children in developing countries (the Global Enteric Multicenter Study, GEMS): a prospective, case–control study. Lancet 382:209–222

3.

Kotloff KL, Winickoff JP, Ivanoff B, Clemens JD, Swerdlow DL, Sansonetti PJ et al (1999) Global burden of Shigella infections: implications for vaccine development and implementation of control strategies. Bull World Health Organ 77:651–666

4.

Zhang H, Si Y, Wang X, Gong P (2016) Patterns of bacillary dysentery in China, 2005–2010. Int J Environ Res Public Health 13:164

5.

Shen Y, Qian H, Gong J, Deng F, Dong C, Zhou L et al (2013) High prevalence of antibiotic resistance and molecular characterization of integrons among Shigella isolates in Eastern China. Antimicrob Agents Chemother 57:1549–1551

6.

Klontz KC, Singh N (2015) Treatment of drug-resistant Shigella infections. Expert Rev Anti Infect Ther 13:69–80

7.

Gu B, Cao Y, Pan S, Zhuang L, Yu R, Peng Z et al (2012) Comparison of the prevalence and changing resistance to nalidixic acid and ciprofloxacin of Shigella between Europe–America and Asia–Africa from 1998 to 2009. Int J Antimicrob Agents 40:9–17

8.

Pu XY, Pan JC, Zhang W, Zheng W, Wang HQ, Gu YM (2015) Quinolone resistance-determining region mutations and the plasmid-mediated quinolone resistance gene qnrS played important roles in decreased susceptibility to fluoroquinolones among Shigella isolates in southeast China between 1998 and 2013. Int J Antimicrob Agents 45:438–439

9.

Yang H, Duan G, Zhu J, Zhang W, Xi Y, Fan Q (2013) Prevalence and characterisation of plasmid-mediated quinolone resistance and mutations in the gyrase and topoisomerase IV genes among Shigella isolates from Henan, China, between 2001 and 2008. Int J Antimicrob Agents 42:173–177

10.

Fàbrega A, Madurga S, Giralt E, Vila J (2009) Mechanism of action of and resistance to quinolones. Microb Biotechnol 2:40–61

11.

Qin TT, Kang HQ, Ma P, Li PP, Huang LY, Gu B (2015) SOS response and its regulation on the fluoroquinolone resistance. Ann Transl Med 3:358

12.

Jacoby GA (2005) Mechanisms of resistance to quinolones. Clin Infect Dis 41(Suppl 2):S120–S126

13.

Drlica K, Zhao X (1997) DNA gyrase, topoisomerase IV, and the 4-quinolones. Microbiol Mol Biol Rev 61:377–392

14.

Li XZ (2005) Quinolone resistance in bacteria: emphasis on plasmid-mediated mechanisms. Int J Antimicrob Agents 25:453–463

15.

Cui X, Wang J, Yang C, Liang B, Ma Q, Yi S et al (2015) Prevalence and antimicrobial resistance of Shigella flexneri serotype 2 variant in China. Front Microbiol 6:435

16.

Zhang W, Luo Y, Li J, Lin L, Ma Y, Hu C et al (2011) Wide dissemination of multidrug-resistant Shigella isolates in China. J Antimicrob Chemother 66:2527–2535

17.

Pu XY, Pan JC, Wang HQ, Zhang W, Huang ZC, Gu YM (2009) Characterization of fluoroquinolone-resistant Shigella flexneri in Hangzhou area of China. J Antimicrob Chemother 63:917–920

18.

Clinical and Laboratory Standards Institute (CLSI) (2012) Methods for dilution antimicrobial susceptibility tests for bacteria that grow aerobically; Approved standard—Ninth edition. CLSI document M07-A9. CLSI, Wayne, PA

19.

Chau TT, Campbell JI, Galindo CM, Van Minh Hoang N, Diep TS, Nga TT et al (2007) Antimicrobial drug resistance of Salmonella enterica serovar typhi in Asia and molecular mechanism of reduced susceptibility to the fluoroquinolones. Antimicrob Agents Chemother 51:4315–4323

20.

Dutta S, Kawamura Y, Ezaki T, Nair GB, Iida K, Yoshida S (2005) Alteration in the GyrA subunit of DNA gyrase and the ParC subunit of topoisomerase IV in quinolone-resistant Shigella dysenteriae serotype 1 clinical isolates from Kolkata, India. Antimicrob Agents Chemother 49:1660–1661

21.

Rahman M, Mauff G, Levy J, Couturier M, Pulverer G, Glasdorff N et al (1994) Detection of 4-quinolone resistance mutation in gyrA gene of Shigella dysenteriae type 1 by PCR. Antimicrob Agents Chemother 38:2488–2491

22.

Christopher PR, David KV, John SM, Sankarapandian V (2010) Antibiotic therapy for Shigella dysentery. Cochrane Database Syst Rev (8):CD006784

23.

Özmert EN, İnce OT, Örün E, Yalçın S, Yurdakök K, Gür D (2011) Clinical characteristics and antibiotic resistance of Shigella gastroenteritis in Ankara, Turkey between 2003 and 2009, and comparison with previous reports. Int J Infect Dis 15:e849–853

24.

Qu M, Zhang X, Liu G, Huang Y, Jia L, Liang W et al (2014) An eight-year study of Shigella species in Beijing, China: serodiversity, virulence genes, and antimicrobial resistance. J Infect Dev Ctries 8:904–908

25.

Zhang CL, Liu QZ, Wang J, Chu X, Shen LM, Guo YY (2014) Epidemic and virulence characteristic of Shigella spp. with extended-spectrum cephalosporin resistance in Xiaoshan District, Hangzhou, China. BMC Infect Dis 14:260

26.

Qiu S, Xu X, Yang C, Wang J, Liang B, Li P et al (2015) Shift in serotype distribution of Shigella species in China, 2003–2013. Clin Microbiol Infect 21:252.e5–252.e8

27.

Zhang J, Jin H, Hu J, Yuan Z, Shi W, Yang X et al (2014) Antimicrobial resistance of Shigella spp. from humans in Shanghai, China, 2004–2011. Diagn Microbiol Infect Dis 78:282–286

28.

Abd-Elmeged GM, Khairy RM, Abo-Eloyoon SM, Abdelwahab SF (2015) Changing patterns of drug-resistant Shigella isolates in Egypt. Microb Drug Resist 21:286–291

29.

Hu LF, Li JB, Ye Y, Li X (2007) Mutations in the GyrA subunit of DNA gyrase and the ParC subunit of topoisomerase IV in clinical strains of fluoroquinolone-resistant Shigella in Anhui, China. J Microbiol 45:168–170

30.

Tariq A, Haque A, Ali A, Bashir S, Habeeb MA, Salman M et al (2012) Molecular profiling of antimicrobial resistance and integron association of multidrug-resistant clinical isolates of Shigella species from Faisalabad, Pakistan. Can J Microbiol 58:1047–1054

31.

Shiferaw B, Solghan S, Palmer A, Joyce K, Barzilay EJ, Krueger A et al (2012) Antimicrobial susceptibility patterns of Shigella isolates in Foodborne Diseases Active Surveillance Network (FoodNet) sites, 2000–2010. Clin Infect Dis 54(Suppl 5):S458–S463

32.

Cui X, Yang C, Wang J, Liang B, Yi S, Li H et al (2015) Antimicrobial resistance of Shigella flexneri serotype 1b isolates in China. PLoS One 10, e0129009

33.

Mao Y, Cui E, Bao C, Liu Z, Chen S, Zhang J et al (2013) Changing trends and serotype distribution of Shigella species in Beijing from 1994 to 2010. Gut Pathog 5:21

34.

Xia S, Xu B, Huang L, Zhao JY, Ran L, Zhang J et al (2011) Prevalence and characterization of human Shigella infections in Henan Province, China, in 2006. J Clin Microbiol 49:232–242

35.

Thompson CN, Thieu NT, Vinh PV, Duc AN, Wolbers M, Vinh H et al (2016) Clinical implications of reduced susceptibility to fluoroquinolones in paediatric Shigella sonnei and Shigella flexneri infections. J Antimicrob Chemother 71:807–815

36.

Ruiz J (2003) Mechanisms of resistance to quinolones: target alterations, decreased accumulation and DNA gyrase protection. J Antimicrob Chemother 51:1109–1117

37.

Poole K (2005) Efflux-mediated antimicrobial resistance. J Antimicrob Chemother 56:20–51

38.

Azmi IJ, Khajanchi BK, Akter F, Hasan TN, Shahnaij M, Akter M et al (2014) Fluoroquinolone resistance mechanisms of Shigella flexneri isolated in Bangladesh. PLoS One 9, e102533

39.

Taneja N, Mishra A, Kumar A, Verma G, Sharma M (2015) Enhanced resistance to fluoroquinolones in laboratory-grown mutants & clinical isolates of Shigella due to synergism between efflux pump expression & mutations in quinolone resistance determining region. Indian J Med Res 141:81–89
Acknowledgments
We thank all our colleagues who participated in this survey.
Ethics declarations
Funding
This work was supported by the Chinese National Natural Science Foundation of China (81471994), the Natural Science Foundation of Jiangsu Province (BK20151154) and the Youth Science and Technology Innovation Team Project of Xuzhou Medical University in 2015.
Conflict of interest
The authors declare that they have no conflict of interest.
Ethical approval
Not applicable.
Electronic supplementary material
Below is the link to the electronic supplementary material.
About this article
Cite this article
Qin, T., Bi, R., Fan, W. et al. Novel mutations in quinolone resistance-determining regions of gyrA, gyrB, parC and parE in Shigella flexneri clinical isolates from eastern Chinese populations between 2001 and 2011. Eur J Clin Microbiol Infect Dis 35, 2037–2045 (2016). https://doi.org/10.1007/s10096-016-2761-2
Received:

Accepted:

Published:

Issue Date:
Keywords
Fluoroquinolone

Jiangsu Province

Norfloxacin

Nalidixic Acid

Resistance Rate