Abstract
General practitioners often have to manage urinary tract infections (UTI) with probabilistic treatments, although bacterial resistances are increasing. Therefore, the French Society of Infectious Diseases published new guidelines in 2014. The aim of this study was to investigate the bacterial epidemiology of UTI in the general population in primary care and analyse risk factors for Escherichia coli resistance to antibiotics. A cross-sectional study was conducted in 12 ambulatory laboratories. Patients over 18 years of age coming for urinalysis were included. Risk factors for UTI were collected using a questionnaire and the laboratory records. Bacteria meeting criteria for UTI were analysed. A positive urinalysis was found in 1119 patients, corresponding to 1125 bacterial isolates. The bacterial species were: E. coli (73 %), Enterococcus spp. (7 %), Klebsiella spp. (6 %), Proteus spp. (4 %), Staphylococcus spp. (3 %) and Pseudomonas spp. (2 %). Regardless of the bacteria, the most common resistance was that to co-trimoxazole: 27 % (95 % confidence interval [CI] = [0.24; 0.30]), followed by ofloxacin resistance: 16 % [0.14; 0.18]. Escherichia coli resistances to co-trimoxazole, ofloxacin, cefixime, nitrofurantoin and fosfomycin were, respectively, 25.5 % [0.23; 0.28], 17 % [0.14; 0.20], 5.6 % [0.04; 0.07], 2.2 % [0.01; 0.03] and 1.2 % [0.005; 0.02]. Independent risk factors for E. coli resistance to ofloxacin were age over 85 years (odds ratio [OR] = 3.08; [1.61; 5.87]) and a history of UTI in the last 6 months (OR = 2.34; [1.54; 3.52]). Our findings support the guidelines recommending fluoroquinolone sparing. The scarcity of E. coli resistance to fosfomycin justifies its use as a first-line treatment in acute cystitis. These results should be reassessed in a few years to identify changes in the bacterial epidemiology of UTI.
This is a preview of subscription content, log in to check access.
Access options
Buy single article
Instant access to the full article PDF.
US$ 39.95
Price includes VAT for USA
Subscribe to journal
Immediate online access to all issues from 2019. Subscription will auto renew annually.
US$ 99
This is the net price. Taxes to be calculated in checkout.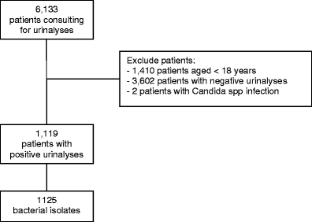 References
1.

Currie CJ, Berni E, Jenkins-Jones S, Poole CD, Ouwens M, Driessen S et al (2014) Antibiotic treatment failure in four common infections in UK primary care 1991–2012: longitudinal analysis. BMJ 349:g5493

2.

Neuzillet Y, Naber KG, Schito G, Gualco L, Botto H (2012) French results of the ARESC Study: clinical aspects and epidemiology of antimicrobial resistance in female patients with cystitis. Implications for empiric therapy. Méd Mal Infect 42(2):66–75

3.

Vachée A; ONERBA France (2010) Évolution de la résistance aux antibiotiques au sein de l'espèce E. coli. Journées Nationales d'Infectiologie, Session ONERBA

4.

Alós J-I, Serrano M-G, Gómez-Garcés J-L, Perianes J (2005) Antibiotic resistance of Escherichia coli from community-acquired urinary tract infections in relation to demographic and clinical data. Clin Microbiol Infect 11(3):199–203

5.

Société de Pathologie Infectieuse de Langue Française (SPILF) (2014) Diagnostic et antibiothérapie des infections urinaires bactériennes communautaires de l'adulte

6.

Wright SW, Wrenn KD, Haynes M, Haas DW (2000) Prevalence and risk factors for multidrug resistant uropathogens in ED patients. Am J Emerg Med 18(2):143–146

7.

Shilo S, Assous MV, Lachish T, Kopuit P, Bdolah-Abram T, Yinnon AM et al (2013) Risk factors for bacteriuria with carbapenem-resistant Klebsiella pneumoniae and its impact on mortality: a case–control study. Infection 41(2):503–509

8.

Hayakawa K, Gattu S, Marchaim D, Bhargava A, Palla M, Alshabani K et al (2013) Epidemiology and risk factors for isolation of Escherichia coli producing CTX-M-type extended-spectrum β-lactamase in a large U.S. Medical Center. Antimicrob Agents Chemother 57(8):4010–4018

9.

Butler CC, Dunstan F, Heginbothom M, Mason B, Roberts Z, Hillier S et al (2007) Containing antibiotic resistance: decreased antibiotic-resistant coliform urinary tract infections with reduction in antibiotic prescribing by general practices. Br J Gen Pract 57(543):785–792

10.

van der Starre WE, van Nieuwkoop C, Paltansing S, van't Wout JW, Groeneveld GH, Becker MJ et al (2011) Risk factors for fluoroquinolone-resistant Escherichia coli in adults with community-onset febrile urinary tract infection. J Antimicrob Chemother 66(3):650–656

11.

Société de Pathologie Infectieuse de Langue Française (SPILF) (2014) Facteurs de risque de résistance aux fluoroquinolones. Annexe des recommandations sur la prise en charge des infections urinaires communautaires

12.

Réseau ATB Raisin (2012) Surveillance de la consommation des antibiotiques. Résultats 2010. Institut de veille sanitaire (InVS)

13.

Goldstein FW (2000) Antibiotic susceptibility of bacterial strains isolated from patients with community-acquired urinary tract infections in France. Multicentre Study Group. Eur J Clin Microbiol Infect Dis 19(2):112–117

14.

Quentin C, Arpin C, Dubois V, André C, Lagrange I, Fischer I et al (2004) Antibiotic resistance rates and phenotypes among isolates of Enterobacteriaceae in French extra-hospital practice. Eur J Clin Microbiol Infect Dis 23(3):185–193

15.

Johnson JR, Stamm WE (1989) Urinary tract infections in women: diagnosis and treatment. Ann Intern Med 111(11):906–917

16.

(2014) Cystites aiguës simples chez les femmes. L'essentiel sur les soins de premier choix. Rev Prescrire 34(369):528–530

17.

Fabre R, Mérens A, Lefebvre F, Epifanoff G, Cerutti F, Pupin H et al (2010) Sensibilité aux antibiotiques des Escherichia coli isolés d'infections urinaires communautaires. Méd Mal Infect 40(10):555–559

18.

Rossignol L, Maugat S, Blake A, Barlier R, Vaux S, Heym B et al (2014) Étude Druti: Epidémiologie et prise en charge des infections urinaires en médecine générale en France métropolitaine. Institut de veille sanitaire (InVS)
Ethics declarations
Conflict of interest
The authors declare that they have no conflict of interest.
About this article
Cite this article
Malmartel, A., Ghasarossian, C. Epidemiology of urinary tract infections, bacterial species and resistances in primary care in France. Eur J Clin Microbiol Infect Dis 35, 447–451 (2016). https://doi.org/10.1007/s10096-015-2560-1
Received:

Accepted:

Published:

Issue Date:
Keywords
Urinary Tract Infection

Ofloxacin

Cystitis

Bacterial Resistance

Nitrofurantoin