Abstract
Antioxidants have been shown to help the growth of anaerobic bacteria. We were able to grow six anaerobe species (including Fusobacterium necrophorum and Ruminococcus gravus) and seven aerobic species all aerobically in Schaedler agar tubes and agar plates with high doses of ascorbic acid and/or glutathione. This may deeply change strategies for culturing bacteria.
This is a preview of subscription content,
to check access.
Access this article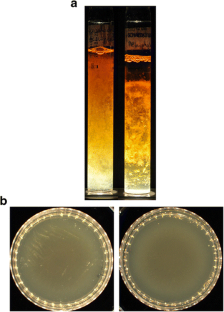 Similar content being viewed by others
References
Gorbach SL (2005) Anaerobic bacteria—general concepts. In: Mandell GL, Bennett JE, Dolin R (eds) Mandell, Douglas and Bennett's principles and practice of infectious diseases, 6th edn. Elsevier Churchill Livingstone, Philadelphia, pp 1854–1863

Collins C, Petts D (2008) Culture methods for pathogenic anaerobes: a brief history. Biomed Sci 599–601

Bousbia S, Papazian L, Saux P, Forel JM, Auffray JP, Martin C, Raoult D, LaScola B (2012) Repertoire of intensive care unit pneumonia microbiota. PLoS ONE 7:e32486

Fenollar F, Roux V, Stein A, Drancourt M, Raoult D (2006) Analysis of 525 Samples to determine the usefulness of PCR amplification and sequencing of the 16S rRNA gene for diagnosis of bone and joint infections. J Clin Microbiol 44:1018–1028

Al Masalma, Lonjon M, Richet H, Dufour H, Roche PH, Drancourt M, Raoult D, Fournier PE (2012) Metagenomic analysis of brain abscesses identifies specific bacterial associations. Clin Infect Dis 54:202–210

Barreau M, Pagnier I, LaScola B (2013) Improving the identification of anaerobes in the clinical microbiology laboratory through MALDI-TOF mass spectrometry. Anaerobe 123:5

La Scola B, Fournier PE, Raoult D (2011) Burden of emerging anaerobes in the MALDI-TOF and 16S rRNA gene sequencing era. Anaerobe 17:106–112

Lagier JC, Armougom F, Million M, Hugon P, Pagnier I, Robert C, Bittar F, Fournous G, Gimenez G, Maraninchi M, Trape JF, Koonin EV, La Scola B, Raoult D (2012) Microbial culturomics: paradigm shift in the human gut microbiome study. Clin Microbiol Infect 18:1185–1193

Singh S, Eldin C, Kowalczewska M, Raoult D (2012) Axenic culture of fastidious and intracellular bacteria. Trends Microbiol 21:92–99

Seng P, Abat C, Rolain JM, Colson P, Lagier JC, Gouriet F, Fournier PE, Drancourt M, La Scola B, Raoult D (2013) Identification of rare pathogenic bacteria in a clinical microbiology laboratory: impact of matrix-assisted laser desorption ionization-time of flight mass spectrometry. J Clin Microbiol 51:2182–2194
Acknowledgments
We thank the Méditerranée Infection Foundation for sponsoring this research.
Conflict of interest
There is a patent pending by Aix-Marseille Université regarding the use of high doses of ascorbic acid for anaerobe growth.
About this article
Cite this article
La Scola, B., Khelaifia, S., Lagier, JC. et al. Aerobic culture of anaerobic bacteria using antioxidants: a preliminary report. Eur J Clin Microbiol Infect Dis 33, 1781–1783 (2014). https://doi.org/10.1007/s10096-014-2137-4
Received:

Accepted:

Published:

Issue Date:

DOI: https://doi.org/10.1007/s10096-014-2137-4
Keywords