Abstract
To explore the correlations among the incidence, microbiology, season, gender, and age in patients with peritonsillar abscess (PTA) in order to identify risk factors for PTA development. All patients with PTA treated at private ENT practices in Aarhus County and in the Ear-Nose-Throat Departments at Aarhus University Hospital and Randers Hospital from January 2001 to December 2006 were included in the study. Age- and gender-stratified population data for Aarhus County for the same 6 years were obtained. The incidence rate of PTA increased from childhood to peak in teenage life and declined afterward gradually until old age. Girls predominated over boys until the age of 14 years. Subsequently, men were more frequently affected than women. Fusobacterium necrophorum (FN) was significantly more prevalent than group A Streptococcus (GAS) among patients aged 15–24 years (P < 0.001). In contrast, GAS was significantly more frequently recovered among children aged 0–9 years and adults aged 30–39 years compared with FN (P < 0.001 and P = 0.017 respectively). The seasonal variation of PTA was statistically insignificant (P = 0.437). However, GAS was significantly more frequently recovered in the winter and spring than in the summer (P = 0.002 and P = 0.036 respectively). There was a trend toward a higher incidence of FN infection during the summer than the winter (P = 0.165). Although the collected PTA incidence was stable throughout the year, the microbiology fluctuated with seasons. Patients aged 15–24 years are at an increased risk of PTA due to FN, which may have clinical implications for the diagnostic work-up and treatment of patients with acute tonsillitis.
Access options
Buy single article
Instant access to the full article PDF.
USD 39.95
Price excludes VAT (USA)
Tax calculation will be finalised during checkout.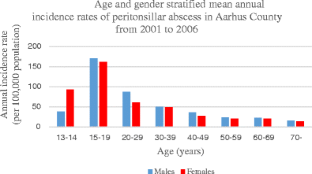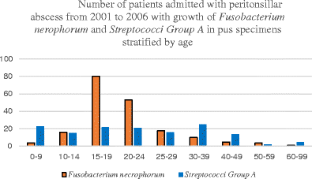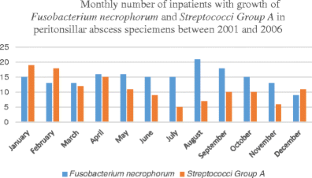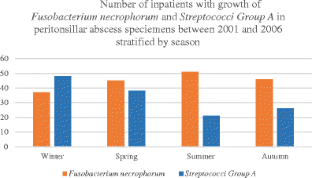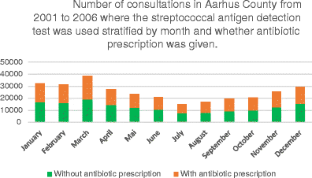 References
Brook I (1981) Aerobic and anaerobic bacteriology of peritonsillar abscess in children. Acta Paediatr Scand 70:831–835

Jousimies-Somer H, Savolainen S, Makitie A, Ylikoski J (1993) Bacteriologic findings in peritonsillar abscesses in young adults. Clin Infect Dis 16 [Suppl 4]:S292–S298

Fine AM, Nizet V, Mandl KD (2012) Large-scale validation of the Centor and McIsaac scores to predict group A streptococcal pharyngitis. Arch Intern Med 172:847–852

Centor RM, Witherspoon JM, Dalton HP, Brody CE, Link K (1981) The diagnosis of strep throat in adults in the emergency room. Med Decis Making 1:239–246

Jokipii AM, Jokipii L, Sipila P, Jokinen K (1988) Semiquantitative culture results and pathogenic significance of obligate anaerobes in peritonsillar abscesses. J Clin Microbiol 26:957–961

Ehlers Klug T, Rusan M, Fuursted K, Ovesen T (2009) Fusobacterium necrophorum: most prevalent pathogen in peritonsillar abscess in Denmark. Clin Infect Dis 49:1467–1472

Klug TE, Henriksen JJ, Fuursted K, Ovesen T (2011) Significant pathogens in peritonsillar abscesses. Eur J Clin Microbiol Infect Dis 30:619–627

Beeden AG, Evans JN (1970) Quinsy tonsillectomy–a further report. J Laryngol Otol 84:443–448

Schechter GL, Sly DE, Roper AL, Jackson RT (1982) Changing face of treatment of peritonsillar abscess. Laryngoscope 92:657–659

Spires JR, Owens JJ, Woodson GE, Miller RH (1987) Treatment of peritonsillar abscess. A prospective study of aspiration vs incision and drainage. Arch Otolaryngol Head Neck Surg 113:984–986

Grahne B (1958) Abscess tonsillectomy; seven hundred twenty-five cases. AMA Arch Otolaryngol 68:332–336

Wolf M, Even-Chen I, Kronenberg J (1994) Peritonsillar abscess: Repeated needle aspiration versus incision and drainage. Ann Otol Rhinol Laryngol 103:554–557

Marom T, Cinamon U, Itskoviz D, Roth Y (2010) Changing trends of peritonsillar abscess. Am J Otolaryngol 31:162–167

Segal N, El-Saied S, Puterman M (2009) Peritonsillar abscess in children in the southern district of Israel. Int J Pediatr Otorhinolaryngol 73:1148–1150

Matsuda A, Tanaka H, Kanaya T, Kamata K, Hasegawa M (2002) Peritonsillar abscess: a study of 724 cases in Japan. Ear Nose Throat J 81:384–389

Ong YK, Goh YH, Lee YL (2004) Peritonsillar infections: local experience. Singapore Med J 45:105–109

Kordeluk S, Novack L, Puterman M, Kraus M, Joshua BZ (2011) Relation between peritonsillar infection and acute tonsillitis: myth or reality? Otolaryngol Head Neck Surg 145:940–945

El-Saied S, Puterman M, Kaplan DM, Cohen-Lahav M, Joshua BZ (2012) Involvement of minor salivary glands in the pathogenesis of peritonsillar abscess. Otolaryngol Head Neck Surg 147:472–474

Powell EL, Powell J, Samuel JR, Wilson JA (2013) A review of the pathogenesis of adult peritonsillar abscess: time for a re-evaluation. J Antimicrob Chemother 68:1941–1950

Pham V, Gungor A (2012) Bilateral peritonsillar abscess: case report and literature review. Am J Otolaryngol 33:163–167

Hanna BC, McMullan R, Gallagher G, Hedderwick S (2006) The epidemiology of peritonsillar abscess disease in Northern Ireland. J Infect 52:247–253

Risberg S, Engfeldt P, Hugosson S (2008) Incidence of peritonsillar abscess and relationship to age and gender: retrospective study. Scand J Infect Dis 18:1–5

Little P, Watson L, Morgan S, Williamson I (2002) Antibiotic prescribing and admissions with major suppurative complications of respiratory tract infections: a data linkage study. Br J Gen Pract 52:187–190, 193

Del Mar CB, Glasziou PP, Spinks AB (2006) Antibiotics for sore throat. Cochrane Database Syst Rev 18(4):CD000023

Statistics Denmark. http://www.statbank.dk, Table BEF1A. Accessed March 2012

Murray PR, Baron EJ, Jorgensen JH et al (2007) Manual of clinical microbiology, 9th edn. ASM Press, Washington

Hagelskjaer Kristensen L, Prag J (2008) Lemierre's syndrome and other disseminated Fusobacterium necrophorum infections in Denmark: a prospective epidemiological and clinical survey. Eur J Clin Microbiol Infect Dis 27:779–789

Klug TE, Rusan M, Clemmensen KK, Fuursted K, Ovesen T (2013) Smoking promotes peritonsillar abscess. Eur Arch Otorhinolaryngol 270:3163–3167
Conflict of interest
The author declares that he has no conflict of interest.
About this article
Cite this article
Klug, T.E. Incidence and microbiology of peritonsillar abscess: the influence of season, age, and gender. Eur J Clin Microbiol Infect Dis 33, 1163–1167 (2014). https://doi.org/10.1007/s10096-014-2052-8
Received:

Accepted:

Published:

Issue Date:

DOI: https://doi.org/10.1007/s10096-014-2052-8
Keywords