Abstract
Candida auris is a recently described rare agent of fungemia. It is notable for its antifungal resistance. A total of 15 C. auris isolates, originating from seven cases of fungemia, three cases of diabetic gangrenous foot, and one case of bronchopneumonia from a tertiary care hospital in south India, were investigated. All of the 15 isolates were identified by sequencing and 14 of these along with 12 C. auris isolates previously reported from two hospitals in Delhi, north India, two each from Japan and Korea were genotyped by amplified fragment length polymorphism (AFLP). In vitro antifungal susceptibility testing (AFST) was done by the Clinical and Laboratory Standards Institute (CLSI) broth microdilution method. Candida auris isolates were misidentified as Candida haemulonii by VITEK. All were resistant to fluconazole [geometric mean minimum inhibitory concentration (MIC) 64 μg/ml] and 11 isolates were resistant to voriconazole (MIC ≥1 μg/ml). Forty-seven percent of the C. auris isolates were resistant to flucytosine (MIC ≥64 μg/ml) and 40 % had high MIC (≥1 μg/ml) of caspofungin. Breakthrough fungemia developed in 28.6 % of patients and therapeutic failure in 4 (66.7 %) patients. Interestingly, the 26 Indian C. auris isolates from north and south India were clonal and phenotypically and genotypically distinct from Korean and Japanese isolates. The present study demonstrates that C. auris is a potential emerging pathogen that can cause a wide spectrum of human mycotic infections. The prevalence of a C. auris endemic clonal strain resistant to azoles and other antifungals in Indian hospitals with high rates of therapeutic failure in cases of fungemia is worrisome.
This is a preview of subscription content, log in to check access.
Access options
Buy single article
Instant access to the full article PDF.
US$ 39.95
Price includes VAT for USA
Subscribe to journal
Immediate online access to all issues from 2019. Subscription will auto renew annually.
US$ 99
This is the net price. Taxes to be calculated in checkout.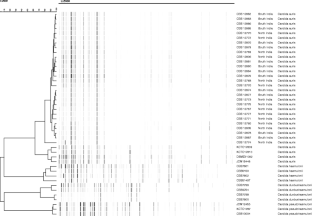 References
1.

Satoh K, Makimura K, Hasumi Y, Nishiyama Y, Uchida K, Yamaguchi H (2009) Candida auris sp. nov., a novel ascomycetous yeast isolated from the external ear canal of an inpatient in a Japanese hospital. Microbiol Immunol 53(11):41–44

2.

Chowdhary A, Sharma C, Duggal S, Agarwal K, Prakash A, Singh PK, Jain S, Kathuria S, Randhawa HS, Hagen F, Meis JF (2013) New clonal strain of Candida auris, Delhi, India. Emerg Infect Dis 19(10):1670–1673

3.

Lee WG, Shin JH, Uh Y, Kang MG, Kim SH, Park KH, Jang HC (2011) First three reported cases of nosocomial fungemia caused by Candida auris. J Clin Microbiol 49(9):3139–3142

4.

Kim MN, Shin JH, Sung H, Lee K, Kim EC, Ryoo N, Lee JS, Jung SI, Park KH, Kee SJ, Kim SH, Shin MG, Suh SP, Ryang DW (2009) Candida haemulonii and closely related species at 5 university hospitals in Korea: identification, antifungal susceptibility, and clinical features. Clin Infect Dis 48(6):e57–e61

5.

Oh BJ, Shin JH, Kim MN, Sung H, Lee K, Joo MY, Shin MG, Suh SP, Ryang DW (2011) Biofilm formation and genotyping of Candida haemulonii, Candida pseudohaemulonii, and a proposed new species (Candida auris) isolates from Korea. Med Mycol 49(1):98–102

6.

White TJ, Bruns T, Lee S, Taylor J (1990) Amplification and direct sequencing of fungal ribosomal RNA genes for phylogenetics. In: Innis MA, Gelfand DH, Sninsky JJ, White TJ (eds) PCR protocols: a guide to methods and applications. Academic Press, San Diego, pp 315–322

7.

Kurtzman CP, Robnett CJ (1997) Identification of clinically important ascomycetous yeasts based on nucleotide divergence in the 5′ end of the large-subunit (26S) ribosomal DNA gene. J Clin Microbiol 35(5):1216–1223

8.

Chowdhary A, Agarwal K, Kathuria S, Singh PK, Roy P, Gaur SN, de Hoog GS, Meis JF (2013) Clinical significance of filamentous basidiomycetes illustrated by isolates of the novel opportunist Ceriporia lacerata from the human respiratory tract. J Clin Microbiol 51(2):585–90

9.

Illnait-Zaragozí MT, Martínez-Machín GF, Fernández-Andreu CM, Perurena-Lancha MR, Theelen B, Boekhout T, Meis JF, Klaassen CH (2012) Environmental isolation and characterisation of Cryptococcus species from living trees in Havana city, Cuba. Mycoses 55(3):e138–144

10.

Clinical and Laboratory Standards Institute (CLSI) (2008) Reference method for broth dilution antifungal susceptibility testing of yeasts; Approved standard—third edition. CLSI document M27-A3. CLSI, Wayne, PA

11.

Pfaller MA, Boyken LB, Hollis RJ, Kroeger J, Messer SA, Tendolkar S, Diekema DJ (2008) Validation of 24-hour fluconazole MIC readings versus the CLSI 48-hour broth microdilution reference method: results from a global Candida antifungal surveillance program. J Clin Microbiol 46(11):3585–3590

12.

Pfaller MA, Boyken LB, Hollis RJ, Kroeger J, Messer SA, Tendolkar S, Diekema DJ (2011) Validation of 24-hour posaconazole and voriconazole MIC readings versus the CLSI 48-hour broth microdilution reference method: application of epidemiological cutoff values to results from a global Candida antifungal surveillance program. J Clin Microbiol 49(4):1274–1279

13.

Pfaller MA, Diekema DJ (2012) Progress in antifungal susceptibility testing of Candida spp. by use of Clinical and Laboratory Standards Institute broth microdilution methods, 2010 to 2012. J Clin Microbiol 50(9):2846–2856

14.

Cornely OA, Bassetti M, Calandra T, Garbino J, Kullberg BJ, Lortholary O, Meersseman W, Akova M, Arendrup MC, Arikan-Akdagli S, Bille J, Castagnola E, Cuenca-Estrella M, Donnelly JP, Groll AH, Herbrecht R, Hope WW, Jensen HE, Lass-Flörl C, Petrikkos G, Richardson MD, Roilides E, Verweij PE, Viscoli C, Ullmann AJ; ESCMID Fungal Infection Study Group (2012) ESCMID* guideline for the diagnosis and management of Candida diseases 2012: non-neutropenic adult patients. Clin Microbiol Infect 18(Suppl 7):19–37

15.

Cendejas-Bueno E, Kolecka A, Alastruey-Izquierdo A, Theelen B, Groenewald M, Kostrzewa M, Cuenca-Estrella M, Gómez-López A, Boekhout T (2012) Reclassification of the Candida haemulonii complex as Candida haemulonii (C. haemulonii group I), C. duobushaemulonii sp. nov. (C. haemulonii group II), and C. haemulonii var. vulnera var. nov.: three multiresistant human pathogenic yeasts. J Clin Microbiol 50(11):3641–3651
Acknowledgments
CS is supported by a University Grants Commission Research Fellowship (F.2-15/2003 SA-I). JFM has been supported by Qatar National Research Fund grant NPRP 5-298-3-086.
Conflict of interest
JFM received grants from Astellas, Merck, and Schering-Plough. He has been a consultant to Astellas, Basilea, and Merck, and received speaker's fees from Merck. All other authors: no potential conflicts of interest. The authors alone are responsible for the content and writing of the paper.
About this article
Cite this article
Chowdhary, A., Anil Kumar, V., Sharma, C. et al. Multidrug-resistant endemic clonal strain of Candida auris in India. Eur J Clin Microbiol Infect Dis 33, 919–926 (2014). https://doi.org/10.1007/s10096-013-2027-1
Received:

Accepted:

Published:

Issue Date:
Keywords
Minimum Inhibitory Concentration

Internal Transcribe Spacer

Fluconazole

Amplify Fragment Length Polymorphism

Voriconazole