Abstract
One hundred and thirty-six bla OXA-51-negative strains were identified from 1,067 Acinetobacter calcoaceticus–A. baumannii complex (ACB complex) isolates, which were collected during October 2010 to March 2013 from 15 general hospitals in 10 cities throughout Zhejiang Province, China. Seven of the 136 bla OXA-51-negative ACB complex isolates were New Delhi metallo-β-lactamase-1 (NDM-1)-positive, among which three were identified as A. nosocomialis and four were identified as A. pittii strains using 16S–23S rRNA gene intergenic spacer (ITS) sequencing and partial RNA polymerase β-subunit (rpoB) sequencing. Pulsed-field gel electrophoresis (PFGE) and multilocus sequence typing (MLST) analysis showed that the seven NDM-positive isolates belonged to three clonal strains with three novel sequence types (STs). Polymerase chain reaction (PCR) assays and DNA sequence analysis of the carbapenemase and other β-lactamase genes indicated that all the isolates harbored the bla NDM-1 gene, and that only one strain of A. nosocomialis isolates harbored both bla NDM-1 and bla OXA-23. All of them were positive for bla ADC, from which three novel bla ADC genes (designated as bla ADC-69, bla ADC-70, and bla ADC-71) were detected for the first time. The presence of ISAba125 upstream of bla NDM-1 was identified through genetic environment analysis. Carbapenem resistance can be transferred from A. nosocomialis and A. pittii to Escherichia coli EC600 by the conjugation experiment. Plasmid analysis, DNA hybridization, and extraction experiments indicated that bla NDM-1 was located on a plasmid of approximately 50 kb. In conclusion, we characterized the dissemination of NDM-1-positive A. pittii strains in Zhejiang Province, China, and reported the NDM-producing A. nosocomialis for the first time.
Access options
Buy single article
Instant access to the full article PDF.
USD 39.95
Price excludes VAT (USA)
Tax calculation will be finalised during checkout.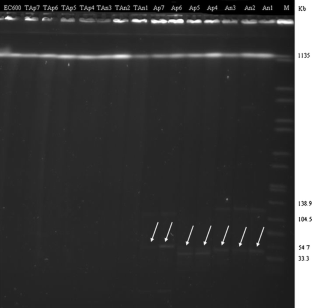 References
Dijkshoorn L, Nemec A, Seifert H (2007) An increasing threat in hospitals: multidrug-resistant Acinetobacter baumannii. Nat Rev Microbiol 5(12):939–951

Peleg AY, Seifert H, Paterson DL (2008) Acinetobacter baumannii: emergence of a successful pathogen. Clin Microbiol Rev 21(3):538–582

Gerner-Smidt P, Tjernberg I, Ursing J (1991) Reliability of phenotypic tests for identification of Acinetobacter species. J Clin Microbiol 29(2):277–282

Nemec A, Krizova L, Maixnerova M, van der Reijden TJ, Deschaght P, Passet V, Vaneechoutte M, Brisse S, Dijkshoorn L (2011) Genotypic and phenotypic characterization of the Acinetobacter calcoaceticus–Acinetobacter baumannii complex with the proposal of Acinetobacter pittii sp. nov. (formerly Acinetobacter genomic species 3) and Acinetobacter nosocomialis sp. nov. (formerly Acinetobacter genomic species 13TU). Res Microbiol 162(4):393–404

Chang HC, Wei YF, Dijkshoorn L, Vaneechoutte M, Tang CT, Chang TC (2005) Species-level identification of isolates of the Acinetobacter calcoaceticus–Acinetobacter baumannii complex by sequence analysis of the 16S–23S rRNA gene spacer region. J Clin Microbiol 43(4):1632–1639

Espinal P, Seifert H, Dijkshoorn L, Vila J, Roca I (2012) Rapid and accurate identification of genomic species from the Acinetobacter baumannii (Ab) group by MALDI-TOF MS. Clin Microbiol Infect 18(11):1097–1103

Xi H, Xu YC, Zhu DM, Wang F, Ni YX, Sun JY, Sun ZY, Jian C, Hu YJ, Ai XM, Zhang H, Li WH, Jiang B, Huang WX, Wang CQ, Wang AM, Wei LH, Wu L, Zhuo C, Su DH, Zhang ZX, Ji P, Xu YH, Xiong ZZ, Shen JL, Shan B, Du Y, Yu Y, Yang Q (2012) CHINET 2010 surveillance of antibiotic resistance in Acinetobacter baumannii in China. Chin J Infect Chemother 12(2):98–104

Yong D, Toleman MA, Giske CG, Cho HS, Sundman K, Lee K, Walsh TR (2009) Characterization of a new metallo-beta-lactamase gene, bla(NDM-1), and a novel erythromycin esterase gene carried on a unique genetic structure in Klebsiella pneumoniae sequence type 14 from India. Antimicrob Agents Chemother 53(12):5046–5054

Rolain JM, Parola P, Cornaglia G (2010) New Delhi metallo-beta-lactamase (NDM-1): towards a new pandemia? Clin Microbiol Infect 16(12):1699–1701

Karthikeyan K, Thirunarayan MA, Krishnan P (2010) Coexistence of blaOXA-23 with blaNDM-1 and armA in clinical isolates of Acinetobacter baumannii from India. J Antimicrob Chemother 65(10):2253–2254

Fu Y, Du X, Ji J, Chen Y, Jiang Y, Yu Y (2012) Epidemiological characteristics and genetic structure of blaNDM-1 in non-baumannii Acinetobacter spp. in China. J Antimicrob Chemother 67(9):2114–2122

La Scola B, Gundi VA, Khamis A, Raoult D (2006) Sequencing of the rpoB gene and flanking spacers for molecular identification of Acinetobacter species. J Clin Microbiol 44(3):827–832

Clinical and Laboratory Standards Institute (CLSI) (2013) Performance standards for antimicrobial susceptibility testing; twenty-third informational supplement, M100-S23. CLSI, Wayne, PA

Jeon BC, Jeong SH, Bae IK, Kwon SB, Lee K, Young D, Lee JH, Song JS, Lee SH (2005) Investigation of a nosocomial outbreak of imipenem-resistant Acinetobacter baumannii producing the OXA-23 beta-lactamase in Korea. J Clin Microbiol 43(5):2241–2245

Woodford N, Ellington MJ, Coelho JM, Turton JF, Ward ME, Brown S, Amyes SG, Livermore DM (2006) Multiplex PCR for genes encoding prevalent OXA carbapenemases in Acinetobacter spp. Int J Antimicrob Agents 27(4):351–353

Yigit H, Queenan AM, Anderson GJ, Domenech-Sanchez A, Biddle JW, Steward CD, Alberti S, Bush K, Tenover FC (2001) Novel carbapenem-hydrolyzing beta-lactamase, KPC-1, from a carbapenem-resistant strain of Klebsiella pneumoniae. Antimicrob Agents Chemother 45(4):1151–1161

Yu Y, Ji S, Chen Y, Zhou W, Wei Z, Li L, Ma Y (2007) Resistance of strains producing extended-spectrum beta-lactamases and genotype distribution in China. J Infect 54(1):53–57

Naas T, Bogaerts P, Bauraing C, Degheldre Y, Glupczynski Y, Nordmann P (2006) Emergence of PER and VEB extended-spectrum beta-lactamases in Acinetobacter baumannii in Belgium. J Antimicrob Chemother 58(1):178–182

Boo TW, Walsh F, Crowley B (2009) Molecular characterization of carbapenem-resistant Acinetobacter species in an Irish university hospital: predominance of Acinetobacter genomic species 3. J Med Microbiol 58(Pt 2):209–216

Pérez-Pérez FJ, Hanson ND (2002) Detection of plasmid-mediated AmpC beta-lactamase genes in clinical isolates by using multiplex PCR. J Clin Microbiol 40(6):2153–2162

Poirel L, Nordmann P (2006) Genetic structures at the origin of acquisition and expression of the carbapenem-hydrolyzing oxacillinase gene blaOXA-58 in Acinetobacter baumannii. Antimicrob Agents Chemother 50(4):1442–1448

Hu YY, Cai JC, Zhang R, Zhou HW, Sun Q, Chen GX (2012) Emergence of Proteus mirabilis harboring blaKPC-2 and qnrD in a Chinese Hospital. Antimicrob Agents Chemother 56(5):2278–2282

Carriço JA, Pinto FR, Simas C, Nunes S, Sousa NG, Frazão N, de Lencastre H, Almeida JS (2005) Assessment of band-based similarity coefficients for automatic type and subtype classification of microbial isolates analyzed by pulsed-field gel electrophoresis. J Clin Microbiol 43(11):5483–5490

Jolley KA, Maiden MC (2010) BIGSdb: Scalable analysis of bacterial genome variation at the population level. BMC Bioinformatics 11:595

Cai JC, Zhou HW, Zhang R, Chen GX (2008) Emergence of Serratia marcescens, Klebsiella pneumoniae, and Escherichia coli Isolates possessing the plasmid-mediated carbapenem-hydrolyzing beta-lactamase KPC-2 in intensive care units of a Chinese hospital. Antimicrob Agents Chemother 52(6):2014–2018

Barton BM, Harding GP, Zuccarelli AJ (1995) A general method for detecting and sizing large plasmids. Anal Biochem 226(2):235–240

Chen Y, Zhou Z, Jiang Y, Yu Y (2011) Emergence of NDM-1-producing Acinetobacter baumannii in China. J Antimicrob Chemother 66(6):1255–1259

Molina J, Cisneros JM, Fernández-Cuenca F, Rodríguez-Baño J, Ribera A, Beceiro A, Martínez-Martínez L, Pascual Á, Bou G, Vila J, Pachón J; Spanish Group for Nosocomial Infection (GEIH) (2010) Clinical features of infections and colonization by Acinetobacter genospecies 3. J Clin Microbiol 48(12):4623–4626

Pfeifer Y, Wilharm G, Zander E, Wichelhaus TA, Göttig S, Hunfeld KP, Seifert H, Witte W, Higgins PG (2011) Molecular characterization of blaNDM-1 in an Acinetobacter baumannii strain isolated in Germany in 2007. J Antimicrob Chemother 66(9):1998–2001

Roca I, Espinal P, Vila-Farrés X, Vila J (2012) The Acinetobacter baumannii oxymoron: commensal hospital dweller turned pan-drug-resistant menace. Front Microbiol 3:148

Kumarasamy KK, Toleman MA, Walsh TR, Bagaria J, Butt F, Balakrishnan R, Chaudhary U, Doumith M, Giske CG, Irfan S, Krishnan P, Kumar AV, Maharjan S, Mushtaq S, Noorie T, Paterson DL, Pearson A, Perry C, Pike R, Rao B, Ray U, Sarma JB, Sharma M, Sheridan E, Thirunarayan MA, Turton J, Upadhyay S, Warner M, Welfare W, Livermore DM, Woodford N (2010) Emergence of a new antibiotic resistance mechanism in India, Pakistan, and the UK: a molecular, biological, and epidemiological study. Lancet Infect Dis 10(9):597–602
Funding
This work was supported by the Zhejiang Provincial Natural Science Foundation of China (no. LY12H20002).
Conflict of interest
The authors declare that they have no conflict of interest.
Additional information
Rong Zhang and Yan-Yan Hu contributed equally to the work.
About this article
Cite this article
Zhang, R., Hu, YY., Yang, XF. et al. Emergence of NDM-producing non-baumannii Acinetobacter spp. isolated from China. Eur J Clin Microbiol Infect Dis 33, 853–860 (2014). https://doi.org/10.1007/s10096-013-2024-4
Received:

Accepted:

Published:

Issue Date:

DOI: https://doi.org/10.1007/s10096-013-2024-4
Keywords