Abstract
Hepatitis C virus (HCV)-RNA amplification is a costly procedure in terms of time and reagents. Consequently, the search for more a cost-effective specific HCV diagnostic method is of great interest. Capillary zone electrophoresis (CZE) methods that detect HCV in serum, plasma, whole blood, and ascites without the need for sample pretreatment are not currently available. Here, a CZE method was developed that detects a larger specific peak in serum and other body fluids of HCV-infected patients than that found in healthy or hepatitis B virus (HBV)-infected individuals. The nature of the HCV peak was investigated using biochemical treatments, including RNase, DNase, and chymotrypsin enzymes. Electroeluted HCV peak was applied to transmission electron microscopy; electron micrographs showed that the HCV peak was attributed to virus-like particles with diameter and morphological properties similar to non-enveloped HCV nucleocapsids. The determination of CZE-HCV and HCV-RNA levels using quantitative real-time reverse transcriptase-polymerase chain reaction (qRT-PCR) in 258 subjects revealed that these two tests were highly correlated (r = 0.92, p < 0.0001). One important issue of HCV testing is the storage conditions of serum to obtain reliable results. Serum samples at −20 °C showed the best preservation of the HCV peak up to one year. In conclusion, we detected HCV using CZE in a microliters volume from different body fluids. Besides the stability of samples in maintaining their peak height, the HCV-CZE test is rapid (<15 min) and a well-suited and low-cost technique. Thus, a major improvement in the quantitative diagnosis of HCV infection was established.
Access options
Buy single article
Instant access to the full article PDF.
US$ 39.95
Tax calculation will be finalised during checkout.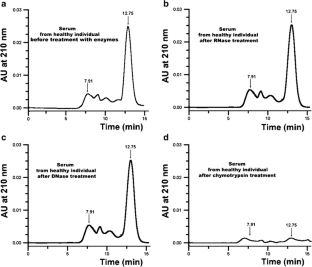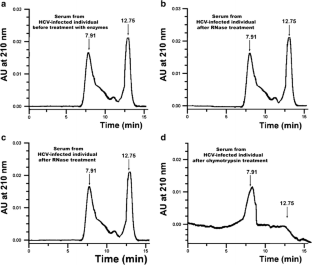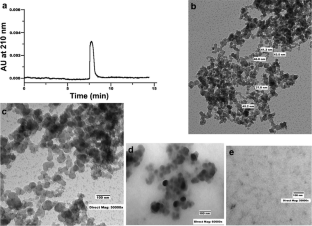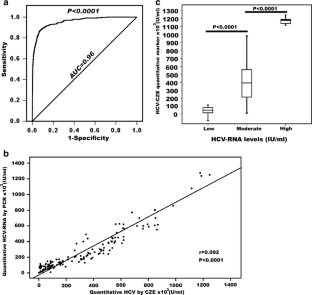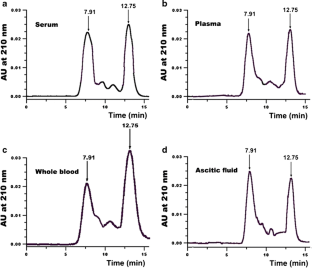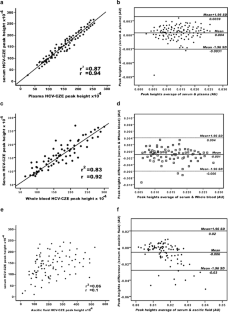 References
1.

Sainz B Jr, Barretto N, Martin DN, Hiraga N, Imamura M, Hussain S, Marsh KA, Yu X, Chayama K, Alrefai WA, Uprichard SL (2012) Identification of the Niemann–Pick C1-like 1 cholesterol absorption receptor as a new hepatitis C virus entry factor. Nat Med 18:281–285

2.

Lanford RE, Hildebrandt-Eriksen ES, Petri A, Persson R, Lindow M, Munk ME, Kauppinen S, Ørum H (2010) Therapeutic silencing of microRNA-122 in primates with chronic hepatitis C virus infection. Science 327:198–201

3.

Shepard CW, Finelli L, Alter MJ (2005) Global epidemiology of hepatitis C virus infection. Lancet Infect Dis 5:558–567

4.

Park Y, Lee JH, Kim BS, Kim do Y, Han KH, Kim HS (2010) New automated hepatitis C virus (HCV) core antigen assay as an alternative to real-time PCR for HCV RNA quantification. J Clin Microbiol 48:2253–2256

5.

Lerat H, Hollinger FB (2004) Hepatitis C virus (HCV) occult infection or occult HCV RNA detection? J Infect Dis 189:3–6

6.

Descamps V, Op de Beeck A, Plassart C, Brochot E, François C, Helle F, Adler M, Bourgeois N, Degré D, Duverlie G, Castelain S (2012) Strong correlation between liver and serum levels of hepatitis C virus core antigen and RNA in chronically infected patients. J Clin Microbiol 50:465–468

7.

Bruns T, Steinmetzer K, Ermantraut E, Stallmach A (2009) Hepatitis C virus RNA quantitation in venous and capillary small-volume whole-blood samples. J Clin Microbiol 47:3231–3240

8.

Linhardt RJ, Toida T (2002) Tech.Sight. Capillary electrophoresis. Ultra-high resolution separation comes of age. Science 298:1441–1442

9.

Desai MJ, Armstrong DW (2003) Separation, identification, and characterization of microorganisms by capillary electrophoresis. Microbiol Mol Biol Rev 67:38–51

10.

Attallah AM, Abdel Malak CA, Elghawalby NA, Shehatta AS, Abdel-Raouf M, Shiha GE (2004) Identification of a specific marker for hepatitis C virus infection using capillary zone electrophoresis. Clin Chim Acta 346:171–179

11.

Chang Y, Yang B, Zhao X, Linhardt RJ (2012) Analysis of glycosaminoglycan-derived disaccharides by capillary electrophoresis using laser-induced fluorescence detection. Anal Biochem 427:91–98

12.

Oita I, Halewyck H, Pieters S, Dejaegher B, Thys B, Rombaut B, Heyden YV (2009) Improving the capillary electrophoretic analysis of poliovirus using a Plackett–Burman design. J Pharm Biomed Anal 50:655–663

13.

Schnabel U, Groiss F, Blaas D, Kenndler E (1996) Determination of the pI of human rhinovirus serotype 2 by capillary isoelectric focusing. Anal Chem 68:4300–4303

14.

Okun VM, Ronacher B, Blaas D, Kenndler E (1999) Analysis of common cold virus (human rhinovirus serotype 2) by capillary zone electrophoresis: the problem of peak identification. Anal Chem 71:2028–2032

15.

Mann B, Traina JA, Soderblom C, Murakami PK, Lehmberg E, Lee D, Irving J, Nestaas E, Pungor E (2000) Capillary zone electrophoresis of a recombinant adenovirus. J Chromatogr A 895:329–337

16.

Végvári A, Hjertén S (2003) Hybrid microdevice electrophoresis of peptides, proteins, DNA, viruses, and bacteria in various separation media, using UV-detection. Electrophoresis 24:3815–3820

17.

Mironov GG, Chechik AV, Ozer R, Bell JC, Berezovski MV (2011) Viral quantitative capillary electrophoresis for counting intact viruses. Anal Chem 83:5431–5435

18.

Okun VM, Blaas D, Kenndler E (1999) Separation and biospecific identification of subviral particles of human rhinovirus serotype 2 by capillary zone electrophoresis. Anal Chem 71:4480–4485

19.

Halewyck H, Oita I, Thys B, Dejaegher B, Vander Heyden Y, Rombaut B (2010) Identification of poliovirions and subviral particles by capillary electrophoresis. Electrophoresis 31:3281–3287

20.

Okun VM, Ronacher B, Blaas D, Kenndler E (2000) Affinity capillary electrophoresis for the assessment of complex formation between viruses and monoclonal antibodies. Anal Chem 72:4634–4639

21.

Kolesar JM, Allen PG, Doran CM (1997) Direct quantification of HIV-1 RNA by capillary electrophoresis with laser-induced fluorescence. J Chromatogr B Biomed Sci Appl 697:189–194

22.

Grassi M, Mammarella A, Sagliaschi G, Granati L, Musca A, Traditi F, Pezzella M (2001) Persistent hepatitis G virus (HGV) infection in chronic hemodialysis patients and non-B, non-C chronic hepatitis. Clin Chem Lab Med 39:956–960

23.

Thaitrong N, Liu P, Briese T, Lipkin WI, Chiesl TN, Higa Y, Mathies RA (2010) Integrated capillary electrophoresis microsystem for multiplex analysis of human respiratory viruses. Anal Chem 82:10102–10109

24.

Farías A, Ré V, Mengarelli S, Kremer L, Pisano MB, Allende L, Nicolás J, Elbarcha O, Contigiani M (2010) Detection of hepatitis C virus (HCV) in body fluids from HCV monoinfected and HCV/HIV coinfected patients. Hepatogastroenterology 57:300–304

25.

Cuhadar S, Atay A, Koseoglu M, Dirican A, Hur A (2012) Stability studies of common biochemical analytes in serum separator tubes with or without gel barrier subjected to various storage conditions. Biochem Med (Zagreb) 22:202–214

26.

Rose DJ, Jorgenson JW (1988) Fraction collector for capillary zone electrophoresis. J Chromatogr 438:23–34

27.

Shah VP, Midha KK, Findlay JW, Hill HM, Hulse JD, McGilveray IJ, McKay G, Miller KJ, Patnaik RN, Powell ML, Tonelli A, Viswanathan CT, Yacobi A (2000) Bioanalytical method validation—a revisit with a decade of progress. Pharm Res 17:1551–1557

28.

Bland JM, Altman DG (1999) Measuring agreement in method comparison studies. Stat Methods Med Res 8:135–160

29.

Petersen JR, Okorodudu AO, Mohammad A, Payne DA (2003) Capillary electrophoresis and its application in the clinical laboratory. Clin Chim Acta 330:1–30

30.

Beaubier NT, Hart AP, Bartolo C, Willman CL, Viswanatha DS (2000) Comparison of capillary electrophoresis and polyacrylamide gel electrophoresis for the evaluation of T and B cell clonality by polymerase chain reaction. Diagn Mol Pathol 9:121–131

31.

Bergmann J, Jaehde U, Mazereeuw M, Tjaden UR, Schunack W (1996) Potential of on-line isotachophoresis-capillary zone electrophoresis with hydrodynamic counterflow in the analysis of various basic proteins and recombinant human interleukin-3. J Chromatogr A 734:381–389

32.

Klein KC, Dellos SR, Lingappa JR (2005) Identification of residues in the hepatitis C virus core protein that are critical for capsid assembly in a cell-free system. J Virol 79:6814–6826

33.

Kunkel M, Watowich SJ (2002) Conformational changes accompanying self-assembly of the hepatitis C virus core protein. Virology 294:239–245

34.

Gastaminza P, Dryden KA, Boyd B, Wood MR, Law M, Yeager M, Chisari FV (2010) Ultrastructural and biophysical characterization of hepatitis C virus particles produced in cell culture. J Virol 84:10999–11009

35.

Maillard P, Krawczynski K, Nitkiewicz J, Bronnert C, Sidorkiewicz M, Gounon P, Dubuisson J, Faure G, Crainic R, Budkowska A (2001) Nonenveloped nucleocapsids of hepatitis C virus in the serum of infected patients. J Virol 75:8240–8250

36.

Subirats X, Blaas D, Kenndler E (2011) Recent developments in capillary and chip electrophoresis of bioparticles: viruses, organelles, and cells. Electrophoresis 32:1579–1590

37.

Boulant S, Vanbelle C, Ebel C, Penin F, Lavergne JP (2005) Hepatitis C virus core protein is a dimeric alpha-helical protein exhibiting membrane protein features. J Virol 79:11353–11365

38.

Yamashita T, Honda M, Kaneko S (2011) Molecular mechanisms of hepatocarcinogenesis in chronic hepatitis C virus infection. J Gastroenterol Hepatol 26:960–964

39.

Quinlan GJ, Martin GS, Evans TW (2005) Albumin: biochemical properties and therapeutic potential. Hepatology 41:1211–1219

40.

Wang RE, Tian L, Chang YH (2012) A homogeneous fluorescent sensor for human serum albumin. J Pharm Biomed Anal 63:165–169

41.

Runyon BA; AASLD Practice Guidelines Committee (2009) Management of adult patients with ascites due to cirrhosis: an update. Hepatology 49:2087–2107

42.

McDade TW, Williams S, Snodgrass JJ (2007) What a drop can do: dried blood spots as a minimally invasive method for integrating biomarkers into population-based research. Demography 44:899–925

43.

McDade TW, Shell-Duncan B (2002) Whole blood collected on filter paper provides a minimally invasive method for assessing human transferrin receptor level. J Nutr 132:3760–3763

44.

Déglon J, Thomas A, Daali Y, Lauer E, Samer C, Desmeules J, Dayer P, Mangin P, Staub C (2011) Automated system for on-line desorption of dried blood spots applied to LC/MS/MS pharmacokinetic study of flurbiprofen and its metabolite. J Pharm Biomed Anal 54:359–367

45.

Worthman CM, Stallings JF (1997) Hormone measures in finger-prick blood spot samples: new field methods for reproductive endocrinology. Am J Phys Anthropol 104:1–21

46.

Sener K, Yapar M, Bedir O, Gül C, Coskun O, Kubar A (2010) Stability of hepatitis C virus RNA in blood samples by TaqMan real-time PCR. J Clin Lab Anal 24:134–138

47.

José M, Curtu S, Gajardo R, Jorquera JI (2003) The effect of storage at different temperatures on the stability of hepatitis C virus RNA in plasma samples. Biologicals 31:1–8

48.

Ray SC, Arthur RR, Carella A, Bukh J, Thomas DL (2000) Genetic epidemiology of hepatitis C virus throughout Egypt. J Infect Dis 182:698–707
Acknowledgments
The authors would like to thank the staff of the Electron Microscope Unit, Faculty of Science, Ain Shams University, Egypt, for the electron microscopy analysis. This work has been completely supported financially and carried out at the Biotechnology Research Center, New Damietta, Egypt. A. M. Attallah generated the idea and designed the study.
Conflict of interest
All authors had no conflicts of interest.
About this article
Cite this article
Attallah, A.M., Abdallah, S.O., El-desouky, M.A. et al. A rapid, low-cost quantitative diagnostic method for hepatitis C virus infection using capillary zone electrophoresis. Eur J Clin Microbiol Infect Dis 33, 439–452 (2014). https://doi.org/10.1007/s10096-013-1976-8
Received:

Accepted:

Published:

Issue Date:
Keywords
Migration Time

Ascitic Fluid

Capillary Zone Electrophoresis

Capillary Zone Electrophoresis Method

Capillary Zone Electrophoresis Analysis