Abstract
Multiple sclerosis (MS) is the prototypical inflammatory disease of the central nervous system and spinal cord, leading to axonal demyelination of neurons. Recently, we have found a correlation between fungal infection and MS in peripheral blood of patients. The present work provides evidence of fungal infection in the cerebrospinal fluid (CSF) of some MS patients. Thus, fungal antigens can be demonstrated in CSF, as well as antibodies reacting against several Candida species. Comparison was made between CSF and blood serum for the presence of fungal antigens (proteins) and antibodies against different Candida spp. Analyses of both CSF and serum are complementary and serve to better evaluate for the presence of disseminated fungal infection. In addition, PCR analyses indicate the presence of DNA from different fungal species in CSF, depending on the patient analyzed. Overall, these findings support the notion that fungal infection can be demonstrated in CSF from some MS patients. This may constitute a risk factor in this disease and could also help in understanding the pathogenesis of MS.
Access options
Buy single article
Instant access to the full article PDF.
USD 39.95
Price includes VAT (USA)
Tax calculation will be finalised during checkout.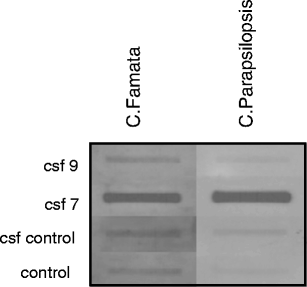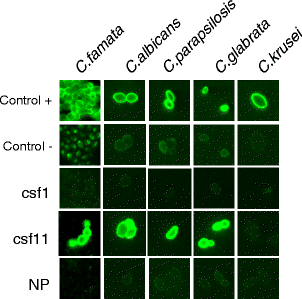 References
1.

Barnett MH, Sutton I (2006) The pathology of multiple sclerosis: a paradigm shift. Curr Opin Neurol 19(3):242–247

2.

Hawker K (2011) Progressive multiple sclerosis: characteristics and management. Neurol Clin 29(2):423–434

3.

Stadelmann C (2011) Multiple sclerosis as a neurodegenerative disease: pathology, mechanisms and therapeutic implications. Curr Opin Neurol 24(3):224–229

4.

Burrell AM, Handel AE, Ramagopalan SV, Ebers GC, Morahan JM (2011) Epigenetic mechanisms in multiple sclerosis and the major histocompatibility complex (MHC). Discov Med 11(58):187–196

5.

Giovannoni G, Ebers G (2007) Multiple sclerosis: the environment and causation. Curr Opin Neurol 20(3):261–268

6.

Holmoy T, Harbo H, Vartdal F, Spurkland A (2009) Genetic and molecular approaches to the immunopathogenesis of multiple sclerosis: an update. Curr Mol Med 9(5):591–611

7.

Kakalacheva K, Munz C, Lunemann JD (2011) Viral triggers of multiple sclerosis. Biochim Biophys Acta 1812(2):132–140

8.

Marrie R (2011) Demographic, genetic, and environmental factors that modify disease course. Neurol Clin 29(2):323–341

9.

Van der Mei IA, Simpson S Jr, Stankovich J, Taylor BV (2011) Individual and joint action of environmental factors and risk of MS. Neurol Clin 29(2):233–255

10.

Goverman JM (2011) Immune tolerance in multiple sclerosis. Immunol Rev 241(1):228–240

11.

Hollifield RD, Harbige LS, Pham-Dinh D, Sharief MK (2003) Evidence for cytokine dysregulation in multiple sclerosis: peripheral blood mononuclear cell production of pro-inflammatory and anti-inflammatory cytokines during relapse and remission. Autoimmunity 36(3):133–141

12.

McCoy L, Tsunoda I, Fujinami RS (2006) Multiple sclerosis and virus induced immune responses: autoimmunity can be primed by molecular mimicry and augmented by bystander activation. Autoimmunity 39(1):9–19

13.

Westall FC (2006) Molecular mimicry revisited: gut bacteria and multiple sclerosis. J Clin Microbiol 44(6):2099–2104

14.

Kuhle J, Pohl C, Mehling M, Edan G, Freedman MS, Hartung HP, Polman CH, Miller DH, Montalban X, Barkhof F, Bauer L, Dahms S, Lindberg R, Kappos L and Sandbrink R (2007) Lack of association between antimyelin antibodies and progression to multiple sclerosis. N Engl J Med 356(4):371–378

15.

Kutzelnigg A, Lucchinetti CF, Stadelmann C, Bruck W, Rauschka H, Bergmann M, Schmidbauer M, Parisi JE, Lassmann H (2005) Cortical demyelination and diffuse white matter injury in multiple sclerosis. Brain 128(Pt 11):2705–2712

16.

D'Haeseleer M, Cambron M, Vanopdenbosch L, De Keyser J (2011) Vascular aspects of multiple sclerosis. Lancet Neurol 10(7):657–666

17.

Carrasco L, Ramos M, Galisteo R, Pisa D, Fresno M, Gonzalez ME (2005) Isolation of Candida famata from a patient with acute zonal occult outer retinopathy. J Clin Microbiol 43(2):635–640

18.

Pisa D, Ramos M, Garcia P, Escoto R, Barraquer R, Molina S, Carrasco L (2008) Fungal infection in patients with serpiginous choroiditis or acute zonal occult outer retinopathy. J Clin Microbiol 46(1):130–135

19.

Gass JD (2003) Are acute zonal occult outer retinopathy and the white spot syndromes (AZOOR complex) specific autoimmune diseases? Am J Ophthalmol 135(3):380–381

20.

Heckenlively JR, Ferreyra HA (2008) Autoimmune retinopathy: a review and summary. Semin Immunopathol 30(2):127–134

21.

Jacobson DM (1996) Acute zonal occult outer retinopathy and central nervous system inflammation. J Neuroophthalmol 16(3):172–177

22.

Monson DM, Smith JR (2011) Acute zonal occult outer retinopathy. Surv Ophthalmol 56(1):23–35

23.

Benito-León J, Pisa D, Alonso R, Calleja P, Díaz-Sánchez M, Carrasco L (2010) Association between multiple sclerosis and Candida species: evidence from a case–control study. Eur J Clin Microbiol Infect Dis:1139–1145

24.

Ramos M (2007) Diagnóstico de candidiasis mediante técnicas de PCR y de detección de antígenos fúngicos. Facultad de Ciencias. Universidad Autónoma de Madrid, Madrid

25.

Pisa D, Ramos M, Molina S, Garcia P, Carrasco L (2007) Evolution of antibody response and fungal antigens in the serum of a patient infected with Candida famata. J Med Microbiol 56(Pt 5):571–578

26.

Purzycki CB, Shain DH (2010) Fungal toxins and multiple sclerosis: a compelling connection. Brain Res Bull 82(1–2):4–6

27.

Malcus-Vocanson C, Giraud P, Broussolle E, Perron H, Mandrand B, Chazot G (1998) A urinary marker for multiple sclerosis. Lancet 351(9112):1330

28.

Avni T, Leibovici L, Paul M (2011) PCR diagnosis of invasive candidiasis: systematic review and meta-analysis. J Clin Microbiol 49(2):665–670

29.

Bretagne S, Costa JM (2005) Towards a molecular diagnosis of invasive aspergillosis and disseminated candidosis. FEMS Immunol Med Microbiol 45(3):361–368

30.

Khan ZU, Mustafa AS (2001) Detection of Candida species by polymerase chain reaction (PCR) in blood samples of experimentally infected mice and patients with suspected candidemia. Microbiol Res 156(1):95–102

31.

Gilden DH (2005) Infectious causes of multiple sclerosis. Lancet Neurol 4(3):195–202

32.

Giovannoni G, Cutter GR, Lunemann J, Martin R, Munz C, Sriram S, Steiner I, Hammerschlag MR, Gaydos CA (2006) Infectious causes of multiple sclerosis. Lancet Neurol 5(10):887–894

33.

Wingerchuk DM (2011) Environmental factors in multiple sclerosis: Epstein-Barr virus, vitamin D, and cigarette smoking. Mt Sinai J Med NY 78(2):221–230

34.

Cermelli C, Jacobson S (2000) Viruses and multiple sclerosis. Viral Immunol 13(3):255–267

35.

Pisa D, Alonso R, Carrasco L (2011) Fungal infection in a patient with multiple sclerosis. Eur J Clin Microbiol Infect Dis 30(10):1173–1180

36.

Rieger F, Amouri R, Benjelloun N, Cifuentes-Diaz C, Lyon-Caen O, Hantaz-Ambroise D, Dobransky T, Perron H, Gemy C (1996) Gliotoxic factor and multiple sclerosis. CR Acad Sci 319(4):343–350

37.

Wu GF, Alvarez E (2011) The immunopathophysiology of multiple sclerosis. Neurol Clin 29(2):257–278

38.

Gutwinski S, Erbe S, Munch C, Janke O, Muller U, Haas J (2010) Severe cutaneous Candida infection during natalizumab therapy in multiple sclerosis. Neurology 74(6):521–523
Acknowledgements
The study was supported by a grant from the Fundación de Investigación Médica Mutua Madrileña. We also acknowledge an institutional grant to Centro de Biología Molecular from the Fundación Ramón Areces.
Conflict of interest
The authors declare that they have no conflicts of interest.
About this article
Cite this article
Pisa, D., Alonso, R., Jiménez-Jiménez, F.J. et al. Fungal infection in cerebrospinal fluid from some patients with multiple sclerosis. Eur J Clin Microbiol Infect Dis 32, 795–801 (2013). https://doi.org/10.1007/s10096-012-1810-8
Received:

Accepted:

Published:

Issue Date:
Keywords
Multiple Sclerosis

Fungal Infection

Multiple Sclerosis Patient

Blood Serum

Fungal Species