Abstract
The main objective of this study was to investigate the prevalence of bla NDM-1 in Gram-negative bacteria in Bangladesh. In October 2010 at the International Centre for Diarrhoeal Disease Research, Bangladesh (ICDDR,B) laboratories, 1,816 consecutive clinical samples were tested for imipenem-resistant Gram-negative organisms. Imipenem-resistant isolates were tested for the bla NDM-1 gene. Among 403 isolates, 14 (3.5 %) were positive for bla NDM-1, and the predominant species were Klebsiella pneumoniae, Acinetobacter baumannii, and Escherichia coli. All bla NDM-1-positive isolates were resistant to multiple antibiotics. Among β-lactamase genes, bla CTX-M-1-group was detected in ten isolates (eight bla CTX-M-15), bla OXA-1-group in six, bla TEM in nine, bla SHV in seven, and bla VIM and bla CMY in two isolates each. The 16S rRNA methylase gene, armA, was detected in five K. pneumoniae isolates and in one E. coli isolate. rmtB and rmtC were detected in a Citrobacter freundii and two K. pneumoniae isolates, respectively. qnr genes were detected in two K. pneumoniae isolates (one qnrB and one qnrS) and in an E. coli isolate (qnrA). Transferable plasmids (60–100 MDa) carrying bla NDM-1 were detected in 7 of the 11 plasmid-containing isolates. Pulsed-field gel electrophoresis (PFGE) analysis grouped K. pneumoniae isolates into three clusters, while E. coli isolates differed significantly from each other. This study reports that approximately 3.5 % of Gram-negative clinical isolates in Bangladesh are NDM-1-producing.
Access options
Buy single article
Instant access to the full article PDF.
US$ 39.95
Tax calculation will be finalised during checkout.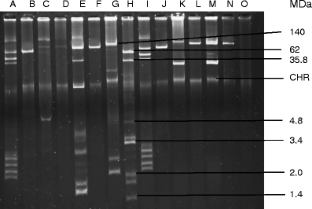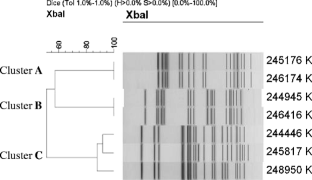 References
1.

Kumarasamy KK, Toleman MA, Walsh TR, Bagaria J, Butt F, Balakrishnan R, Chaudhary U, Doumith M, Giske CG, Irfan S, Krishnan P, Kumar AV, Maharjan S, Mushtaq S, Noorie T, Paterson DL, Pearson A, Perry C, Pike R, Rao B, Ray U, Sarma JB, Sharma M, Sheridan E, Thirunarayan MA, Turton J, Upadhyay S, Warner M, Welfare W, Livermore DM, Woodford N (2010) Emergence of a new antibiotic resistance mechanism in India, Pakistan, and the UK: a molecular, biological, and epidemiological study. Lancet Infect Dis 10:597–602

2.

Bush K, Jacoby GA (2010) Updated functional classification of β-lactamases. Antimicrob Agents Chemother 54:969–976

3.

Yong D, Toleman MA, Giske CG, Cho HS, Sundman K, Lee K, Walsh TR (2009) Characterization of a new metallo-beta-lactamase gene, bla NDM-1, and a novel erythromycin esterase gene carried on a unique genetic structure in Klebsiella pneumoniae sequence type 14 from India. Antimicrob Agents Chemother 53:5046–5054

4.

Muir A, Weinbren MJ (2010) New Delhi metallo-β-lactamase: a cautionary tale. J Hosp Infect 75:239–240

5.

Clinical and Laboratory Standard Institute (CLSI) (2010) Performance standards for antimicrobial susceptibility testing; 20th Informational Supplement (June 2010 update) M100-S20-U. CLSI, Wayne

6.

Frye JG, Fedorka-Cray PJ (2007) Prevalence, distribution and characterisation of ceftiofur resistance in Salmonella enterica isolated from animals in the USA from 1999 to 2003. Int J Antimicrob Agents 30:134–142

7.

Ryoo NH, Kim EC, Hong SG, Park YJ, Lee K, Bae IK, Song EH, Jeong SH (2005) Dissemination of SHV-12 and CTX-M-type extended-spectrum beta-lactamases among clinical isolates of Escherichia coli and Klebsiella pneumoniae and emergence of GES-3 in Korea. J Antimicrob Chemother 56:698–702

8.

Guerra B, Soto SM, Argüelles JM, Mendoza MC (2001) Multidrug resistance is mediated by large plasmids carrying a class 1 integron in the emergent Salmonella enterica serotype [4,5,12:i:-]. Antimicrob Agents Chemother 45:1305–1308

9.

Muzaheed, Doi Y, Adams-Haduch JM, Endimiani A, Sidjabat HE, Gaddad SM, Paterson DL (2008) High prevalence of CTX-M-15-producing Klebsiella pneumoniae among inpatients and outpatients with urinary tract infection in Southern India. J Antimicrob Chemother 61:1393–1394

10.

Poirel L, Walsh TR, Cuvillier V, Nordmann P (2011) Multiplex PCR for detection of acquired carbapenemase genes. Diagn Microbiol Infect Dis 70:119–123

11.

Doi Y, Arakawa Y (2007) 16S ribosomal RNA methylation: emerging resistance mechanism against aminoglycosides. Clin Infect Dis 45:88–94

12.

Cattoir V, Poirel L, Rotimi V, Soussy CJ, Nordmann P (2007) Multiplex PCR for detection of plasmid-mediated quinolone resistance qnr genes in ESBL-producing enterobacterial isolates. J Antimicrob Chemother 60:394–397

13.

Woodford N, Ellington MJ, Coelho JM, Turton JF, Ward ME, Brown S, Amyes SG, Livermore DM (2006) Multiplex PCR for genes encoding prevalent OXA carbapenemases in Acinetobacter spp. Int J Antimicrob Agents 27:351–353

14.

Talukder KA, Islam MA, Dutta DK, Hassan F, Safa A, Nair GB, Sack DA (2002) Phenotypic and genotypic characterization of serologically atypical strains of Shigella flexneri type 4 isolated in Dhaka, Bangladesh. J Clin Microbiol 40:2490–2497

15.

Ribot EM, Fair MA, Gautom R, Cameron DN, Hunter SB, Swaminathan B, Barrett TJ (2006) Standardization of pulsed-field gel electrophoresis protocols for the subtyping of Escherichia coli O157:H7, Salmonella, and Shigella for PulseNet. Foodborne Pathog Dis 3:59–67

16.

Rolain JM, Parola P, Cornaglia G (2010) New Delhi metallo-beta-lactamase (NDM-1): towards a new pandemia? Clin Microbiol Infect 16:1699–1701

17.

Poirel L, Lagrutta E, Taylor P, Pham J, Nordmann P (2010) Emergence of metallo-β-lactamase NDM-1-producing multidrug-resistant Escherichia coli in Australia. Antimicrob Agents Chemother 54:4914–4916

18.

Poirel L, Dortet L, Bernabeu S, Nordmann P (2011) Genetic features of bla NDM-1-positive Enterobacteriaceae. Antimicrob Agents Chemother 55:5403–5407

19.

Poirel L, Ros A, Carricajo A, Berthelot P, Pozzetto B, Bernabeu S, Nordmann P (2011) Extremely drug-resistant Citrobacter freundii isolate producing NDM-1 and other carbapenemases identified in a patient returning from India. Antimicrob Agents Chemother 55:447–448

20.

Birgy A, Doit C, Mariani-Kurkdjian P, Genel N, Faye A, Arlet G, Bingen E (2011) Early detection of colonization by VIM-1 producing Klebsiella pneumoniae and NDM-1-producing Escherichia coli in two children returning to France. J Clin Microbiol 49:3085–3087

21.

Poirel L, Bonnin RA, Boulanger A, Schrenzel J, Kaase M, Nordmann P (2012) Tn125-related acquisition of bla NDM-like genes in Acinetobacter baumannii. Antimicrob Agents Chemother 56:1087–1089

22.

Okeke IN, Lamikanra A, Edelman R (1999) Socioeconomic and behavioral factors leading to acquired bacterial resistance to antibiotics in developing countries. Emerg Infect Dis 5:18–27
Acknowledgments
This research study was supported by the ICDDR,B and a European Union FP7 project—TEMPOtest-QC (Project Number 241742). The ICDDR,B acknowledges with gratitude the commitment of the European Union to its research efforts. The ICDDR,B also gratefully acknowledges the following donors which provide unrestricted support: Australian Agency for International Development (AusAID), Government of the People's Republic of Bangladesh, Canadian International Development Agency (CIDA), Swedish International Development Cooperation Agency (Sida), and the Department for International Development (DFID), UK.
Conflict of interest
The authors declare that they have no conflict of interest.
About this article
Cite this article
Islam, M.A., Talukdar, P.K., Hoque, A. et al. Emergence of multidrug-resistant NDM-1-producing Gram-negative bacteria in Bangladesh. Eur J Clin Microbiol Infect Dis 31, 2593–2600 (2012). https://doi.org/10.1007/s10096-012-1601-2
Received:

Accepted:

Published:

Issue Date:
Keywords
Imipenem

Colistin

Tigecycline

Cefpirome

Baumannii Isolate