Abstract
Microbiological surveillance for detection of carbapenem-resistant A. baumannii is important, but recovery of A. baumannii is inadequate. We studied A. baumannii recovery by a particular transport system that is possibly superior over standard swabs, using reference and clinical strains. First, the recovery rates relating to the various swabs were compared with regard to various combinations of transport times (0 h, 1 h, 24 h, 48 h), storage times (0 weeks, 1 week, 2 weeks, 4 weeks) and storage temperatures (4°c,−80°c) using live counts. Second, the recovery of different inocula of strains mixed with fecal microbiota was evaluated by plating on selective medium. The new transport system exhibited a decline of <3log10 under almost all conditions studied and performed better than standard swabs under several conditions. If plated on selective media, the new transport system performed well, even after prolonged transport or with a low inoculum, and its processing could be delayed by up to 2 weeks, especially if refrigerated. The new transport system may thus enhance A. baumannii surveillance.
This is a preview of subscription content,
to check access.
Access this article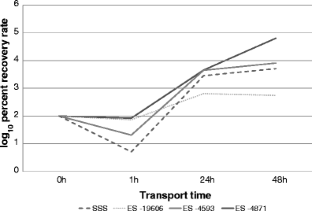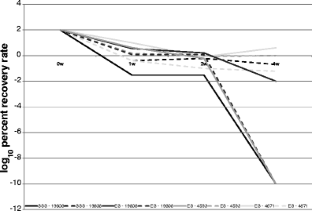 Similar content being viewed by others
References
Smolyakov R, Borer A, Riesenberg K, Schlaeffer F, Alkan M, Porath A, Rimar D, Almog Y, Gilad J (2003) Nosocomial multi-drug resistant Acinetobacter baumannii bloodstream infection: risk factors and outcome with ampicillin-sulbactam treatment. J Hosp Infect 54:32–38

Gilad J, Carmeli Y (2008) Management of multi-drug resistant Acinetobacter spp. Drugs 68:165–189

Marchaim D, Navon-Venezia S, Schwarz D, Tarabeia J, Fefer I, Schwaber MJ, Carmeli Y (2007) Surveillance cultures and duration of carriage of multidrug-resistant Acinetobacter baumannii. J Clin Microbiol 45:1551–1555

Dalben MF, Oliviera MS, Garcia CP, Lobo RD, Costa SF, Toscano CM, Levin AS (2010) Swab cultures across three different body sites among carriers of carbapenem-resistant P. Aeruginosa and Acinetobacter species: a poor surveillance strategy. J Hosp Infect 74:395–396

Furuno JP, Hebden JN, Standiford HC, Perencevich EN, Miller RM, Moore AC, Strauss SM, Harris AD (2008) Prevalence of methicillin-resistant Staphylococcus aureus and Acinetobacter baumannii in a long-term acute care facility. Am J Infect Control 36:468–471

Yohei D, Onuoha EO, Adams-Haduch JM, Pakstis DL, McGaha TL, Werner CA, Parker CN, Brooks MM, Shutt KA, Pasculle AW, Muto CA, Harrison LH (2011) Screening for Acinetobacter baumannii colonization by use of sponges. J Clin Microbiol 49:154–158

Clinical and Laboratory Standards Institute (2003) Quality control of microbiological transport systems; approved standard, CLSI M40-A. Clinical and Laboratory Standards Institute, Wayne, PA

Adler A, Navon-Venezia S, Moran-Gilad J, Marcos E, Schwartz D, Carmeli Y (2011) Laboratory and clinical evaluation of screening agar plates for the detection of carbapenem-resistant Enterobacteriaceae from surveillance rectal swabs. J Clin Microbiol 49:2239–2242

Nys S, Vijgen S, Magerman K, Cartuyvels R (2010) Comparison of Copan ESwab with the Copan Venturi Transystem for the quantitative survival of Escherichia coli, Streptococcus agalactiae and Candida albicans. Eur J Clin Microbiol Infect Dis 29:453–546

Van Horn KG, Audette CD, Sebeck D, Tucker KA (2008) Comparison of the Copan ESwab system with two Amies agar swab transport systems for maintenance of microorganism viability. J Clin Microbiol 46:1655–1658

Van Horn KG, Audette CD, Tucker KA, Sebeck D (2008) Comparison of 3swab transport systems for direct release and recovery of aerobic and anaerobic bacteria. Diag Microbiol Infect Dis 62:471–473

Smismans A, Verhaegen J, Schuermans A, Frans J (2009) Evaluation of the Copan ESwab transport system for the detection of methicillin-resistant Staphylococcus aureus: a laboratory and clinical study. Diag Microbiol Infect Dis 65:108–111

Fontana C, Favaro M, Limongi D, Pivonkova J, Favalli C (2009) Comparison of the ESwab collection and transportation system to an amies gel transystem for gram stain of clinical specimens. BMC Res Notes 2:244

Borer A, Gilad J, Porat N, Megreleshvilli R, Saidel-Odes L, Peled N, Eskira S, Schlaeffer F, Almog Y (2007) Impact of 4% chlorhexidine whole-body washing on multidrug-resistant Acinetobacter baumannii skin colonisation among patients in a medical intensive-care unit. J Hosp Infect 67:149–155
Acknowledgements
This work was supported in part by the European Commission Grant (FP6): European Network for Mastering Hospital Antimicrobial Resistance and its Spread into the Community (MOSAR; LSHPCT-2007–037941).
Additional information
This work was presented in part at the 5th Decennial International Conference of Healthcare-Associated Infections, 18–22 March 2010, Atlanta, GA, USA
About this article
Cite this article
Moran-Gilad, J., Schwartz, D., Navon-Venezia, S. et al. Laboratory evaluation of the ESwab transport system for the recovery of carbapenem-resistant Acinetobacter baumannii . Eur J Clin Microbiol Infect Dis 31, 1429–1433 (2012). https://doi.org/10.1007/s10096-011-1460-2
Received:

Accepted:

Published:

Issue Date:

DOI: https://doi.org/10.1007/s10096-011-1460-2
Keywords