Abstract
Recently, it has been suggested that the Escherichia coli causing urinary tract infection (UTI) may come from meat and animals. The purpose was to investigate if a clonal link existed between E. coli from animals, meat and UTI patients. Twenty-two geographically and temporally matched B2 E. coli from UTI patients, community-dwelling humans, broiler chicken meat, pork, and broiler chicken, previously identified to exhibit eight virulence genotypes by microarray-detection of approximately 300 genes, were investigated for clonal relatedness by PFGE. Nine isolates were selected and tested for in vivo virulence in the mouse model of ascending UTI. UTI and community-dwelling human strains were closely clonally related to meat strains. Several human derived strains were also clonally interrelated. All nine isolates regardless of origin were virulent in the UTI model with positive urine, bladder and kidney cultures. Further, isolates with the same gene profile also yielded similar bacterial counts in urine, bladder and kidneys. This study showed a clonal link between E. coli from meat and humans, providing solid evidence that UTI is zoonosis. The close relationship between community-dwelling human and UTI isolates may indicate a point source spread, e.g. through contaminated meat.
Access options
Buy single article
Instant access to the full article PDF.
US$ 39.95
Tax calculation will be finalised during checkout.
Subscribe to journal
Immediate online access to all issues from 2019. Subscription will auto renew annually.
US$ 79
Tax calculation will be finalised during checkout.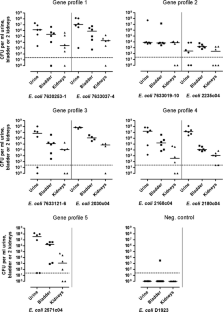 References
1.

Hooton TM, Scholes D, Hughes JP, Winter C, Roberts PL, Stapleton AE, Stergachis A, Stamm WE (1996) A prospective study of risk factors for symptomatic urinary tract infection in young women. N Engl J Med 335(7):468–474

2.

Weichhart T, Haidinger M, Hörl W, Säemann M (2008) Current concepts of molecular defence mechanisms operative during urinary tract infection. Eur J Clin Invest 38(suppl 2):29–38

3.

Foxman B (2003) Epidemiology of urinary tract infections: incidence, morbidity, and economic costs. Dis-Mon 49(2):53–70

4.

Stamm WE, Hooton TM (1993) Management of urinary tract infections in adults. N Engl J Med 329(18):1328–1334

5.

Rosenberg M (1999) Pharmacoeconomics of treating uncomplicated urinary tract infections. Int J Antimicrob Agents 11(3–4):247–251

6.

Johnson JR, Delavari P, Kuskowski M, Stell AL (2001) Phylogenetic distribution of extraintestinal virulence-associated traits in Escherichia coli. J Infect Dis 183(1):78–88

7.

Johnson JR (1991) Virulence factors in Escherichia coli urinary tract infections. Clin Microbiol Rev 4(1):80–128

8.

Mitsumori K, Terai A, Yamamoto S, Yoshida O (1997) Virulence characteristics and DNA fingerprints of Escherichia coli isolated from women with acute uncomplicated pyelonephritis. J Urol 158(6):2329–2332

9.

Yamamoto S, Tsukamoto T, Terai A, Kurazono H, Takeda Y, Yoshida O (1997) Genetic evidence supporting the fecal-perineal-urethral hypothesis in cystitis caused by Escherichia coli. J Urol 157(3):1127–1129

10.

Ramchandani M, Manges AR, DebRoy C, Smith SP, Johnson JR, Riley LW (2005) Possible animal origin of human-associated, multidrug-resistant, uropathogenic Escherichia coli. Clin Infect Dis 40(2):251–257

11.

Rosen D, Hooton T, Stamm W, Humphrey P, Hultgren S (2007) Detection of intracellular bacterial communities in human urinary tract infection. PLoS Med 4(12):1949–1958

12.

Jakobsen L, Kurbasic A, Skjøt-Rasmussen L, Ejrnæs K, Porsbo LJ, Pedersen K, Jensen LB, Emborg HD, Agersø Y, Olsen KE, Aarestrup FM, Frimodt-Møller N, Hammerum AM (2010) Escherichia coli isolates from broiler chicken meat, broiler chickens, pork, and pigs share phylogroups and antimicrobial resistance with community-dwelling humans and patients with urinary tract infection. Foodborne Pathog Dis 7(5):537–547

13.

Jakobsen L, Garneau P, Kurbasic A, Bruant G, Stegger M, Harel J, Jensen K, Brousseau R, Hammerum AM, Frimodt-Møller N (2011) Microarray-based detection of extended virulence and resistance gene profiles in phylogroup B2 Escherichia coli of human, meat and animal origin. J Med Microbiol. 60(Pt10):1502–1511

14.

DANMAP 2004 (2005) Use of antimicrobial agents and occurrence of antimicrobial resistance in bacteria from food animals, foods and humans in Denmark. Available at http:www.danmap.org. Accessed 16 June 2011

15.

Ribot EM, Fair MA, Gautom R, Cameron DN, Hunter SB, Swaminathan B, Barrett TJ (2006) Standardization of pulsed-field gel electrophoresis protocols for the subtyping of Escherichia coli O157:H7, Salmonella, and Shigella for PulseNet. Foodborne Pathog Dis 3(1):59–67

16.

Hunter SB, Vauterin P, Lambert-Fair MA, Van Duyne MS, Kubota K, Graves L, Wrigley D, Barrett T, Ribot E (2005) Establishment of a universal size standard strain for use with the PulseNet standardized pulsed-field gel electrophoresis protocols: converting the national databases to the new size standard. J Clin Microbiol 43(3):1045–1050

17.

Tenover FC, Arbeit RD, Goering RV, Mickelsen PA, Murray BE, Persing DH, Swaminathan B (1995) Interpreting chromosomal DNA restriction patterns produced by pulsed-field gel electrophoresis: criteria for bacterial strain typing. J Clin Microbiol 33(9):233–2239

18.

Hvidberg HC, Struve C, Krogfelt KA, Christensen N, Rasmussen SN, Frimodt-Moller N (2000) Development of a long-term ascending urinary tract infection mouse model for antibiotic treatment studies. Antimicrob Agents Chemother 44(1):156–163

19.

Jakobsen L, Hammerum AM, Frimodt-Møller N (2010) Virulence of Escherichia coli B2 isolates from meat and animals in a mouse model of ascending urinary tract infection (UTI): evidence that UTI is a zoonosis. J Clin Microbiol 48(8):2978–2980

20.

Olesen B, Kolmos HJ, Orskov F, Orskov I (1994) Cluster of multiresistant Escherichia coli O78:H10 in Greater Copenhagen. Scand J Infect Dis 26(4):406–410

21.

Manges AR, Natarajan P, Solberg OD, Dietrich PS, Riley LW (2006) The changing prevalence of drug-resistant Escherichia coli clonal groups in a community: evidence for community outbreaks of urinary tract infections. Epidemiol Infect 134(2):425–431

22.

Phillips I, Eykyn S, King A, Rowe B, Frost JA, Gross RJ (1988) Epidemic multiresistant Escherichia coli infection in West Lambeth health district. Lancet 1(8593):1038–1041

23.

Pitout JDD, Gregson DB, Church DL, Elsayed S, Laupland KB (2005) Community-wide outbreaks of clonally related CTX-M-14 β-lactamase-producing Escherichia coli strains in the Calgary health region. J Clin Microbiol 43(6):2844–2849

24.

Manges AR, Tabor H, Tellis P, Vincent C, Tellier P (2008) Endemic and epidemic lineages of Escherichia coli that cause urinary tract infections. Emerg Infect Dis 14(10):1575–1583

25.

Manges AR, Sherry PM, Lau BJ, Nuval CJ, Eisenberg JNS, Dietrich PS, Riley LW (2007) Retail meat consumption and the acquisition of antimicrobial resistant Escherichia coli causing urinary tract infections: a case–control study. Foodborne Pathog Dis 4(4):419–431

26.

Johnson JR, Sannes MR, Croy C, Johnston B, Clabots C, Kuskowski MA, Bender J, Smith KE, Winokur PL, Belongia EA (2007) Antimicrobial drug-resistant Escherichia coli from humans and poultry products, Minnesota and Wisconsin, 2002–2004. Emerg Infect Dis 13(6):838–946

27.

Johnson JR, Kuskowski MA, Owens K, Gajewski A, Winokur PL (2003) Phylogenetic origin and virulence genotype in relation to resistance to fluoroquinolones and/or extended-spectrum cephalosporins and cephamycins among Escherichia coli isolates from animals and humans. J Infect Dis 188(5):759–768

28.

Johnson TJ, Logue CM, Wannemuehler Y, Kariyawasam S, Doetkott C, DebRoy C, White DG, Nolan LK (2009) Examination of the source and extended virulence genotypes of Escherichia coli contaminating retail poultry meat. Foodborne Pathog Dis 6(6):657–667

29.

Johnson TJ, Wannemuehler Y, Johnson SJ, Stell AL, Doetkott C, Johnson JR, Kim KS, Spanjaard L, Nolan LK (2008) Comparison of extraintestinal pathogenic Escherichia coli strains from human and avian sources reveals a mixed subset representing potential zoonotic pathogens. Appl Environ Microbiol 74(22):7043–7050

30.

Hannah EL, Johnson JR, Angulo F, Haddadin B, Williamson J, Samore MH (2009) Molecular analysis of antimicrobial-susceptible and -resistant Escherichia coli from retail meats and human stool and clinical specimens in a rural community setting. Foodborne Pathog Dis 6(3):285–295

31.

Jakobsen L, Spangholm D, Pedersen K, Jensen L, Emborg H, Agersø Y, Aarestrup FM, Hammerum AM, Frimodt-Møller N (2010) Broiler chickens, broiler chicken meat, pigs and pork as sources of ExPEC related virulence genes and resistance in Escherichia coli isolates from community-dwelling humans and UTI patients. Int J Food Microbiol 142(1–2):264–272

32.

Johnson JR, Kuskowski MA, Menard M, Gajewski A, Xercavins M, Garau J (2006) Similarity between human and chicken Escherichia coli isolates in relation to ciprofloxacin resistance status. J Infect Dis 194(1):71–78

33.

Vincent C, Boerlin P, Daignault D, Dozois C, Dutil L, Galanakis C, Reid-Smith R, Tellier P, Tellis P, Ziebell K, Manges A (2010) Reservoir for Escherichia coli causing urinary tract infections. Emerg Infect Dis 16(1):88–95

34.

Mora A, López C, Dabhi G, Blanco M, Blanco J, Alonso M, Herrera A, Mamani R, Bonacorsi S, Moulin-Schouleur M, Blanco J (2009) Extraintestinal pathogenic Escherichia coli O1:K1:H7/NM from human and avian origin: detection of clonal groups B2 ST95 and D ST59 with different host distribution. BMC Microbiol 9:132–142

35.

Manges AR, Johnson JR, Foxman B, O'Bryan TT, Fullerton KE, Riley LW (2001) Widespread distribution of urinary tract infections caused by a multidrug-resistant Escherichia coli clonal group. N Engl J Med 345(14):1007–1013
Acknowledgments
Frank Hansen, Karin S. Pedersen, Frederikke R. Petersen, Leila Borggild, Jytte M. Andersen, and Dorte Truelsen are thanked for excellent technical assistance. This study was supported by The Danish Research Council (grant no. 2101-05-001). This work is part of the Danish Integrated Antimicrobial Resistance Monitoring and Research Programme (DANMAP) and the Marie Curie program Training Risk-Assessment In Non-human Antibiotic Usage (TRAINAU).
Declaration of interest
All authors declare that they have no conflicts of interest.
About this article
Cite this article
Jakobsen, L., Garneau, P., Bruant, G. et al. Is Escherichia coli urinary tract infection a zoonosis? Proof of direct link with production animals and meat. Eur J Clin Microbiol Infect Dis 31, 1121–1129 (2012). https://doi.org/10.1007/s10096-011-1417-5
Received:

Accepted:

Published:

Issue Date:
Keywords
Urinary Tract Infection

Gene Profile

Broiler Chicken

PFGE Type

Clonal Relatedness