Abstract
Clinical use of honey in the topical treatment of wounds has increased in Europe and North America since licensed wound care products became available in 2004 and 2007, respectively. Honey-resistant bacteria have not been isolated from wounds, but there is a need to investigate whether honey has the potential to select for honey resistance. Two cultures of bacteria from reference collections (Staphylococcus aureus NCTC 10017 and Pseudomonas aeruginosa ATCC 27853) and four cultures isolated from wounds (Escherichia coli, methicillin-resistant S. aureus (MRSA), Pseudomonas aeruginosa and S. epidermidis) were exposed to sub-lethal concentrations of manuka honey in continuous and stepwise training experiments to determine whether the susceptibility to honey diminished. Reduced susceptibilities to manuka honey in the test organisms during long-term stepwise resistance training were found, but these changes were not permanent and honey-resistant mutants were not detected. The risk of bacteria acquiring resistance to honey will be low if high concentrations are maintained clinically.
Access options
Buy single article
Instant access to the full article PDF.
US$ 39.95
Tax calculation will be finalised during checkout.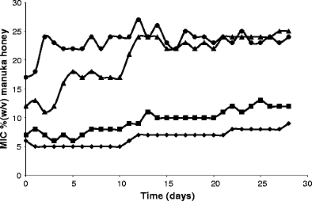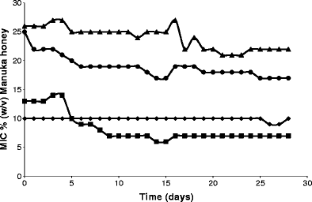 References
1.

Forrest RD (1982) Early history of wound treatment. J R Soc Med 75:198–205

2.

Moellering RC Jr (1995) Past, present, and future of antimicrobial agents. Am J Med 99(Suppl 6A):11S–18S

3.

Hugo WB (1991) A brief history of heat and chemical preservation and disinfection. J Appl Bacteriol 71:9–18

4.

Brennan SS, Leaper DJ (1985) The effect of antiseptics on the healing wound: a study using the rabbit ear chamber. Br J Surg 72(10):780–782

5.

Payne DJ, Gwynn MN, Holmes DJ, Pompliano DL (2007) Drugs for bad bugs: confronting the challenges of antibacterial discovery. Nat Rev Drug Discov 6:29–40

6.

Russell AD (2002) Introduction of biocides into clinical practice and the impact on antibiotic-resistant bacteria. J Appl Microbiol 92(Suppl):121S–135S

7.

Davies J (1996) Bacteria on the rampage. Nature 383:219–220

8.

Filius PMG, Gyssens IC (2002) Impact of increasing antimicrobial resistance on wound management. Am J Clin Dermatol 3:1–7

9.

Allen KL, Molan PC, Reid GM (1991) A survey of the antibacterial activity of some New Zealand honeys. J Pharm Pharmacol 43(12):817–882

10.

Afset JE, Mæland JA (2003) Susceptibility of skin and soft-tissue isolates of Staphylococcus aureus and Streptococcus pyogenes to topical antibiotics: indications of clonal spread of fusidic acid-resistant Staphylococcus aureus. Scand J Infect Dis 35:84–89

11.

Walker ES, Levy F, Shorman M, David G, Abdalla J, Sarubbi FA (2004) A decline in mupirocin resistance in methicillin-resistant Staphylococcus aureus accompanied administrative control of prescriptions. J Clin Microbiol 42(6):2792–2795

12.

Mason BW, Howard AJ (2004) Fusidic acid resistance in community isolates of methicillin susceptible Staphylococcus aureus and the use of topical fusidic acid: a retrospective case–control study. Int J Antimicrobiol Agents 23:300–303

13.

Houang ET, Gilmore OJA, Reid C, Shaw EJ (1976) Absence of bacterial resistance to povidone iodine. J Clin Pathol 29:752–755

14.

Tattawasart U, Maillard J-Y, Furr JR, Russell AD (1999) Development of resistance to chlorhexidine diacetate and cetylpyridinium chloride in Pseudomonas stutzeri and changes in antibiotic susceptibility. J Hosp Infect 42:219–229

15.

Silver S, Phung le T, Silver G (2006) Silver as biocides in burn and wound dressings and bacterial resistance to silver compounds. J Ind Microbiol Biotechnol 33(7):627–634

16.

Percival SL, Bowler PG, Russell D (2005) Bacterial resistance to silver in wound care. J Hosp Infect 60:1–7

17.

Blair SE, Cokcetin NN, Harry EJ, Carter DA (2009) The unusual antibacterial activity of medical-grade Leptospermum honey: antibacterial spectrum, resistance and transcriptome analysis. Eur J Clin Microbiol Infect Dis 28:1199–1208. doi:10.1007/s10096-009-0763-z

18.

EUCAST (2009) EUCAST definitions of clinical breakpoints and epidemiological cut-off values. Available online at: http://www.srga.org/eucastwt/eucastdefinitions.htm (accessed on 26th October 2009)

19.

Molan PC (1992) The antibacterial activity of honey. 1. The nature of the antibacterial activity. Bee World 73(1):5–28

20.

Mavric E, Wittmann S, Barth G, Henle T (2008) Identification and quantification of methylglyoxal as the dominant antibacterial constituent of Manuka (Leptospermum scoparium) honeys from New Zealand. Mol Nutr Food Res 52(4):483–489

21.

Adams CJ, Boult CH, Deadman BJ, Farr JM, Grainger MN, Manley-Harris M, Snow MJ (2008) Isolation by HPLC and characterisation of the bioactive fraction of New Zealand manuka (Leptospermum scoparium) honey. Carbohydr Res 343:651–659
Acknowledgements
This study was supported, in part, by Derma Sciences Inc., Princeton, New Jersey, USA.
About this article
Cite this article
Cooper, R.A., Jenkins, L., Henriques, A.F.M. et al. Absence of bacterial resistance to medical-grade manuka honey. Eur J Clin Microbiol Infect Dis 29, 1237–1241 (2010). https://doi.org/10.1007/s10096-010-0992-1
Received:

Accepted:

Published:

Issue Date:
Keywords
Resistance Training

Test Organism

Mupirocin

Fusidic Acid

Manuka Honey