Abstract
While 60% of women experiencing recurring episodes of bacterial vaginosis (BV) with vaginal pH ≥ 5 are depleted of resident probiotic lactobacilli, the remainder carry one or more strains of lactobacilli. Their ability to make D-lactic acid is, however, low (3.94 ± 0.72 mM/L) compared to the D-lactic acid produced by strains from healthy vagina with vaginal pH ∼ 4 (8.04 ± 1.07 mM/L) culture supernatant of 0.5 McFarland concentration (P < 0.001).
Access options
Buy single article
Instant access to the full article PDF.
USD 39.95
Price includes VAT (USA)
Tax calculation will be finalised during checkout.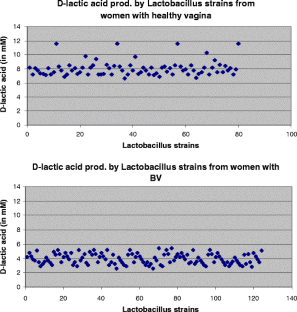 References
1.

Wang J (2000) Bacterial vaginosis. Prim Care Update Ob Gyns 7(5):181–185

2.

Nugent RP, Krohn MA, Hillier SL (1991) Reliability of diagnosing bacterial vaginosis is improved by a standardized method of Gram stain interpretation. J Clin Microbiol 29(2):297–301

3.

Pospiech A, Neumann B (1995) A versatile quick-prep of genomic DNA from gram-positive bacteria. Trends Genet 11:217–218

4.

Dubernet S, Desmasures N, Guéguen M (2002) A PCR-based method for identification of lactobacilli at the genus level. FEMS Microbiol Lett 214:271–275

5.

Song Y-L, Kato N, Liu C-X, Matsumiya Y, Kato H, Watanabe K (2000) Rapid identification of 11 human intestinal Lactobacillus species by multiplex PCR assays using group- and species-specific primers derived from the 16S-23S rRNA intergenic spacer region and its flanking 23S rRNA. FEMS Microbiol Lett 187:167–173

6.

Tynkkynen S, Satokari R, Saarela M, Mattila-Sandholm T, Saxelin M (1999) Comparison of ribotyping, randomly amplified polymorphic DNA analysis, and pulsed-field gel electrophoresis in typing of Lactobacillus rhamnosus and L. casei strains. Appl Environ Microbiol 65:3908–3914

7.

Edwards U, Rogall T, Blöcker H, Emde M, Böttger EC (1989) Isolation and direct complete nucleotide determination of entire genes. Characterization of a gene coding for 16S ribosomal RNA. Nucleic Acids Res 17:7843–7853

8.

Garg KB, Ganguli I, Das R, Talwar GP (2009) Spectrum of Lactobacillus species present in healthy vagina of Indian women. Ind J Med Res 129:652–657

9.

Rabe LK, Hillier SL (2003) Optimization of media for detection of hydrogen peroxide production by Lactobacillus species. J Clin Microbiol 41:3260–3264

10.

Gutmann I, Wahlefeld AW (1974) In: Bergmeyer HU (ed) Methods of enzymatic analysis. Academic Press, New York, pp 1464–1468
Acknowledgements
We express our sincere appreciation to all of the women who participated in the study.
This study was supported by a Research Grant of the Department of Biotechnology (DBT), Govt. of India. K.B.G. is a recipient of the University Grants Commission (UGC) Fellowship.
About this article
Cite this article
Garg, K.B., Ganguli, I., Kriplani, A. et al. Metabolic properties of lactobacilli in women experiencing recurring episodes of bacterial vaginosis with vaginal pH ≥ 5. Eur J Clin Microbiol Infect Dis 29, 123 (2010). https://doi.org/10.1007/s10096-009-0818-1
Received:

Accepted:

Published:
Keywords
Lactobacillus

Bacterial Vaginosis

Probiotic Lactobacillus

Bromocresol Purple

Nugent Score