Abstract
We report the investigation of a community-acquired outbreak of Legionnaires' disease. An epidemiological, environmental, and meteorological investigation was undertaken. Fifty-five cases were reported in October and November 2005. The exposure occurred in a large area, with 12 cases (21.8%) located between 1,800 and 3,400 metres from the source. Water sample cultures showed that Legionella pneumophila serogroup 1 (Lp-1) was present in five cooling towers in two industrial locations in Gurb (plants A and B). Two Lp-1 strains were recovered from plants A and B, but only Lp-1 strains from plant A showed a pulsed-field gel electrophoresis (PFGE) profile identical to those obtained from three of the cases. Inspection of the cooling towers in plant A revealed inadequate maintenance. Weather conditions in October 2005, with mostly high temperatures and high humidity, together with the flat terrain could have been favouring factors. This study showed a community outbreak from a cooling tower as a common source in a large area. Climate and terrain could explain the dissemination of contaminated aerosols.
Access options
Buy single article
Instant access to the full article PDF.
US$ 39.95
Tax calculation will be finalised during checkout.
Subscribe to journal
Immediate online access to all issues from 2019. Subscription will auto renew annually.
US$ 79
Tax calculation will be finalised during checkout.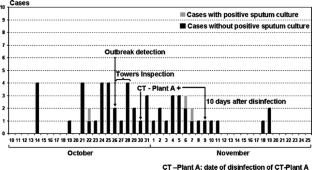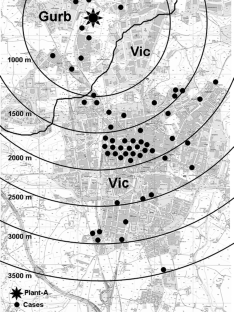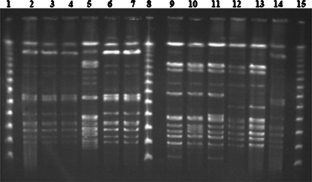 References
1.

Fraser DW, Tsai TR, Orenstein W et al (1977) Legionnaires' disease: description of an epidemic of pneumonia. N Engl J Med 297:1189–1197

2.

Baskerville A, Fizgeorge RB, Broster M et al (1981) Experimental transmission of legionnaires' disease by exposure to aerosols of Legionella pneumophila. Lancet 2:1389–1390. doi:10.1016/S0140-6736(81)92803-8

3.

Breiman RF, Cozen W, Fields BS et al (1990) Role of air sampling in investigation of an outbreak of Legionnaires' disease associated with exposure to aerosols from an evaporative condenser. J Infect Dis 161:1257–1261

4.

García-Fulgueiras A, Navarro C, Fenoll D et al (2003) Legionnaires' disease outbreak in Murcia, Spain. Emerg Infect Dis 9:915–921

5.

Fernandez JA, Lopez P, Orozco D et al (2002) Clinical study of an outbreak of Legionnaire's disease in Alcoy, Southeastern Spain. Eur J Clin Microbiol Infect Dis 21:729–735. doi:10.1007/s10096-002-0819-9

6.

Rota MC, Pontrelli G, Scaturro M et al (2005) Legionnaires' disease outbreak in Rome, Italy. Epidemiol Infect 133:853–859. doi:10.1017/S0950268805004115

7.

Klaucke DN, Vogt RL, LeRue D et al (1984) Legionnaires' disease: the epidemiology of two outbreaks in Burlington, Vermont, 1980. Am J Epidemiol 119:382–391

8.

Addiss DG, Davis JP, LaVenture M et al (1989) Community-acquired Legionnaires' disease associated with a cooling tower: evidence for longer-distance transport of Legionella pneumophila. Am J Epidemiol 130:557–568

9.

Keller DW, Hajjeh R, DeMaria A et al (1996) Community outbreak of Legionnaires' disease: an investigation confirming the potential for cooling towers to transmit Legionella species. Clin Infect Dis 22:257–261

10.

Bhopal RS, Fallon RJ, Buist EC et al (1991) Proximity of the home to a cooling tower and risk of non-outbreak Legionnaires' disease. BMJ 302:378–383

11.

Nguyen TM, Ilef D, Jarraud S et al (2006) A community-wide outbreak of Legionnaires disease linked to industrial cooling towers-how far can contaminated aerosols spread? J Infect Dis 193:102–111. doi:10.1086/498575

12.

Cameron S, Roder D, Walker C et al (1991) Epidemiological characteristics of Legionella infection in South Australia: implications for disease control. Aust N Z J Med 21:65–70

13.

Brown CM, Nuorti PJ, Breiman RF et al (1999) A community outbreak of Legionnaires' disease linked to hospital cooling towers: an epidemiological method to calculate dose of exposure. Int J Epidemiol 28:353–359. doi:10.1093/ije/28.2.353

14.

Marston BJ, Lipman HB, Breiman RF (1994) Surveillance for Legionnaires' disease: risk factors for morbidity and mortality. Arch Intern Med 154:2417–2422. doi:10.1001/archinte.154.21.2417

15.

Li JS, O'Brien ED, Guest C (2002) A review of national legionellosis surveillance in Australia, 1991 to 2000. Commun Dis Intell 26:461–468

16.

Fisman DN, Lim S, Wellenius GA et al (2005) It's not the heat, it's the humidity: wet weather increases legionellosis risk in the greater Philadelphia metropolitan area. J Infect Dis 192:2066–2073. doi:10.1086/498248

17.

Ordoñez-Iriarte JM, Bernardo Ferrer-Simo J, Pelaz-Antolin C et al (2006) Prevalence of Legionella in cooling towers in the community of Madrid. Med Clin (Barc) 126:189–195. doi:10.1157/13084545

18.

Lück PC, Helbig JH, Günter U et al (1994) Epidemiologic investigation by macrorestriction analysis and by using monoclonal antibodies of nosocomial pneumonia caused by Legionella pneumophila serogroup 10. J Clin Microbiol 32:2692–2697

19.

Sabrià M, Alvarez J, Dominguez A et al (2006) Community outbreak of Legionnaires' disease: evidence of a cooling tower as the source. Clin Microbiol Infect 12:642–647. doi:10.1111/j.1469-0691.2006.01447.x

20.

Jansà JM, Caylà JA, Ferrer D et al (2002) An outbreak of Legionnaires' disease in an inner city district: importance of the first 24 hours in the investigation. Int J Tuberc Lung Dis 6:831–838

21.

Greig JE, Carnie JA, Tallis GF et al (2004) An outbreak of Legionnaires' disease at the Melbourne aquarium, April 2000: investigation and case-control studies. Med J Aust 180:566–572

22.

Cordes GC, Fraser DW, Skaliy P et al (1980) Legionnaires' disease outbreak at an Atlanta, Georgia, Country Club: evidence for spread from an evaporative condenser. Am J Epidemiol 111:425–431

23.

Grabe PL, Davis BJ, Weisfeld JS et al (1985) Nosocomial Legionnaires' disease, epidemiologic demonstration of cooling towers as a source. JAMA 254:521–524. doi:10.1001/jama.254.4.521

24.

Edelstein PH, Cianciotto NP (2005) Legionella. In: Mandell, Douglas and Bennett's principles and practice of infectious diseases, 6th edn. Elservier Inc., Philadelphia, Pennsylvania

25.

Den Boer JW, Yzerman PF, Schellekens J et al (2002) A large outbreak of Legionnaires' disease at a flower show, the Netherlands, 1999. Emerg Infect Dis 8:37–43
Acknowledgments
We thank the physicians of Vic Hospital (Dr. Rafael Toribio, Dra. Marian Navarro, Sra. María José Martínez) and the inspectors of the Regional Services of the Health Protection Agency of Barcelona (Sr. Ramon Casals, Sra. Cristina Ferreruela, Sra. Montse Malats, Sra. Maria Encarnació Amat) for their participation and support in investigating the outbreak.
About this article
Cite this article
Sala Ferré, M.R., Arias, C., Oliva, J.M. et al. A community outbreak of Legionnaires' disease associated with a cooling tower in Vic and Gurb, Catalonia (Spain) in 2005. Eur J Clin Microbiol Infect Dis 28, 153 (2009). https://doi.org/10.1007/s10096-008-0603-6
Received:

Accepted:

Published:
Keywords
Cooling Tower

Environmental Investigation

Coxiella Burnetii

Urinary Antigen Test

Community Outbreak