This is a preview of subscription content, log in to check access.
Access options
Buy single article
Instant access to the full article PDF.
US$ 39.95
Tax calculation will be finalised during checkout.
Subscribe to journal
Immediate online access to all issues from 2019. Subscription will auto renew annually.
US$ 99
Tax calculation will be finalised during checkout.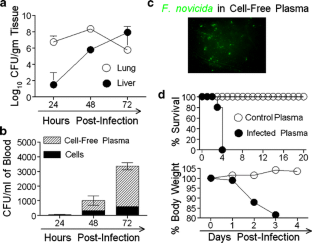 References
1.

Tarnvik A (1989) Nature of protective immunity to Francisella tularensis. Rev Infect Dis 11:440–451

2.

Dennis DT, Inglesby TV, Henderson DA et al (2001) Tularemia as a biological weapon: medical and public health management. JAMA 285:2763–2773

3.

Titball RW, Johansson A, Forsman M (2003) Will the enigma of Francisella tularensis virulence soon be solved? Trends Microbiol 11:118–123

4.

Elkins KL, Cowley SC, Bosio CM (2003) Innate and adaptive immune responses to an intracellular bacterium, Francisella tularensis live vaccine strain. Microbes Infect 5:135–142

5.

Lauriano CM, Barker JR, Yoon SS, Nano FE, Arulanandam BP, Hassett DJ, Klose KE (2004) MglA regulates transcription of virulence factors necessary for Francisella tularensis intraamoebae and intramacrophage survival. Proc Natl Acad Sci USA 101:4246–4249

6.

Pammit MA, Raulie EK, Lauriano CM, Klose KE, Arulanandam BP (2006) Intranasal vaccination with a defined attenuated Francisella novicida strain induces gamma interferon-dependent antibody-mediated protection against tularemia. Infect Immun 74:2063–2071

7.

Provenza MJ, Klotz SA, Penn RL (1986) Isolation of Francisella tularensis from blood. J Clin Microbiol 24:453–455

8.

Long GW, Oprandy JJ, Narayanan RB, Fortier AH, Porter KR, Nacy CA (1993) Detection of Francisella tularensis in blood by polymerase chain reaction. J Clin Microbiol 31:152–154

9.

Forestal CA, Malik M, Catlett SV, Savitt AG, Benach JL, Sellati TJ, Furie MB (2007) Francisella tularensis has a significant extracellular phase in infected mice. J Infect Dis 196:134–137

10.

Forsman M, Sandstrom G, Sjostedt A (1994) Analysis of 16S ribosomal DNA sequences of Francisella strains and utilization for determination of the phylogeny of the genus and for identification of strains by PCR. Int J Syst Bacteriol 44:38–46

11.

Edelson BT, Unanue ER (2001) Intracellular antibody neutralizes Listeria growth. Immunity 14:503–512

12.

Li JS, Winslow GM (2003) Survival, replication, and antibody susceptibility of Ehrlichia chaffeensis outside of host cells. Infect Immun 71:4229–4237

13.

Kirimanjeswara GS, Golden JM, Bakshi CS, Metzger DW (2007) Prophylactic and therapeutic use of antibodies for protection against respiratory infection with Francisella tularensis. J Immunol 179:532–539

14.

Stenmark S, Lindgren H, Tarnvik A, Sjostedt A (2003) Specific antibodies contribute to the host protection against strains of Francisella tularensis subspecies holarctica. Microb Pathog 35:73–80
Acknowledgments
This work was supported by National Institutes of Health grant PO1 AI057986. The authors thank Michael Pammit from UTSA for technical expertise.
About this article
Cite this article
Yu, JJ., Raulie, E.K., Murthy, A.K. et al. The presence of infectious extracellular Francisella tularensis subsp. novicida in murine plasma after pulmonary challenge. Eur J Clin Microbiol Infect Dis 27, 323–325 (2008). https://doi.org/10.1007/s10096-007-0434-x
Received:

Accepted:

Published:

Issue Date:
Keywords
Intracellular Bacterium

Tularemia

Francisella Tularensis

Secondary Organ

Tularensis Subsp