Abstract
Necrotizing fasciitis is a soft-tissue infection with a high risk of fatality. Infection with Vibrio vulnificus can lead to development of necrotizing fasciitis and primary septicemia, and occurs mostly in immunocompromised host-associated diseases such as hepatic disease, diabetes mellitus, chronic renal insufficiency, and adrenal insufficiency. Early recognition and treatment of the infection, which are unclear, are vital to patient welfare. We studied the disease epidemiology and reviewed the prognosis and clinical features of patients treated using our developed protocol. Clinical manifestations and outcomes were retrospectively analyzed for 67 patients with V. vulnificus-mediated necrotizing fasciitis and sepsis. All patients who had contacted seawater or raw seafood with positive culture for vibrio were included. Patients were divided into two groups based on the timing of first fasciotomy and injury; within 24 h (group A) and beyond 24 h (group B). Twenty-three of the 67 patients (40%) had hepatic disease, 17 (25.4%) had chronic renal insufficiency, and 12 (17.9%) exhibited adrenal insufficiency. The most common site of infection was the upper extremity (74.7%). Group B presented with more clinical symptoms including fever (p = 0.02), hemorrhagic bullae (p < 0.0001), and shock (p = 0.007). Group A patients exhibited enhanced survival compared to group B (in hospital mortality: 4.9% vs. 23%; p = 0.005). We conclude that early and appropriate diagnosis for V. vulnificus infection should be made, especially in patients presenting with atypical clinical findings. Early fasciotomy within 24 h remains the highest priority and decreases the mortality rate.
Access options
Buy single article
Instant access to the full article PDF.
US$ 39.95
Tax calculation will be finalised during checkout.
Subscribe to journal
Immediate online access to all issues from 2019. Subscription will auto renew annually.
US$ 79
Tax calculation will be finalised during checkout.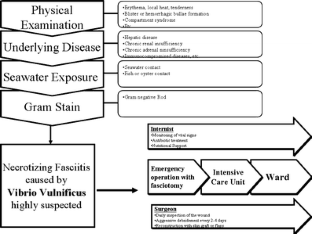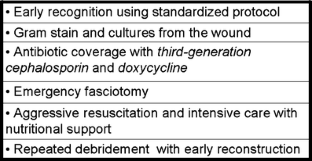 References
1.

Blake PA, Merson MH, Weaver RE et al (1979) Disease caused by a marine Vibrio: clinical characteristics and epidermiology. N Engl J Med Jan 4;300(1):1–5

2.

Neil MA, Carpenter CCJ (2000) Vibrio vulnificus infection. In: Mandell GL, Bennet JE, Dolin R (eds) Principles and practice of infectious diseases, 5th edn. Livingston, Edinburgh, Scotland, pp 2274

3.

Seal DV (2001) Necrotizing fasciitis. Curr Opin Infect Dis 14:127–132

4.

Oliver JD (2005) Wound infection caused by Vibrio vulnificus and other marine bacteria. Epidermiol Infect 133:383–391

5.

Hsueh PR, Lin CY, Tang HJ et al (2004) Vibrio vulnificus in Taiwan. Emerg Infect Dis 8:1363–1368

6.

Hor LI, Chang TT, Wang ST (1999) Survival of Vibrio vulnificus in whole blood from patients with chronic liver diseases: association with phagocytosis by neutrophils and serum ferritin levels. J Infec Dis 179:275–278

7.

Bullen JJ, Spalding PB, Ward CG et al (1991) Hemochromatosis, iron and septicemia caused by Vibrio vulnificus. Arch Intern Med 151:1606–1609

8.

Katz BZ (1988) Vibrio vulnificus meningitis in a boy with thalassemia after eating raw oysters. Pediatrics 82:784–786

9.

Kihiczak GG, Schwartz RA, Kapila R (2006) Necrotizing fasciitis: a deadly infection. J Eur Acad Dermatol Venereol 20:365–369

10.

Baethge BA, West BC (1988) Vibrio vulnificus: did Hippocrates describe a fatal case? Rev Infect Dis 10:614–615

11.

Yuan CY, Yuan CC, Wei DC et al (1987) Septicemia and gangrenous change of the leg caused by marine vibrio, Vibrio vulnificus: report of a case. J Formos Med Assoc 86:448–451

12.

Wang SM, Liu CC, Chiou YY et al (2000) Vivrio vulnificus infection complicated by acute respiratory distress syndrome in a child with nephritic syndrome. Pediatr Pulmonol 29:400–403

13.

Tsai YH, Hsu WW, Huang KC et al (2004) Systemic vibrio infection presenting as necrotizing fasciitis and sepsis: a series of thirteen cases. J Bone Joint Surg. Am 86:2497–2502

14.

Jaenisch T, Patz J (2002) Assessment of associations between climate and infectious diseases. Global Change Human Health 3(1):67–72

15.

Paz S, Bisharat N, Paz E et al (2007) Climate change and the emergence of Vibrio vulnificus disease in Israel. Environ Res 103:390–396

16.

Chuang YC, Ko WC, Wang ST et al (1998) Minocycline and cefotaxime in the treatment of experimental murine Vibrio vulnificus infection. Antimicrob Agents Chemother 42(6):1319–1322

17.

Liu YC, Shyu TG, Suen TT (1989) Investigation of the adulteration of synthetic chemical drugs in marketed Chinese herbal rheumatic and analgesic preparations. Annual Report of the National Laboratories of Foods and Drugs, vol 7. Department of Health, Taipei, Taiwan, pp 197–199

18.

Huang WF, Wen KC, Hsiao ML (1997) Adulteration by synthetic therapeutic substances of traditional Chinese medicine in Taiwan. J Clin Pharmacol 37:344–350

19.

Ernst E (2002) Adulteration of Chinese herbal medicines with synthetic drugs: a systemic review. J Inter Med 252:107–113

20.

Espat NJ, Auffenberg T, Abouhamze A et al (1996) A role for Tumor Necrosis Factor Alpha in the increased mortality associated with Vibrio vulnificus infection in the presence of hepatic dysfunction. Ann Surg 223(4):428–433

21.

Howard RJ, Lieb S (1988) Soft-tissue infections caused by halophilic marine vibrios. Arch Surg 123:245–249

22.

Powell JL, Wright AC, Wasserman SS et al (1997) Release of Tumor Necrosis Factor Alpha in response to Vibrio vulnificus capsular polysaccharide in in vivo and in vitro models. Infec Immun 65(9):3713–3718

23.

Shin SH, Shin DH, Ryu PY et al (2002) Proinflammatory cytokine profile in Vibrio vulnificus septicemic patients' sera. FEMS Immun Med Microb 33(2):133–138

24.

Klontz KC, Lieb S, Schreiber M et al (1988) Syndromes of Vibrio vulnificus infections: clinical and epidemiological features in Florida case, 1981–1987. Ann Intern Med 109:318–323

25.

Chuang YC, Yuan CY, Liu CY et al (1992) Vibrio vulnificus infection in Taiwan: report of 28 cases and review of clinical manifestations and treatment. Clin Infect Dis Aug 15:271–276

26.

Yau BC, Lee JW, Chen CL et al (1995) Surgical treatment in vibrio infection. J Plast Reconst Surg ROC 4 1:21–27

27.

Wong CH, Chang HC, Pasupathy S et al (2003) Necrotizing fasciitis: clinical presentation, microbiology, and determinants of mortality. J Bone Joint Surg Am Aug 85(8):1454–1460

28.

Halow KD, Harner RC, Fontenelle LJ (1996) Primary skin infection secondary to Vibrio vulnificus: the role of operative intervention. J Am Coll Surg 183:329–334

29.

Chuang YC, Liu JW, Ko WC et al (1997) In vitro synergism between cefotaxime and minocycline against Vibrio vulnificus. Antimicrob Agents Chemother 41(10):2214–2217

30.

Chiang SR, Chuang YC (2003) Vibrio vulnificus infection: clinical manifestation, pathogenesis, and antimicrobial therapy. J Microbiol Immunol Infect 36:81–88

31.

Liu JW, Lee IK, Tang HJ et al (2006) Prognostic factors and antibiotics in Vibrio vulnificus septicemia. Arch Intern Med 166:2117–2123

32.

Tang HJ, Chang MC, Ko WC et al (2002) In Vitro and In Vivo activities of newer fluoroquinolones against Vibrio vulnificus. Antim Agen Chem Nov:3580–3584

33.

Elliott DC, Kufera JA, Myers RAM (1996) Necrotizing soft tissue infections: risk factors for mortality and strategies for management. Ann Surg 224(5):672–683

34.

Childers BJ, Potyondy LD, Nachreiner R et al (2002) Necrotizing fasciitis: a fourteen-year retrospective study of 163 consecutive patients. Am Surg Feb 68(2):109–116
About this article
Cite this article
Kuo, YL., Shieh, SJ., Chiu, HY. et al. Necrotizing fasciitis caused by Vibrio vulnificus: epidemiology, clinical findings, treatment and prevention. Eur J Clin Microbiol Infect Dis 26, 785–792 (2007). https://doi.org/10.1007/s10096-007-0358-5
Keywords
Necrotizing fasciitis

Vibrio vulnificus

Treatment protocol