Abstract
A 42-year-old female patient with acute myeloid leukemia presented with fever and heavy chest pain after her first cycle of specific chemotherapy. Acute myocardial infarction was excluded, but surprisingly, parasitic inclusions in erythrocytes became obvious in Pappenheim and Giemsa-stained peripheral blood smears. The patient did not remember a tick bite but acknowledged having received several blood transfusions in her recent medical history. Suspicion of malaria was ruled out by use of a dip-stick test. The diagnosis of Babesia microti infection was finally established by specific polymerase chain reaction (PCR). Six weeks after initiation of specific treatment, PCR turned negative and a positive immunoflourescence assay (IFA) with an IgG titer of 1:128 indicated seroconversion. Subsequent screening of donors involved in the transfusion of blood products to the patient demonstrated borderline reactivity for Babesia microti (IgG-titer 1:32) in 1 out of 44 individuals. Neither the patient nor the positively tested blood donor had travelled to North America or Asia. Therefore, this is the first confirmed autochthonous human infection in Europe.
Access options
Buy single article
Instant access to the full article PDF.
US$ 39.95
Tax calculation will be finalised during checkout.
Subscribe to journal
Immediate online access to all issues from 2019. Subscription will auto renew annually.
US$ 79
Tax calculation will be finalised during checkout.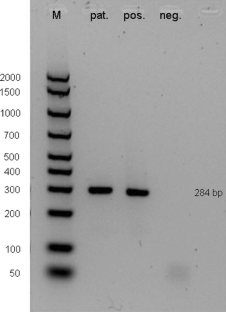 References
1.

Homer MJ, Aguilar-Delfin I, Telford SR 3rd, Krause PJ, Persing DH (2000) Babesiosis. Clin Microbiol Rev 13(3):451–469

2.

Skrabalo Z, Deanovic Z (1957) Piroplasmosis in man; report of a case. Doc Med Geogr Trop 9(1):11–16

3.

Conrad PA, Kjemtrup AM, Carreno RA, Thomford J, Wainwright K, Eberhard M, Quick R, Telford SR 3rd, Herwaldt BL (2006) Description of Babesia duncani n.sp. (Apicomplexa: Babesiidae) from humans and its differentiation from other piroplasms. Int J Parasitol 36(7):779–789

4.

Herwaldt BL, Caccio S, Gherlinzoni F, Aspock H, Slemenda SB, Piccaluga P, Martinelli G, Edelhofer R, Hollenstein U, Poletti G, Pampiglione S, Loschenberger K, Tura S, Pieniazek NJ (2003) Molecular characterization of a non-Babesia divergens organism causing zoonotic babesiosis in Europe. Emerg Infect Dis 9(8):942–948

5.

Gray JS (2006) Identity of the causal agents of human babesiosis in Europe. Int J Med Microbiol 296(Suppl 40):131–136

6.

Hunfeld KP, Brade V (2004) Zoonotic Babesia: possibly emerging pathogens to be considered for tick-infested humans in Central Europe. Int J Med Microbiol 293(Suppl 37):93–103

7.

Goethert HK, Telford SR 3rd (2003) What is Babesia microti? Parasitology 127(Pt 4):301–309

8.

Gorenflot A, Moubri K, Precigout E, Carcy B, Schetters TP (1998) Human babesiosis. Ann Trop Med Parasitol 92(4):489–501

9.

Popovsky MA (1991) Transfusion-transmitted babesiosis. Transfusion 31(4):296–298

10.

Hunfeld KP, Lambert A, Kampen H, Albert S, Epe C, Brade V, Tenter AM (2002) Seroprevalence of Babesia infections in humans exposed to ticks in midwestern Germany. J Clin Microbiol 40(7):2431–2436

11.

Foppa IM, Krause PJ, Spielman A, Goethert H, Gern L, Brand B, Telford SR 3rd (2002) Entomologic and serologic evidence of zoonotic transmission of Babesia microti, eastern Switzerland. Emerg Infect Dis 8(7):722–726

12.

Walter G, Weber G (1981) A study on the transmission (transstadial, transovarial) of Babesia microti, strain "Hannover i", in its tick vector, Ixodes ricinus (author's transl). Tropenmed Parasitol 32(4):228–230

13.

Piesman J, Karakashian SJ, Lewengrub S, Rudzinska MA, Spielmank A (1986) Development of Babesia microti sporozoites in adult Ixodes dammini. Int J Parasitol 16(4):381–385

14.

Hartelt K, Oehme R, Frank H, Brockmann SO, Hassler D, Kimmig P (2004) Pathogens and symbionts in ticks: prevalence of Anaplasma phagocytophilum (Ehrlichia sp.), Wolbachia sp., Rickettsia sp., and Babesia sp. in southern Germany. Int J Med Microbiol 293(Suppl 37):86–92

15.

Michel H, Wilske B, Hettche G, Gottner G, Heimerl C, Reischl U, Schulte-Spechtel U, Fingerle V (2004) An ospA-polymerase chain reaction/restriction fragment length polymorphism-based method for sensitive detection and reliable differentiation of all European Borrelia burgdorferi sensu lato species and OspA types. Med Microbiol Immunol (Berl) 193(4):219–226

16.

Zintl A, Mulcahy G, Skerrett HE, Taylor SM, Gray JS (2003) Babesia divergens, a bovine blood parasite of veterinary and zoonotic importance. Clin Microbiol Rev 16(4):622–636

17.

Meer-Scherrer L, Adelson M, Mordechai E, Lottaz B, Tilton R (2004) Babesia microti infection in Europe. Curr Microbiol 48(6):435–437

18.

Telford S, Maguire JH (2006) Babesiosis. In: Guerrant RL, Walker DH, Weller PF (eds) Tropical infectious diseases: principles, pathogens, and practice. Churchill Livingstone, Philadelphia pp 1063–1071

19.

Krause PJ, Spielman A, Telford SR 3rd, Sikand VK, McKay K, Christianson D, Pollack RJ, Brassard P, Magera J, Ryan R, Persing DH (1998) Persistent parasitemia after acute babesiosis. N Engl J Med 339(3):160–165

20.

Wilske B, Zöller L, Brade V, Eiffert M, Göbel UB, Stanek G, in cooperation with Pfister HW (2000) MIQ 12 Lyme-Borreliose. Qualitätsstandards in der mikrobiologisch-infektiologischen Diagnostik. München, Urban and Fischer

21.

Klein TE, Chang JT, Cho MK, Easton KL, Fergerson R, Hewett M, Lin Z, Liu Y, Liu S, Oliver DE, Rubin DL, Shafa F, Stuart JM, Altman RB (2001) Integrating genotype and phenotype information: an overview of the PharmGKB Project. Pharmacogenomics J 1(3):167–170

22.

Saito-Ito A, Tsuji M, Wei Q, He S, Matsui T, Kohsaki M, Arai S, Kamiyama T, Hioki K, Ishihara C (2000) Transfusion-acquired, autochthonous human babesiosis in Japan: isolation of Babesia microti-like parasites with hu-RBC-SCID mice. J Clin Microbiol 38(12):4511–4516

23.

Homer MJ, Bruinsma ES, Lodes MJ, Moro MH, Telford S 3rd, Krause PJ, Reynolds LD, Mohamath R, Benson DR, Houghton RL, Reed SG, Persing DH (2000) A polymorphic multigene family encoding an immunodominant protein from Babesia microti. J Clin Microbiol 38(1):362–368

24.

Cable RG, Leiby DA (2003) Risk and prevention of transfusion-transmitted babesiosis and other tick-borne diseases. Curr Opin Hematol 10(6):405–411
Acknowledgements
We thank Ute Mackenstedt (Department of Parasitology, University of Hohenheim) for providing DNA of Babesia divergens and Babesia microti, Karl-Hermann Schmidt (Institute of Medical Microbiology, Jena) for laboratory support, Robert Siegmund (Institute of Clinical Chemistry and Laboratory Medicine, Jena) for providing patient material and helpful advice, Christel Kummer (Insitute for Transfusion Medicine, Jena) for providing the retain samples of the donors, and Anna-Dorothea Wagner (Department of Internal Medicine, Jena) for taking care of the patient.
About this article
Cite this article
Hildebrandt, A., Hunfeld, KP., Baier, M. et al. First confirmed autochthonous case of human Babesia microti infection in Europe. Eur J Clin Microbiol Infect Dis 26, 595–601 (2007). https://doi.org/10.1007/s10096-007-0333-1
Keywords
Acute Myeloid Leukemia

Idarubicin

Babesia

Borrelia Burgdorferi

Tick Infestation