Access options
Buy single article
Instant access to the full article PDF.
US$ 39.95
Tax calculation will be finalised during checkout.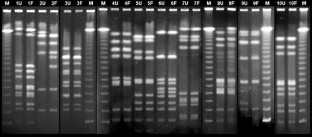 References
1.

Kohler-Ockmore J, Feneley RC (1996) Long-term catheterization of the bladder: prevalence and morbidity. Br J Urol 77:347–351

2.

Mobley HL, Belas R (1995) Swarming and pathogenicity of Proteus mirabilis in the urinary tract. Trends Microbiol 3:280–284

3.

Nickel JC, Downey J, Costerton JW (1992) Movement of Pseudomonas aeruginosa along catheter surfaces. A mechanism in pathogenesis of catheter-associated infection. Urology 39:93–98

4.

Daifuku R, Stamm WE (1984) Association of rectal and urethral colonization with urinary tract infection in patients with indwelling catheters. JAMA 252:2028–2030

5.

Sabbuba NA, Mahenthiralingam E, Stickler DJ (2003) Molecular epidemiology of Proteus mirabilis infections of the catheterized urinary tract. J Clin Microbiol 41:4961–4965

6.

Clayton CL, Chawla JC, Stickler DJ (1982) Some observations on urinary tract infections in patients undergoing long-term bladder catheterization. J Hosp Infect 3:39–47

7.

Sabbuba NA, Stickler DJ, Mahenthiralingam E, Painter DJ, Parkin J, Feneley RC (2004) Genotyping demonstrates that the strains of Proteus mirabilis from bladder stones and catheter encrustations of patients undergoing long-term bladder catheterization are identical. J Urol 171:1925–1928

8.

Stickler DJ, Chawla JC (1987) The role of antiseptics in the management of patients with long-term indwelling bladder catheters. J Hosp Infect 10:219–228

9.

Muller HE (1986) Occurrence and pathogenic role of Morganella–Proteus–Providencia group bacteria in human feces. J Clin Microbiol 23:404–405

10.

Peerbooms PG, Verweij AM, MacLaren DM (1985) Uropathogenic properties of Proteus mirabilis and Proteus vulgaris. J Med Microbiol 19:55–60
Acknowledgements
S.M. was supported by EPSRC grant GR/R66517/01.
About this article
Cite this article
Mathur, S., Sabbuba, N.A., Suller, M.T.E. et al. Genotyping of urinary and fecal Proteus mirabilis isolates from individuals with long-term urinary catheters. Eur J Clin Microbiol Infect Dis 24, 643–644 (2005). https://doi.org/10.1007/s10096-005-0003-0
Keywords
Colistin

Bacteriuria

Proteus Mirabilis

Urethral Meatus

Suprapubic Catheter