Abstract
Two severe cases of Vibrio vulnificus wound infection with secondary septicemia occurred during 1 week in August 2003 on the German island of Usedom in the southwestern Baltic Sea. In both cases, pre-existing wounds were inoculated by wading in contaminated sea water. One of the patients died from septic multiorgan failure. To the best of our knowledge, this is the first fatality due to a V. vulnificus infection to have occurred in Germany. Microbiological analysis revealed high concentrations of V. vulnificus in sea water along the coastline, following a period when water temperature exceeded 20°C for more than 2 weeks.
Access options
Buy single article
Instant access to the full article PDF.
USD 39.95
Price excludes VAT (USA)
Tax calculation will be finalised during checkout.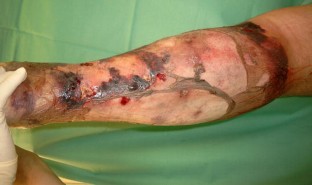 References
Klontz KC, Lieb S, Schreiber M, Janowski HT et al (1988) Syndromes of Vibrio vulnificus infections. Clinical and epidemiologic features in Florida cases, 1981–1987. Ann Intern Med 109:318–323

Hlady WG, Klontz KC (1996) The epidemiology of Vibrio infections in Florida, 1981–1993. J Infect Dis 173:1176–1183

Bisharat N, Agmon V, Finkelstein R, Raz R et al (1999) Clinical, epidemiological, and microbiological features of Vibrio vulnificus biogroup 3 causing outbreaks of wound infection and bacteraemia in Israel. Israel Vibrio Study Group. Lancet 354:1421–1424

Dalsgaard A, Frimodt-Moller N, Bruun B, Hoi L et al (1996) Clinical manifestations and molecular epidemiology of Vibrio vulnificus infections in Denmark. Eur J Clin Microbiol Infect Dis 15:227–232

Colodner R, Chazan B, Kopelowitz J, Keness Y et al (2002) Unusual portal of entry of Vibrio vulnificus: evidence of its prolonged survival on the skin. Clin Infect Dis 34:714–715

Borenstein M, Kerdel F (2003) Infections with Vibrio vulnificus. Dermatol Clin 21:245–248

Koenig KL, Mueller J, Rose T (1991) Vibrio vulnificus. Hazard on the half shell. West J Med 155:400–403

Simpson LM, White VK, Zane SF, Oliver JD (1987) Correlation between virulence and colony morphology in Vibrio vulnificus. Infect Immun 55:269–272

Tang HJ, Chang MC, Ko WC, Huang KY et al (2002) In vitro and in vivo activities of newer fluoroquinolones against Vibrio vulnificus. Antimicrob Agents Chemother 46:3580–3584

Sie MY, Ip-yam PC, Oon LL (2002) Vibrio vulnificus septicaemia. Anaesth Intensive Care 30:77–81

Chiang SR, Chuang YC (2003) Vibrio vulnificus infection: clinical manifestations, pathogenesis, and antimicrobial therapy. J Microbiol Immunol Infect 36:81–88

Wilhelmi BJ, Calianos TA, Appelt EA, Ortiz ME et al (1999) Modified Dakin's solution for cutaneous vibrio infections. Ann Plast Surg 43:386–389

Halow KD, Harner RC, Fontenelle LJ (1996) Primary skin infections secondary to Vibrio vulnificus: the role of operative intervention. J Am Coll Surg 183:329–334

Chuang YC, Yuan CY, Liu CY, Lan CK et al (1992) Vibrio vulnificus infection in Taiwan: report of 28 cases and review of clinical manifestations and treatment. Clin Infect Dis 15:271–276

Kelly MT (1982) Effect of temperature and salinity on Vibrio (Beneckea) vulnificus occurrence in a Gulf Coast environment. Appl Environ Microbiol 44:820–824

Armstrong CW, Lake JL, Miller GB Jr (1983) Extraintestinal infections due to halophilic vibrios. South Med J 76:571–574

Bruun BG, Frimodt-Moller N, Dalsgaard A, Busk HE et al (1996) [Vibrio vulnificus infections in Denmark during the summer of 1994]. Ugeskr Laeger 158:4291–4294

Bock T, Christensen N, Eriksen NH, Winter S et al (1994) The first fatal case of Vibrio vulnificus infection in Denmark. APMIS 102:874–876

Melhus A, Holmdahl T, Tjernberg I (1995) First documented case of bacteremia with Vibrio vulnificus in Sweden. Scand J Infect Dis 27:81–82

Hoyer J, Engelmann E, Liehr RM, Distler A et al (1995) Septic shock due to Vibrio vulnificus serogroup 04 wound infection acquired from the Baltic Sea. Eur J Clin Microbiol Infect Dis 14:1016–1018

Kuhnt-Lenz K, Krengel S, Fetscher S, Heer-Sonderhoff A et al (2003) Sepsis with bullous necrotizing skin lesions due to Vibrio vulnificus acquired through recreational activities in the Baltic Sea. Eur J Clin Microbiol Infect Dis 23:49–52

Hoi L, Larsen JL, Dalsgaard I, Dalsgaard A (1998) Occurrence of Vibrio vulnificus biotypes in Danish marine environments. Appl Environ Microbiol 64:7–13

Jores J, Stephan R, Knabner D, Gelderblom HR et al (2003) Isolation of Vibrio vulnificus and atypical Vibrio from surface water of the Baltic Sea in Germany. Berl Munch Tierarztl Wochenschr 116:396–400
Acknowledgments
The authors would like to thank U. Sill, MD, for the photograph. We would also like to thank our colleagues at the Wolgast Community Hospital for their cooperation and provision of clinical data. We likewise thank M. Littmann, MD, of the Health Authority of Mecklenburg and West Pommerania, for her cooperation
About this article
Cite this article
Ruppert, J., Panzig, B., Guertler, L. et al. Two cases of severe sepsis due to Vibrio vulnificus wound infection acquired in the Baltic Sea. Eur J Clin Microbiol Infect Dis 23, 912–915 (2004). https://doi.org/10.1007/s10096-004-1241-2
Published:

Issue Date:

DOI: https://doi.org/10.1007/s10096-004-1241-2
Keywords