Chemical composition of lignocellulosic biomass in the wood of Abies religiosa across an altitudinal gradient
Abstract
Tree adaptation to environment has been extensively studied. However, little is known about the variations in structure and chemical composition of lignocellulosic biomass (LB) in relation to altitudinal gradient. We wonder, are there significant variations in the LB in the wood across an altitudinal gradient? To answer this, we carried out a study of Abies religiosa. Wood samples were collected from 36 trees, grown between 3000 and 3500 masl, and then subjected to gravimetric and FTIR (Fourier Transform Infrared) spectroscopic analyses. The gravimetric results showed a proportion of 54.81 ± 2.20 % cellulose, 12.37 ± 1.33 % hemicellulose and 24.68 ± 1.16 % of insoluble lignin. Using the principal components analysis with analysis of variance (ANOVA), significant differences were found at 3100 and 3200 masl in two independent components related to both hemicellulose and lignin, through gravimetry as well as the spectroscopic bands assigned to the carbonyl groups of these polymers, respectively. However, the observed changes in chemical composition of LB did not follow a linear relationship with respect to the altitudinal gradient, which suggests that complex environmental interactions could also be playing an important role. Also, there were significant differences (p < 0.05) in two of the empirical indexes calculated from the FTIR analysis.
Keywords
Elevation gradient 
FTIR spectroscopy 
Sacred fir 
Oyamel
PCA analysis 
Introduction
Wood resources are the lignocellulosic materials most widely used all over the world, since they are accessible and possess interesting physical, chemical and energetic properties [1, 2]. Lignocellulosic biomass (LB) is a natural resource, a complex fraction of the structure of plants, and the most abundant source of neutral carbon in the planet. It is formed by the components of the cell wall, mostly polysaccharides of the cellulose and hemicellulose, and lignin, which is a phenolic polymer [3, 4, 5]. The composition of LB is heterogeneous and there is little information about the organization and coordination of its main components during and after biosynthesis [6], whereas the complex physiological process is little understood [7]. The physical and chemical properties of LB differ from one plant species to another [8], as does its composition, which may vary according to the plant's genotype, the method and date of cultivation, its anatomic fraction, its age or growth stage, and the storage techniques [3, 4, 9, 10]. It has also been reported that some components of LB may change as response to biotic or abiotic stress [5].
Abiotic stress is the main factor negatively affecting the development and productivity of plants; sources of stress include drought, ultraviolet (UV) radiation, cold and heat [11]. Responses of the cell wall in plants to abiotic stress are complex and vary according to the species and the intensity of the stress. This complicates the identification of response patterns to abiotic stress of the cell wall and of its lignocellulosic components. Although no clear response patterns to abiotic stress have been found for cellulose, it is known that lignin tends to increase in conditions of water scarcity and low temperatures, whereas hemicelluloses tend to increase when water is scarce [12].
Environmental factors such as temperature, rainfall and soil components tend to vary across an altitudinal gradient (AG) [13, 14]. The effects of altitude on plants have been studied using an altitudinal gradient [15, 16]. In recent years, the relationship between altitude and plant development across an AG has been the focus of many ecological studies [17, 18, 19, 20, 21, 22]. However, few of these studies have looked at the influence of altitudinal variation on the composition of the LB from different anatomic parts of trees. Richardson reported that lignin and cellulose in leaves of Picea rubens and Abies balsamea diminished abruptly with an increase in altitude, as opposed to hemicellulose [23]. Similarly, Genet et al. studied the cell wall of Abies georgei roots and found a decrease in the holocellulose (cellulose and hemicellulose) at higher altitudes [24]. Therefore, the AG may have an effect on the anatomic structure and the physical and chemical properties of wood and, consequently, on its quality [25]. The study of the possible effects of altitudinal variation on the LB of wood will lead to understand the response patterns of lignocellulosic materials.
Due to their wide distribution and economic value, conifers, to which the genus Abies belongs, are among the most sought-after trees. The wood of Abies religiosa (Kuntch) Schldl. et Cham, also known as abeto (sacred fir) or oyamel, a conifer with wide distribution in Mexico and Guatemala, is very much appreciated due to its physical and mechanical properties [26, 27]. These trees develop under the geographic, climatic and ecological conditions characteristic of mountainous areas, within an altitudinal gradient from 2400 to 3600 meters above sea level (masl), notably along the so-called Neovolcanic Transversal Axis [28]. In the state of Veracruz in Mexico, it is found mostly at the Cofre de Perote National Park, where trees are distributed along circular bands within a gradient from 3000 to 3500 masl [26, 29].
The objective of this study was to investigate the possible significant changes in the structural composition of LB in the wood of Abies religiosa across an altitudinal gradient. The researching hypothesis was that, if the distribution of Abies religiosa along an altitudinal gradient is limited by environmental conditions, then the limits are representing by the extreme environmental conditions. Based on this premise, it was expected that below 3000 masl (lower limit) and above 3500 masl (upper limit), a larger lignin content would be found due to stressful environmental conditions [12], as well as a larger content of hemicellulose, a more labile structural polymer related to energy reserves [30]. As for cellulose, a reduction was expected in conditions of increased lignin and hemicellulose [31].
Results
Microclimate conditions
Through the datalogger collections, the average temperature data were: 7.50 ± 3.4, 8.41 ± 3.5 and 9.55 ± 4.0 °C, and the average relatives humidities were: 75.32 ± 22.7, 73.70 ± 22.8 and 71.97 ± 23.9 % for the altitudinal levels 3000, 3250 and 3500 masl, respectively. Also, an inverse pattern for both climatic variables versus the altitude was observed, with a linear correlation of R 2 = 0.99 for both variables. Using the obtained models, the temperature and RH data, estimated every 100 meters across of AG, were as follows: 9.14 °C and 74.66 % (3100); 8.73 °C and 73.99 % (3200); 8.32 °C and 73.32 % (3300); 7.91 °C and 72.65 % (3400). Then, the temperature/100 m rate was −0.41 °C, and relative humidity/100 m rate was −0.67 %.
Chemical composition analysis
On average, the chemical composition of the wood of 36
A. religiosa
trees analyzed here was of 54.81 ± 2.20 % of cellulose, 12.37 ± 1.33 % of hemicellulose, 24.68 ± 1.16 % of insoluble lignin and 8.13 ± 2.15 % of other minor components (extracts and soluble sugars, among others). The gravimetric analysis showed no significant differences (
p
 > 0.05 in all cases) in the composition of cellulose, hemicellulose, insoluble lignin and other minor components of wood in connection with the altitude when the parameters are analyzed separately (Table 
1
).
Table 1
Chemical composition of the wood of A. religiosa along the altitudinal gradient
| Altitude (masl) | Cellulose (%) | Hemicellulose (%) | Insoluble lignin (%) | Other (%) |
| --- | --- | --- | --- | --- |
| 3500 | 54.35 ± 2.47a | 13.24 ± 1.22a | 25.08 ± 1.24a | 7.32 ± 2.68a |
| 3400 | 55.56 ± 1.58a | 12.72 ± 1.63a | 25.10 ± 1.06a | 6.61 ± 1.66a |
| 3300 | 55.61 ± 2.57a | 11.82 ± 1.18a | 24.38 ± 0.81a | 8.17 ± 3.25a |
| 3200 | 54.71 ± 1.01a | 11.85 ± 1.26a | 24.78 ± 1.02a | 8.64 ± 1.33a |
| 3100 | 55.33 ± 1.75a | 11.65 ± 0.97a | 23.98 ± 0.73a | 9.01 ± 1.25a |
| 3000 | 53.29 ± 3.38a | 12.92 ± 1.38a | 24.75 ± 1.90a | 9.01 ± 0.77a |
On the other hand, through PCA, principal components 1 and 2 explained 78.27 % of the total variance of the data set. These PCs scores were selected from the multivariate analysis of the data matrix of the four variables studied (cellulose, hemicellulose, lignin and other minor components), taken as a data set representing the lignocellulosic biomass of wood (Fig. 
1
a).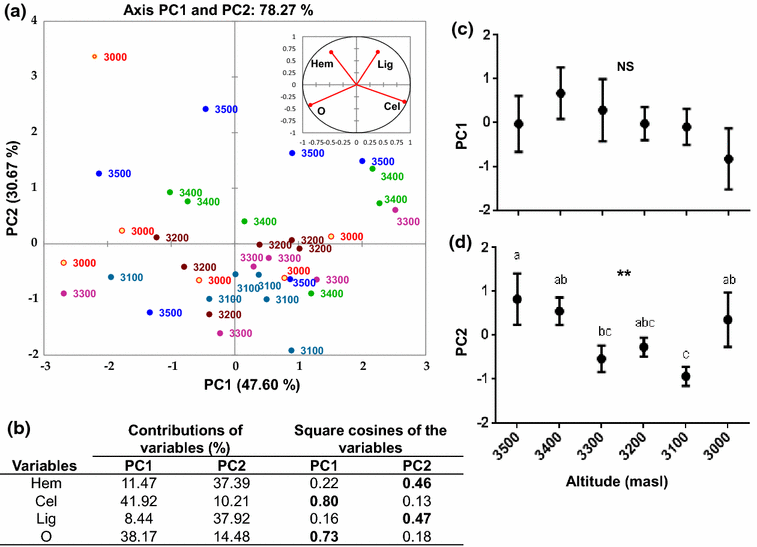 The first principal component (PC1) contributed to 47.6 % of the variance and consisted in the meaningful contribution of two parameters: cellulose and other minor components with high square cosines, 0.8 and 0.73, respectively (subsection b in Fig. 1). Whereas the second principal component (PC2) explained 30.6 % of the total variance and was conformed by the meaningful contribution of hemicellulose and lignin (subsection b, in Fig. 1). After applying the ANOVA tests to PC1 and PC2 (using the coordinates of the observations for each one), statistical difference was obtained for the second component (F = 4.558, p = 0.003), observing an increase of PC2 toward the extremes of the altitudinal gradient under study and a decrease at the center (Fig. 1d), where the altitude of 3100 masl was the lowest. There was no significant statistical difference for the first component (Fig. 1c).
ATR-FTIR characterization
Discussion
Chemical composition analysis
Although no complete report has yet been published on the composition of wood of Abies religiosa, it is known that lignin accounts for 25.29 % of it [50], a figure close to the 24.68 % that was found here through the Van Soest gravimetric method. However, there is no information on the cellulose and hemicellulose components for this species. Nevertheless, the composition for Abies sp. has been recorded as 48.2 % cellulose, 20.5 % hemicellulose, 26.5 % lignin and 4.8 % other minor components [51]. Comparing these data with our results, we found higher average cellulose content (54.81 %) as well as of other minor components (8.13 %). In contrast, a lower content of hemicellulose (12.37 %) and a lignin value close to 24.68 % were obtained. These differences may be explained by the variations between species of Abies and their respective original habitat. As far as we know, our study is the first report on wood composition of A. religiosa from a Mexican forest. The PCA analysis revealed a significant decrease in the principal component constituted of both, hemicellulose and lignin at 3100 followed by 3300 masl. In contrast, an increase of this principal component was observed, mainly toward the upper end (3500 masl) of the AG, followed by the corresponding data at 3400 and 3000 masl. These results agree partially with our hypothesis in relationship with the effect of environmental stress on the proportion of hemicellulose and lignin in the wood of A. religiosa trees along the AG.
Chemical changes in the cell wall components related to environmental factors have been reported before [12, 52, 53]. It is known that these changes will vary according to the species and the anatomical fraction studied (roots, leaves and wood) [23, 24]. Also, the hemicellulose tends to rise in response to cooler temperatures along altitudinal gradients, as well as to dryness [12, 30]. Meanwhile, the lignin content in plants is related to low temperatures, but very little is known about the effects of deficit water on lignin content [52]. In our study, we found that the temperature and the RH decrease with altitude along the AG. According to these data, our results suggest one possible response mechanism of hemicellulose and lignin to environmental stress conditions along an altitude gradient in Abies religiosa, since the cell wall is usually the first line of defense to various types of stress [54]. Furthermore, our results seem to indicate that at 3100 and 3300 masl, the hemicellulose and lignin contents decrease significantly, which could mean less environmental stress conditions in these altitudinal levels that affect the development of A. religiosa cell wall. As Whittaker has pointed out, all species present optimum growth and higher competitiveness at some point in the environmental gradient [55]. Tree growth conditions determine the chemical composition of tissues and, in less stressful environments, tend to help the production of less costly energy substrates (such as cellulose) over more costly ones (such as hemicellulose and lignin) [31, 56, 57]. This energy savings may lead to the benefit of other physiological processes, such as growth and reproduction [58].
ATR-FTIR characterization
This is the first known report on the FTIR spectrum of wood of A. religiosa. It is very similar to the spectra reported for woods from the Abies genus as expected [59, 60, 61]. Otherwise, the region in spectrum with the highest variation along the altitudinal gradient is in the range of 1640–1760 cm−1 (Fig. 2), which comprises two bands: 1660 and 1735 cm−1, both assigned to carbonyl functional groups. The first band is related to lignin carbonyls, while the second is assigned to lignin and hemicellulose [39, 44]. Changes in these carbonyl bands from wood samples are related to chemical variations mainly from lignin, as reported in another studies [59, 62, 63, 64].
Moreover, the band 1660 cm−1 showed the biggest change along the altitudinal gradient, increasing mostly at the lower end (3000 masl) and decreasing at 3200 and 3100 masl. Also, the PC3 of the FTIR spectra consisted of the bands 1735 and 1660 cm−1 described above. It also differed significantly, decreasing mostly toward 3200 masl, which suggests that the carbonyl functional groups vary along the altitudinal gradient possibly by environmental conditions from this altitudinal level, and these functional groups are, in turn, within hemicellulose and lignin polymers. The variations in carbonyl groups related with hemicelluloses and lignin found by the FTIR spectroscopic analysis using PCA agree with the findings in the analysis of fibers, and partly with our hypothesis.
Among the empirical indexes calculated from FTIR spectroscopy, only two showed statistically significant differences. The TCI indicates that the crystallinity of the cellulose in wood of A. religiosa decreases at higher altitudes, where temperature and relative humidity are lower, which may mean less recalcitrance (i.e., greater degradation) in the wood, then the physicochemical properties could be changes; nevertheless, further studies in this sense would be necessary. Finally, the rate 1735/1368 indicates that the a carbonyl/ carbohydrate relationship in the wood of A. religiosa decreasing at 3200 masl, a trend also found in carbonyl groups and similar to the result from the PCA analysis of the FTIR spectroscopy.
Conclusions
Multivariate analysis in conjunction with ANOVA showed significant differences in some polymers of lignocellulosic biomass in the wood of A. religiosa along the altitudinal gradient. Through the gravimetric analysis data, we found a significant difference in the principal component composed by the concentration of both polymers: hemicellulose and lignin, since it reaches its lower value at 3100 masl. In addition, other principal component, developed with the IR absorption bands assigned to the carbonyl groups of hemicellulose and lignin, was significantly different at 3200 masl, where it had its lower value. From these results, it seems that the amount of both polymers is affected mainly in the altitudinal range 3100–3200 masl. However, significant changes in the chemical composition of lignocellulosic biomass in the wood of A. religiosa did not follow a linear relationship with respect to the altitudinal gradient, which suggests that complex environmental interactions could also be playing an important role. In this sense, further studies would be valuable to understand, at least in part, which environmental factors have an influence on the chemical composition of the wood of A. religiosa.
Notes
Acknowledgments
We would like to thank Sandra Ortiz Rocha, laboratory assistant of the Instituto de Ecología, A. C. for her training and support in wood analysis, particularly the use of the ANKOM 200 fiber analyzer. We also thank the SARA laboratory (Support Services in Analytic Resolution) of the Veracruzana University for the access granted to the use of the spectrophotometer and Iván de Jesús Pale Ezquivel for his aid in the measurement and process of FTIR spectra. Ricardo Musule Lagunes thanks the National Council of Science and Technology (CONACyT) for the postgraduate scholarship (344898). Acquisition of the FTIR-ATR spectrometer was able thanks to the financial support of CONACyT through the Proyecto Integral Conacyt-Sener-Hidrocarburos-2011-02, No. 177007. Finally, we thank three anonymous referees and the editor for valuable suggestions and comments.
Compliance with ethical standards
Conflict of interest
The authors declare that they have no conflict of interest.
Ethical approval
The authors declare that the research complied with all ethical standards.
Human and animal rights statement
This article does not contain any studies with human participants or animals performed by any of the authors.
Copyright information
© The Japan Wood Research Society 2016