Abstract
Background
Fibromyalgia patients can benefit from music approaches as complementary treatments. In the literature, it was shown that these interventions managed pain conditions as well as reduced complaints, increased relaxation, and improved moods.
Objective
This study aimed at evaluating music therapy, in the form of therapeutic music listening, specifically for patients with fibromyalgia, to treat chronic pain by reducing pain perception, increasing well-being, and improving quality of life.
Methods
Twenty-four patients with fibromyalgia were recruited to take part in this feasibility pilot study that adopted a between-subject and within-subject design. Participants were randomised into three groups: (1) standard care, (2) standard care plus preferred music listening, (3) standard care plus Melomics-Health music listening, composed by an algorithm. Participants in experimental groups listened to 30 min of music at home, twice a day for a month. Patients' perceptions of changes following the listening, the intensity of pain and its interference in their lives, physical and mental well-being, and reported attitudes towards listening to music were evaluated respectively through the patients' global impression of change, the brief pain inventory, the Short Form Healthy Survey-12, and the cognitive behavioural assessment-outcome evaluation.
Results
The study showed that music listening can significantly affect mental well-being compared to no music. Moreover, the effects in the Melomics-Health group are maintained at follow-up. No significant effect on pain perception was noted.
Conclusions
The study provides information supporting a possible role of music listening in improving well-being of patients with fibromyalgia.
Access options
Buy single article
Instant access to the full article PDF.
USD 39.95
Price excludes VAT (USA)
Tax calculation will be finalised during checkout.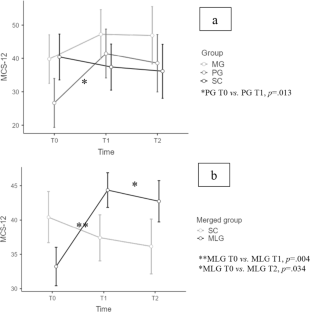 Data availability
The datasets generated during and/or analysed during the current study are available from the corresponding author on reasonable request.
References
Clauw DJ (2014) Fibromyalgia: a clinical review. JAMA 311:1547–1555. https://doi.org/10.1001/jama.2014.3266

Horwitz EB, Theorell T, Anderberg UM (2003) Fibromyalgia patients' own experiences of video self-interpretation: a phenomenological-hermeneutic study. Scand J Caring Sci 17(3):257–264. https://doi.org/10.1046/j.1471-6712.2003.00223.x

Murillo-García Á, Villafaina S, Adsuar JC, Gusi N, Collado-Mateo D (2018) Effects of dance on pain in patients with fibromyalgia: a systematic review and meta-analysis. Evid Based Complement Alternat Med 2018:8709748. https://doi.org/10.1155/2018/8709748

Sihvonen AJ, Pitkäniemi A, Särkämö T, Soinila S (2022) Isn't there room for music in chronic pain management? J Pain S1526–5900(22):00015–00023. https://doi.org/10.1016/j.jpain.2022.01.003

Alparslan GB, Babadağ B, Özkaraman A, Yıldız P, Musmul A, Korkmaz C (2016) Effects of music on pain in patients with fibromyalgia. Clin Rheumatol 35(5):1317–1321. https://doi.org/10.1007/s10067-015-3046-3

Linnemann A, Kappert MB, Fischer S, Doerr JM, Strahler J, Nater UM (2015) The effects of music listening on pain and stress in the daily life of patients with fibromyalgia syndrome. Front Hum Neurosci 9:434. https://doi.org/10.3389/fnhum.2015.00434

Chanda ML, Levitin DJ (2013) The neurochemistry of music. Trends Cogn Sci 17:179–193. https://doi.org/10.1016/j.tics.2013.02.007

Raglio A, Vico F (2017) Music and technology: the curative algorithm. Front Psychol 8:2055. https://doi.org/10.3389/fpsyg.2017.02055

Raglio A, Baiardi P, Vizzari G, Imbriani M, Castelli M, Manzoni S, Vico F, Manzoni L (2021) Algorithmic music for therapy: effectiveness and perspectives. Appl Sci 11(19):8833. https://doi.org/10.3390/app11198833

Guétin S, Giniès P, Siou DKA et al (2012) The effects of music intervention in the management of chronic pain: a single-blind, randomized, controlled trial. J Pain 28:329–337. https://doi.org/10.1097/AJP.0b013e31822be973

Garza-Villarreal EA, Pando V, Vuust P, Parsons C (2017) Music-induced analgesia in chronic pain conditions: a systematic review and meta-analysis. Pain Physician 20(7):597–610
Ethics declarations
Ethics approval
Approval was obtained from the ethics committee of Istituti Clinici Scientifici Maugeri IRCCS, Pavia, Italy (CE 924, 27/06/2013). The procedures used in this study adhere to the tenets of the Declaration of Helsinki.
Consent to participate
Written informed consent was obtained from all individual participants included in the study.
Conflict of interest
None.
Additional information
Publisher's note
Springer Nature remains neutral with regard to jurisdictional claims in published maps and institutional affiliations.
About this article
Cite this article
Raglio, A., Bettaglio, R., Manera, M.R. et al. Feasibility of therapeutic music listening in fibromyalgia: a randomised controlled pilot study. Neurol Sci 44, 723–727 (2023). https://doi.org/10.1007/s10072-022-06488-9
Received:

Accepted:

Published:

Issue Date:

DOI: https://doi.org/10.1007/s10072-022-06488-9
Keywords
Fibromyalgia

Chronic pain

Therapeutic music listening

Algorithmic music

Mental well-being