Abstract
Background
Brain injuries are the most common cause of death in productive age. Besides the extent of the injury, other systemic factors can also affect the outcome. Patients suffering from severe brain injury often experience extracranial inflammatory complications during the early period of treatment. Here, we investigate the changes in immunity in patients with brain injury.
Methods
121 patients and 92 healthy controls were included in the research. Blood samples were collected on admission and analyzed by flow cytometry and biochemical methods. Multiple clusters of differentiation (CD) and antibody levels were investigated. The results were compared between patients and controls. In addition, results of two classes of severity (Glasgow Coma Scale, GCS, of 3–5 vs. 6–8) were also compared.
Results
Parameters of humoral immunity in patients immediately after admission were significantly lower than those from healthy donors, with the exception of IgE elevated as much as to resemble allergic reaction (p < 0.01). Of cellular parameters, only natural killer (NK) cluster CD56 + was elevated (p < 0.01). Extracranial infectious complications were more common in patients with GCS 3–5.
Conclusions
Strong immune system disorders were observed in patients after severe brain injury, which may contribute to the worse outcome in such patients.
Access options
Buy single article
Instant access to the full article PDF.
USD 39.95
Price excludes VAT (USA)
Tax calculation will be finalised during checkout.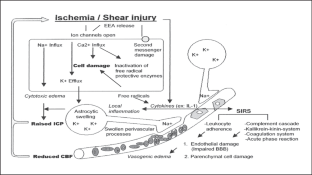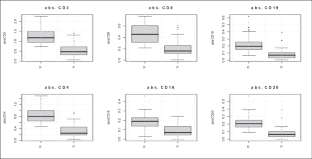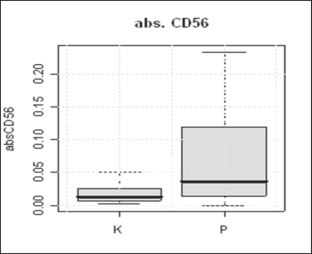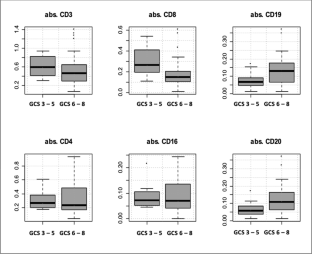 References
Bagiella E, Novack TA, Ansel B, Diaz-Arrastia R, Dikmen S, Hart T, Temkin N (2010) Measuring outcome in traumatic brain injury treatment trials: recommendations from the traumatic brain injury clinical trials network. J Head Trauma Rehabil 25(5):375–382

Carney N, Totten AM, O'Reilly C, Ullman JS, Hawryluk GW, Bell MJ, Bratton SL, Chesnut R, Harris OA, Kissoon N, Rubiano AM, Shutter L, Tasker RC, Vavilala MS, Wilberger J, Wright DW, Ghajar J (2017) Guidelines for the management of severe traumatic brain injury. Fourth Edition Neurosurgery 80(1):6–15

Richards JE, Harris T, Dünser MW, Bouzat P, Gauss T (2021) Vasopressors in trauma: a never event? Anesth Analg 133(1):68–79

Khellaf A, Khan DZ, Helmy A (2019) Recent advances in traumatic brain injury. J Neurol 266(11):2878–2889

Maier CM, Hsieh L, Crandall T, Narasimhan P, Chan PH (2006) A new approach for the investigation of reperfusion-related brain injury. Biochem Soc Trans 34(Pt 6):1366–1369

O'Leary RA, Nichol AD (2018) Pathophysiology of severe traumatic brain injury. J Neurosurg Sci 62(5):542–548

Sarrafzadeh AS, Peltonen EE, Kaisers U, Küchler I, Lanksch WR, Unterberg AW (2001) Secondary insults in severe head injury–do multiply injured patients do worse? Crit Care Med 29(6):1116–1123

de Rivero Vaccari JP, Dietrich WD, Keane RW (2014) Activation and regulation of cellular inflammasomes: gaps in our knowledge for central nervous system injury. J Cereb Blood Flow Metab 34(3):369–375

Dewan MC, Rattani A, Gupta S, Baticulon RE, Hung YC, Punchak M, Agrawal A, Adeleye AO, Shrime MG, Rubiano AM, Rosenfeld JV, Park KB (2018) Estimating the global incidence of traumatic brain injury. J Neurosurg 4(1):1–18

Bennis FC, Teeuwen B, Zeiler FA, Elting JW, van der Naalt J, Bonizzi P, Delhaas T, Aries MJ (2020) Improving prediction of favourable outcome after 6 months in patients with severe traumatic brain injury using physiological cerebral parameters in a multivariable logistic regression model. Neurocrit Care 33(2):542–551

Nizamutdinov D, Shapiro LA (2017) Overview of traumatic brain injury: an immunological context. Brain Sci 23(7):1–11

Abbas A, Lichtman A (2019) Basic immunology – functions and disorders of the immune system 6ed. Elsevier, Amsterdam

Cortiñas Sáenz M, Lizán García M, Jiménez-Vizuete JM, Moreno Cuesta J, Cuesta García J, Peyro García R (2007) Incidences of early- and late-onset ventilator-associated pneumonia in a postanesthesia and critical care unit. Rev Esp Anestesiol Reanim 54(3):147–154

Smrcka M, Mrlian A, Karlsson-Valik J, Klabusay M (2007) The effect of head injury upon the immune system. Bratisl Lek Listy 108(3):144–148

Butcher I, Maas AI, Lu J, Marmarou A, Murray GD, Mushkudiani NA, McHugh GS, Steyerberg EW (2007) Prognostic value of admission blood pressure in traumatic brain injury: results from the IMPACT study. J Neurotrauma 24(2):294–302

Kaur P, Sharma S (2018) Recent advances in pathophysiology of traumatic brain injury. Curr Neuropharmacol 16(8):1224–1238

Sulhan S, Lyon KA, Shapiro LA, Huang JH (2020) Neuroinflammation and blood-brain barrier disruption following traumatic brain injury: pathophysiology and potential therapeutic targets. J Neurosci Res 98(1):19–28

Pearn ML, Niesman IR, Egawa J, Sawada A, Almenar-Queralt A, Shah SB, Duckworth JL, Head BP (2017) Pathophysiology associated with traumatic brain injury: current treatments and potential novel therapeutics. Cell Mol Neurobiol 37(4):571–585

Piek J, Chesnut RM, Marshall LF, van Berkum-Clark M, Klauber MR, Blunt BA, Eisenberg HM, Jane JA, Marmarou A, Foulkes MA (1992) Extracranial complications of severe head injury. J Neurosurg 77(6):901–907

Göebel A, Kavanagh E, Lyons A, Saporoschetz IB, Soberg C, Lederer JA, Mannick JA, Rodrick ML (2000) Injury induces deficient interleukin-12 production, but interleukin-12 therapy after injury restores resistance to infection. Ann Surg 231(2):253–261

Jia J, Lin YQ, Liu WF, Zhong TA, Zhang J, Ye Y, Xu YQ (2005) Study of the effects of mild hypothermia on cerebral PO2 PCO2 and pH and body temperature in patients with acute severe head injury. Chinese J Traumatol = Zhonghua chuang shang za zhi 8(3):138–41

Quattrocchi KB, Frank EH, Miller CH, Dull ST, Howard RR, Wagner FC Jr (1991) Severe head injury: effect upon cellular immune function. Neurol Res 13(1):13–20

Quattrocchi KB, Miller CH, Wagner FC Jr, DeNardo SJ, DeNardo GL, Ovodov K, Frank EH (1992) Cell-mediated immunity in severely head-injured patients: the role of suppressor lymphocytes and serum factors. J Neurosurg 77(5):694–699

Wolach B, Sazbon L, Gavrieli R, Broda A, Schlesinger M (2001) Early immunological defects in comatose patients after acute brain injury. J Neurosurg 94(5):706–711

Ghaith HS, Nawar AA, Gabra MD, Abdelrahman ME, Nafady MH, Bahbah EI, Ebada MA, Ashraf GM, Negida A, Barreto GE (2022) A literature review of traumatic brain injury biomarkers. Mol Neurobiol 59(7):4141–4158

Ellwardt E, Walsh JT, Kipnis J, Zipp F (2016) Understanding the role of T cells in CNS homeostasis. Trends Immunol 37(2):154–165

Bai R, Gao H, Han Z, Huang S, Ge X, Chen F, Lei P (2017) Flow cytometric characterization of T cell subsets and microglia after repetitive mild traumatic brain injury in rats. Neurochem Res 42(10):2892–2901

Morganti-Kossmann MC, Rancan M, Stahel PF, Kossmann T (2002) Inflammatory response in acute traumatic brain injury: a double-edged sword. Curr Opin Crit Care 8(2):101–105

Newell E, Shellington DK, Simon DW, Bell MJ, Kochanek PM, Feldman K, Bayir H, Aneja RK, Carcillo JA, Clark RS (2015) Cerebrospinal fluid markers of macrophage and lymphocyte activation after traumatic brain injury in children. Pediatr Crit Care Med 16(6):549–557

Niquet J, Seo DW, Wasterlain CG (2006) Mitochondrial pathways of neuronal necrosis. Biochem Soc Trans 34(Pt 6):1347–1351

Polacek V, Jira M, Fara M, Strejcek J, Konigova R (1987) Immunoglobulin E (IgE) in patients with severe burns. Burns Incl Therm Inj 13(6):458–461

Szczeklik A, Jawień J (1996) Immunoglobulin E in acute phase response to surgical stress. Clin Exp Allergy 26(3):303–307

Navarro-Zorraquino M, Lozano R, Deus J, Pastor C, Larrad L, Tejero E, Román J, Palacios MJ, Torcal J, Salinas JC (2001) Determination of the immunoglobulin E postoperative variation as a measure of surgical injury. World J Surg 25(5):585–591

Reilly P, Bullock R (2005) Head injury - pathophysiology and management. CRC Press, London

Van Beek JG, Mushkudiani NA, Steyerberg EW, Butcher I, McHugh GS, Lu J, Marmarou A, Murray GD, Maas AI (2007) Prognostic value of admission laboratory parameters in traumatic brain injury: results from the IMPACT study. J Neurotrauma 24(2):315–328

Nordström C-H (2005) Physiological and biochemical principles underlying volume-targeted therapy—the "lund concept." Neurocrit Care 2(1):83–95

Sullivan PG, Rabchevsky AG, Waldmeier PC, Springer JE (2005) Mitochondrial permeability transition in CNS trauma: cause or effect of neuronal cell death? J Neurosci Res 79(1–2):231–239

Giza C, Greco T, Prins ML (2018) Concussion: pathophysiology and clinical translation. Handb Clin Neurol 158:51–61
Funding
This research was supported by MH CZ–DRO (FNBr, 65269705).
Ethics declarations
Ethics approval and consent to participate
The study was conducted according to the guidelines of the Declaration of Helsinki and approved by the Ethics Committee of University Hospital Brno. Approval number of the statement is 01–080404/EK. Patient consent was waived due to obtaining the study material from standard blood samples and CT scans were performed in accordance with the standard diagnostic protocol in patients after brain injury.
Conflict of interest
All authors certify that they have no affiliations with or involvement in any organization with any financial or non-financial interest in the subject matter or materials presented in the manuscript. The funder also confirms that it had no role in the design of the study; in the collection, analyses, or interpretation of data; in the writing of the manuscript; or in the decision to publish the results.
Additional information
Publisher's note
Springer Nature remains neutral with regard to jurisdictional claims in published maps and institutional affiliations.
Rights and permissions
Springer Nature or its licensor (e.g. a society or other partner) holds exclusive rights to this article under a publishing agreement with the author(s) or other rightsholder(s); author self-archiving of the accepted manuscript version of this article is solely governed by the terms of such publishing agreement and applicable law.
About this article
Cite this article
Mrlian, A., Smrcka, M., Juran, V. et al. Immune system disorders in the early post-injury period in patients after severe brain injury from the perspective of the severity of the injury. Neurol Sci 44, 1031–1038 (2023). https://doi.org/10.1007/s10072-022-06482-1
Received:

Accepted:

Published:

Issue Date:

DOI: https://doi.org/10.1007/s10072-022-06482-1
Keywords