Abstract
Introduction
Automated hand-held pupillometry demonstrates precision accuracy, offering promise for augmenting ASD screening.
Methods
Monocular pupillometry was examined in children and adolescents (36 ASD; 24 TD). Multiple logistic regression and receiver operating characteristic analysis assessed PLR metrics and diagnostic status.
Results
Constriction time (Ct1) (ASD: M = 0.69, SD = 0.21; TD: M = 0.82, SD = 0.18; t(58 = 2.37; p = 0.02) and return to baseline (RTB T75) (ASD: M = 2.93, SD = 1.21; TD: M = 2.32, SD = 1.08; t(58) =  − 2.03; p = 0.04) predicted ASD (β =  − 1.31, OR = 0.27; RTB T75, β = 0.156, OR = 1.162). Sensitivity = 74.8%, when RTB ≥ 1.83 s and 69.4% when Ct1 = 0.785 s.
Conclusion
Findings suggest monocular pupillometry captures differences detecting ASD.
This is a preview of subscription content,
to check access.
Access this article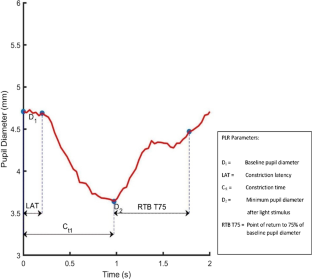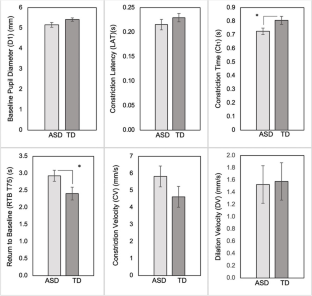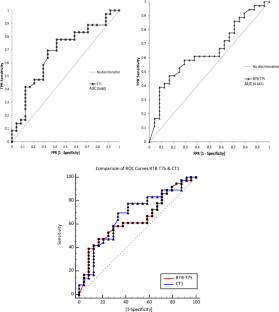 Availability of data and material
The datasets generated during and/or analyzed during the current study are available from the corresponding author on reasonable request.
References
American Psychiatric Association (2013) Diagnostic and statistical manual of mental disorders (DSM-5). American Psychiatric Association. Author

Shattuck PT, Durkin M, Maenner M, Newschaffer C, Mandell DS, Wiggins L, ... Cuniff C (2009) Timing of identification among children with an autism spectrum disorder: findings from a population-based surveillance study. J Amer Academy Child & Adolesc Psychiatry 48(5):474-483

Johnson CP, Myers SM (2007) Identification and evaluation of children with autism spectrum disorders. Pediatrics 120(5):1183–1215

American Academy of Pediatrics (2010) Clinical report: identification and evaluation of children with autism spectrum disorders. Pediatrics 120(5):1183–1215. Reaffirmed September 2010. https://doi.org/10.1542/peds.2010-2549

Guthrie W, Wallis K, Bennett A, Brooks E, Dudley J, Gerdes M, Pandey J, Levy S, Schultz R, Miller JS (2019) Accuracy of autism screening in a large pediatric network. Pediatrics, 144(4). https://doi.org/10.1542/peds.2018-3963

Centers for Disease Control (2019) Screening and diagnosis of autism spectrum disorder.: https://www.cdc.gov/ncbddd/autism/screening.html

Morris R, Greenblatt A, Saini M (2019) Healthcare providers' experiences with autism: a scoping review. J Autism Dev Disorders 49(6):2374–2388. https://doi.org/10.1007/10803-019-03912-6

Daluwatte, Chathuri, Miles, J.H., Christ, S.E., Beversdorf, D.Q., Takahashi, N., & Yao, G. (2013) Atypical pupillary light reflex and heart rate variability in children with autism spectrum disorder. J Autism Dev Disorders 43(8):1910–1925. https://link.springer.com/article/10.1007%2Fs10803-012-1741-3

Fan, X., Miles, J. H., Takahashi, N., & Yao, G. (2009). Abnormal transient pupillary light reflex in individuals with autism spectrum disorders. J Autism Dev Disorders 39(11):1499–1508. https://link.springer.com/article/10.1007%252Fs10803-009-0767-7

Lynch GT, James SM, VanDam M (2018) Pupillary response and phenotype in ASD: Latency to constriction discriminates ASD from typically developing adolescents. Autism Res 11(2):364–375. https://doi.org/10.1002/aur.1888

Nyström P, Gliga T, Jobs EN, Gredebäck G, Charman T, Johnson MH, Bölte S, Falck-Ytter T (2018) Enhanced pupillary light reflex in infancy is associated with autism diagnosis in toddlerhood. Nature Comm 9(1):1–5. https://doi.org/10.1038/s41467-018-03985-4

Bremner F (2009) Pupil evaluation as a test for autonomic disorders. Clinical Autonomic Res 19(2):88–101

Larsen RS, Waters J (2018) Neuromodulatory correlates of pupil dilation. Frontiers in Neural Circuits 12, 21. https://doi.org/10.3389/fncir.2018.00021/full

Lowenstein O, Loewenfeld IE (1950) Role of sympathetic and parasympathetic systems in reflex dilation of the pupil. Arch Neurol Psychiatry 64:314–340. https://doi.org/10.1001/archneurpsyc.1950.02310270002001

Steinhauer SR, Siegle GJ, Condray R, Pless M (2004) Sympathetic and parasympathetic innervation of pupillary dilation during sustained processing. Int J Psychophysiol 52(1):77–86. https://doi.org/10.1016/j.ijpsycho.2003.12.005

Jones W, Klin A (2013) Attention to eyes is present but in decline in 2–6-month-old infants later diagnosed with autism. Nature 504(7480):427. https://doi.org/10.1038/nature12715

Dinalankara, D. M., Miles, J. H., Nicole Takahashi, T., & Yao, G. (2017). Atypical pupillary light reflex in 2–6‐year‐old children with autism spectrum disorders. Autism Research, 10(5):829–838. https://doi.org/10.1002/aur.1745

McNett M, Moran C, Janki C, Gianakis A (2017) Correlations between hourly pupillometer readings and intracranial pressure values. J Neurosci Nursing 49(4):229–234. https://doi.org/10.1097/JNN.0000000000000290

Bradley JC, Bentley KC, Mughal AI, Bodhireddy H, Brown SM (2011) Dark-adapted pupil diameter as a function of age measured with the NeurOptics pupillometer. J Refractive Surgery 27(3):202–207. https://doi.org/10.3928/1081597X-20100511-01

Kohnen T, Terzi E, Bühren J, Kohnen EM (2003) Comparison of a digital and a handheld infrared pupillometer for determining scotopic pupil diameter. J Cataract & Refractive Surgery 29(1):112–117

Scheffel M, Kuehne C, Kohnen T (2010) Comparison of monocular and binocular infrared pupillometers under mesopic lighting conditions. J Cataract & Refractive Surgery 36(4):625–630

Kerr RG, Bacon AM, Baker LL, Gehrke JS, Hahn KD, Lillegraven CL, Hackett-Renner C, Spilman SK (2016) Underestimation of pupil size by critical care and neurosurgical nurses. Amer J Critical Care 25(3):213–219. https://doi.org/10.4037/ajcc2016554

Marshall M, Deo R, Childs C, Ali A (2019) Feasibility and variability of automated pupillometry among stroke patients and healthy participants: potential implications for clinical practice. J Neurosci Nursing 51(2):84–88. https://doi.org/10.1097/JNN.0000000000000416

Winston M, Zhou A, Rand CM, Dunne EC, Warner JJ, Volpe LJ, Pigneri BA, Simon D, Bielawiec T, Gordon SC, Vitez SF, Charnay A, Joza S, Kelly K, Panicker C, Rizvydeen S, Niewijk G, Coleman C, Scher BJ, Reed, D.W.,…& (2019) Pupillometry measures of autonomic nervous system regulation with advancing age in a healthy pediatric cohort. Clinical Autonomic Res 1-9. https://doi.org/10.1007/s10286-019-00639-3

de Vries L, Fouquaet I, Boets B, Naulaers G, Steyaert J (2020) Autism spectrum disorder and pupillometry: a systematic review and meta-analysis. Neurosci Biobehav Rev. https://doi.org/10.1016/j.neubiorev.2020.09.032

Kaufman AS, Kaufman NL (2004) Kaufman Brief Intelligence Test-Second Edition. Pearson Inc, Bloomington, MN

Le Couteur A, Lord C, Rutter M (2003) Autism Diagnostic Interview-Revised. Manual. Western Psychological Services, Torrance, CA

Constantino, J. (2012). Social Responsiveness Scale, Second Edition Manual. Torrance, CA: Western Psychological Services.

NeurOptics, Inc. PLR-3000 research device. Irvine, CA.

MedCalc (2021) MedCalc Statistical Software, version 20.010; Ostend, Belgium: MedCalc Software.

Mathworks, Inc (2019) MATLAB and statistics toolbox, version 9.6.01174912, release 2019a. Natick, MA: The Mathworks Inc.

StataCorp (2019) Stata Statistical Software: Release 16. College Station, TX: StataCorp LLC

DeLong, E. R., DeLong, D. M., & Clarke-Pearson, D. L. (1988). Comparing the areas under two or more correlated receiver operating characteristic curves: a nonparametric approach. Biometrics, 837–845.

Efron B (1987) Better bootstrap confidence intervals. J Am Stat Assoc 82(397):171–185

Lasko TA, Bhagwat JG, Zou KH, Ohno-Machado L (2005) The use of receiver operating characteristic curves in biomedical informatics. J Biomed Inform 38(5):404–415

Nyström P, Gredebäck G, Bölte S, Falck-Ytter T (2015) Hypersensitive pupillary light reflex in infants at risk for autism. Molecular Autism 6(1):10

Kercher C, Azinfar L, Dinalankara DM, Takahashi TN, Miles JH, Yao G (2020) A longitudinal study of pupillary light reflex in 6-to 24-month children. Sci Rep 10(1):1–9. https://doi.org/10.1038/s41598-020-58254-6

Fish LA, Nyström P, Gliga T, Gui A, Begum Ali J, Mason L, ... BASIS/STAARS* team (2021) Development of the pupillary light reflex from 9 to 24 months: association with common autism spectrum disorder (ASD) genetic liability and 3‐year ASD diagnosis. Journal of Child Psychology and Psychiatry 62(11), 1308-1319
Acknowledgements
We wish to express our sincere gratitude to study participants and their families.
Ethics declarations
Ethics approval and consent to participate
All procedures in this study involving human participants were in accordance with the 1964 Declaration of Helsinki and its later amendments or comparable ethical standards. Study procedures were reviewed and approved by the Washington State University Institutional Review Board, under IRB protocol #15613–002. Informed consent to participate in this study was obtained from all study participants and their legal guardians.
Conflict of interest
The authors declare no competing interests.
Additional information
Publisher's note
Springer Nature remains neutral with regard to jurisdictional claims in published maps and institutional affiliations.
Supplementary Information
Below is the link to the electronic supplementary material.
About this article
Cite this article
Lynch, G.T.F., James, S.M., Cardon, T.A. et al. Sensitivity and specificity of pupillary light reflex measures for ASD using monocular pupillometry. Neurol Sci 43, 4537–4545 (2022). https://doi.org/10.1007/s10072-022-05976-2
Received:

Accepted:

Published:

Issue Date:

DOI: https://doi.org/10.1007/s10072-022-05976-2
Keywords