Abstract
Background
Literature showed the effects of music therapy on behavioral disturbances, cognitive functions, and on quality of life in people with dementia. Especially, relational active music therapy approach is oriented to reduce behavioral disturbances increasing communication, especially non-verbal communication.
Objective
This study aimed at exploring the connection between the baseline characteristics of responders and the positive outcome of the intervention, but also the close relationship between the behavioral disturbances and the core of the therapeutic intervention (the relationship/communication improvement).
Method
Linear correlation index between input variables and the presence of a critical improvement of behavioral symptoms according Neuropsychiatric Inventory and a semantic connectivity map were used to determine, respectively, variables predictive of the response and complex connections between clinical variables and the relational nature of active music therapy intervention. The dataset was composed of 27 variables and 70 patients with a moderate-severe stage of dementia and behavioral disturbances.
Results
The main predictive factor is the Barthel Index, followed by NPI and some of its sub-items (mainly, Disinhibition, Depression, Hallucinations, Irritability, Aberrant Motor Activity, and Agitation). Moreover, the semantic map underlines how the improvement in communication/relationship is directly linked to "responder" variable. "Responder" variable is also connected to "age," "Mini Mental State Examination," and sex ("female").
Conclusions
The study confirms the appropriateness of active music therapy in the reduction of behavioral disturbances and also highlights how unsupervised artificial neural networks models can support clinical practice in defining predictive factors and exploring the correlation between characteristics of therapeutic-rehabilitative interventions and related outcomes.
Access options
Buy single article
Instant access to the full article PDF.
US$ 39.95
Tax calculation will be finalised during checkout.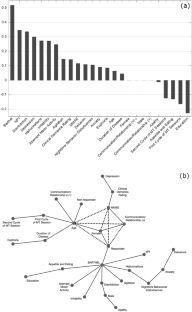 References
1.

Sihvonen AJ, Särkämö T, Leo V, Tervaniemi M, Altenmüller E, Soinila S (2017) Music-based interventions in neurological rehabilitation. Lancet Neurol 16:648–660. https://doi.org/10.1016/S1474-4422(17)30168-0

2.

Vinciguerra C, De Stefano N, Federico A (2019) Exploring the role of music therapy in multiple sclerosis: brief updates from research to clinical practice. Neurol Sci 40:2277–2285. https://doi.org/10.1007/s10072-019-04007-x

3.

Vinciguerra C (2017) Music intervention efficacy in elderly: a promising non-pharmacological approach to cognitive dysfunctions. Neurol Sci 38:933–934. https://doi.org/10.1007/s10072-017-3011-9

4.

van der Steen JT, Smaling HJ, van der Wouden JC et al (2018) Music-based therapeutic interventions for people with dementia. Cochrane Database Syst Rev 7:CD003477. https://doi.org/10.1002/14651858.CD003477.pub4

5.

Fusar-Poli L, Bieleninik Ł, Brondino N et al (2018) The effect of music therapy on cognitive functions in patients with dementia: a systematic review and meta-analysis. Aging Ment Health 22:1097–1106. https://doi.org/10.1002/14651858.CD004517.pub3

6.

Raglio A, Gianelli MV (2009) Music therapy for individuals with dementia: areas of interventions and research perspectives. Curr Alzheimer Res 6:293–301. https://doi.org/10.2174/156720509788486617

7.

Raglio A, Bellelli G, Traficante D, Gianotti M, Ubezio MC, Villani D, Trabucchi M (2008) Efficacy of music therapy in the treatment of behavioral and psychiatric symptoms of dementia. Alzheimer Dis Assoc Disord 22:158–162. https://doi.org/10.1097/WAD.0b013e3181630b6f

8.

Raglio A, Bellelli G, Traficante D, Gianotti M, Ubezio MC, Gentile S, Villani D, Trabucchi M (2010) Efficacy of music therapy treatment based on cycles of sessions: a randomised controlled trial. Aging Ment Health 14:900–904. https://doi.org/10.1080/13607861003713158

9.

Raglio A, Bellandi D, Baiardi P, Gianotti M, Ubezio MC, Zanacchi E, Granieri E, Imbriani M, Stramba-Badiale M (2015) Effect of active music therapy and individualized listening to music on dementia: a multicenter randomized controlled trial. J Am Geriatr Soc 63:1534–1539. https://doi.org/10.1111/jgs.13558

10.

Raglio A, Traficante D, Oasi O (2007) Comparison of the music therapy coding scheme with the music therapy checklist. Psychol Rep 101:875–880. https://doi.org/10.2466/pr0.101.3.875-880

11.

Buscema M, Grossi E (2008) The semantic connectivity map: an adapting self-organising knowledge discovery method in data bases. Experience in gastro-oesophageal reflux disease. Int J Data Min Bioinform 2:362–404. https://doi.org/10.1504/ijdmb.2008.022159

12.

Buscema M, Grossi E, Snowdon D, Antuono P (2008) Auto-contractive maps: an artificial adaptive system for data mining. An application to Alzheimer disease. Curr Alzheimer Res 5:481–498. https://doi.org/10.2174/156720508785908928

13.

Kruskal JB (1956) On the shortest spanning subtree of a graph and the traveling salesman problem. Proc Am Math Soc 7:48–50
Ethics declarations
Conflict of interest
None.
Ethical approval
None.
Additional information
Publisher's note
Springer Nature remains neutral with regard to jurisdictional claims in published maps and institutional affiliations.
About this article
Cite this article
Raglio, A., Bellandi, D., Manzoni, L. et al. Communication improvement reduces BPSD: a music therapy study based on artificial neural networks. Neurol Sci 42, 2103–2106 (2021). https://doi.org/10.1007/s10072-020-04986-2
Received:

Accepted:

Published:

Issue Date:
Keywords
Active music therapy

Relationship

Communication

Dementia

Behavioral disturbances

Artificial neural networks