Access options
Buy single article
Instant access to the full article PDF.
US$ 39.95
Tax calculation will be finalised during checkout.
Subscribe to journal
Immediate online access to all issues from 2019. Subscription will auto renew annually.
US$ 79
Tax calculation will be finalised during checkout.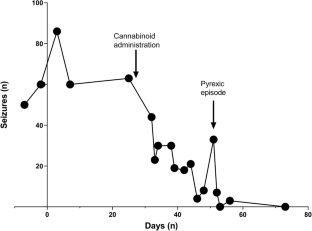 References
1.

Devinsky O, Cross JH, Laux L, Marsh E, Miller I, Nabbout R, Scheffer IE, Thiele EA, Wright S, Cannabidiol in Dravet Syndrome Study Group (2017) Trial of cannabidiol for drug-resistant seizures in the dravet syndrome. N Engl J Med 376:2011–2020. https://doi.org/10.1056/NEJMoa1611618

2.

Dolisca S-B, Mehta M, Pearce DA, Mink JW, Maria BL (2013) Batten disease: clinical aspects, molecular mechanisms, translational science, and future directions. J Child Neurol 28:1074–1100. https://doi.org/10.1177/0883073813493665

3.

Mole SE, Cotman SL (2015) Genetics of the neuronal ceroid lipofuscinoses (Batten disease). Biochim Biophys Acta 1852:2237–2241. https://doi.org/10.1016/j.bbadis.2015.05.011

4.

Reddy DS, Golub VM (2016) The pharmacological basis of cannabis therapy for epilepsy. J Pharmacol Exp Ther 357:45–55. https://doi.org/10.1124/jpet.115.230151

5.

Rocha L, Frías-Soria CL, Ortiz JG, Auzmendi J, Lazarowski A (2020) Is cannabidiol a drug acting on unconventional targets to control drug-resistant epilepsy? Epilepsia Open 5:36–49

6.

Szaflarski JP, Bebin EM (2014) Cannabis, cannabidiol, and epilepsy--from receptors to clinical response. Epilepsy Behav 41:277–282. https://doi.org/10.1016/j.yebeh.2014.08.135

7.

Devinsky O, Marsh E, Friedman D, Thiele E, Laux L, Sullivan J, Miller I, Flamini R, Wilfong A, Filloux F, Wong M, Tilton N, Bruno P, Bluvstein J, Hedlund J, Kamens R, Maclean J, Nangia S, Singhal NS, Wilson CA, Patel A, Cilio MR (2016) Cannabidiol in patients with treatment-resistant epilepsy: an open-label interventional trial. Lancet Neurol 15:270–278. https://doi.org/10.1016/S1474-4422(15)00379-8

8.

Devinsky O, Patel AD, Cross JH, Villanueva V, Wirrell EC, Privitera M, Greenwood SM, Roberts C, Checketts D, VanLandingham K, Zuberi SM, GWPCARE3 Study Group (2018) Effect of cannabidiol on drop seizures in the Lennox–Gastaut syndrome. N Engl J Med 378:1888–1897. https://doi.org/10.1056/NEJMoa1714631

9.

McCoy B, Wang L, Zak M, al-Mehmadi S, Kabir N, Alhadid K, McDonald K, Zhang G, Sharma R, Whitney R, Sinopoli K, Snead OC III (2018) A prospective open-label trial of a CBD/THC cannabis oil in dravet syndrome. Ann Clin Transl Neurol 5:1077–1088. https://doi.org/10.1002/acn3.621
Ethics declarations
Conflict of interest
The authors declare that they have no conflict of interest.
Ethical approval
All procedures performed in this case report involving human participants were in accordance with the ethical standards of the institutional committee and with the 1964 Helsinki Declaration and its later amendments or comparable ethical standards.
Consent to participate
Informed consent was obtained from legal guardians.
Consent to publish
The participant has consented to the submission of the case report to the journal.
Additional information
Publisher's note
Springer Nature remains neutral with regard to jurisdictional claims in published maps and institutional affiliations.
About this article
Cite this article
Georgiou, F., Maghsoudlou, P., Loukaidis, P. et al. Successful treatment of cannabinoid administration against refractory epilepsy in Batten disease: a case report. Neurol Sci 42, 1203–1206 (2021). https://doi.org/10.1007/s10072-020-04763-1
Received:

Accepted:

Published:

Issue Date: