Access options
Buy single article
Instant access to the full article PDF.
USD 39.95
Price excludes VAT (USA)
Tax calculation will be finalised during checkout.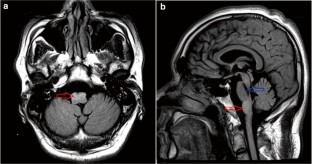 References
Choh NA, Choh SA, Jehangir M (2009) Hypertrophic olivary degeneration: the forgotten triangle of Guillain and Mollaret. Neurol India 57(4):507–509

Vyas S, Prabhakar A, Kumar A, Khandelwal N (2013) Bilateral hypertrophic olivary degeneration. Ann Indian Acad Neurol 16(3):404–405

Dongan SN (2020) Hypertrophic olivary degeneration and Holmes' tremor: case report and review of the literature. World Neurosurg 137:286–290

Konno T, Broderick DF, Tacik P, Caviness JN, Wszolek ZK (2016) Hypertrophic olivary degeneration: a clinico-radiologic study. Parkinsonism Relat Disord 28:36–40

Raina GB, Cersosimo MG, Folgar SS, Giugni JC, Calandra C, Paviolo JP, Tkachuk VA, Ramirez CZ, Tschopp AL, Calvo DS (2016) Holmes tremor: clinical description, lesion localization, and treatment in a series of 29 cases. Neurology 86(10):931–938

Alexandre A, Botto A, Izzo G, Tartaglione T, Sciandra M, Gaudino S, Colosimo C (2014) Hypertrophic olivary degeneration after cerebellar or brain stem injuries: MRI findings and differential diagnosis. Eur Congress Radiol 2014. https://doi.org/10.1594/ecr2014/C-0533

Walker M, Kim H, Samii A (2007) Holmes-like tremor of the lower extremity following brainstem hemorrhage. Mov Disord 22(2):272–274

Mené Ndez DFS, Cury RG, Barbosa ER, Teixeira MJ, Fonoff ET (2014) Hypertrophic olivary degeneration and Holmes' tremor secondary to bleeding of cavernous malformation in the midbrain. Tremor Other Hyperkinet Mov 4:264

Lee S, Choi J, Son B (2015) Rubral tremors associated with an inferior olivary lesion that developed after a brainstem hemorrhage. Nerve 1(1):50–52
Acknowledgements
The authors thank Xian Liu, PhD (Guangdong Hospital of Traditional Chinese Medicine, Department of Radiology) for his specialized guidance.
Ethics declarations
Conflicts of interest
The authors declare that they have no conflict of interest.
Statistical analysis
No statistical analysis.
Ethical approval
Not applicable
Additional information
Publisher's note
Springer Nature remains neutral with regard to jurisdictional claims in published maps and institutional affiliations.
Electronic supplementary material
HT is not limited to the upper limbs and could be present in the trunk, especially the pelvis. HT is classically characterized as a combination of rest, postural and kinetic tremors of irregular and coarse amplitudes. (MPG 5348 kb)
Holmes tremor in upper limbs. In this video, we first show tremor enhancement upon the patient raising both upper limbs. Second, we show the right thumb tremor in the resting state. Last, the patient was asked to perform the finger-nose test and could not finish the test; tremor exacerbation occurred when he tried to finish the test. (MPG 8012 kb)
PT with rhythmic palatal contractions, laryngeal muscle spasm and slurred speech. (MPG 6946 kb)
About this article
Cite this article
Chen, X., Zhan, L., Ling, S. et al. Holmes tremor and palatal tremor in hypertrophic olivary degeneration: involvement of brainstem. Neurol Sci 42, 1157–1159 (2021). https://doi.org/10.1007/s10072-020-04687-w
Received:

Accepted:

Published:

Issue Date:

DOI: https://doi.org/10.1007/s10072-020-04687-w