Abstract
Objective
Aim of the research was to define the quality of life of Italian neurologists and nurses' professional caring for multiple sclerosis, to understand their living the clinical practice and identify possible signals of compassion fatigue.
Material and methods
One hundred five neurologists and nurses from 30 Italian multiple sclerosis centres were involved in an online quali-quantitative survey on the organization of care, combined with the Satisfaction and Compassion Fatigue Test and a collection of narratives. Descriptive statistics of the quantitative data were integrated with the results obtained by the narrative medicine methods of analysis.
Results
Most of the practitioners were neurologists, 46 average years old, 69% women, 43% part time dedicated to multiple sclerosis. An increased number of patients in the last 3 years were referred in 29 centres. Differences were found between neurologists and nurses. Physicians showed higher risks of burnout, reporting intensive working paces, lack of medical personnel, and anxiety caused by the precarious employment conditions. Nurses appeared more satisfied, although the reference to the lack of spaces, and the cross professional roles risk of compassion fatigue. Both positive and negative relationships of care were depicted as influencing the professional quality of life.
Conclusion
The interviewed neurological teams need to limit the risk of compassion fatigue, which appeared from the first years of the career. The prevalence of the risk among neurologists suggests more awareness among scientific societies and health care managers on the risk for this category, as first step to prevent it.
Access options
Buy single article
Instant access to the full article PDF.
US$ 39.95
Tax calculation will be finalised during checkout.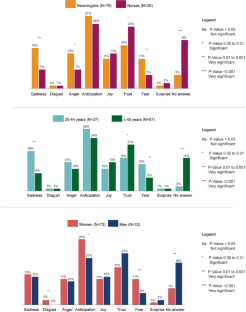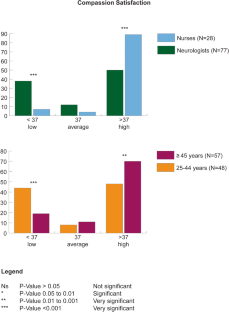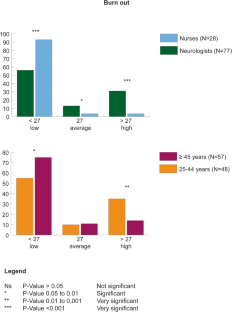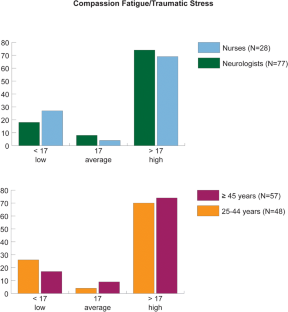 References
1.

Gleichgerrcht E, Decety J (2014). The relationship between different facets of empathy, pain perception and compassion fatigue among physicians. Front Behav Neurosci; 8 Art 243

2.

Busis NA, Shanafelt TD, Keran CM, Levin KH, Schwarz HB, Molano JR, Vidic TR, Kass JS, Miyasaki JM, Sloan JA, Cascino TL (2017) Burnout, career satisfaction, and well-being among US neurologists in 2016. Neurology 88:797–808

3.

Wallace JE, Lemaire JB, Ghali WA (2009) Physician wellness: a missing quality indicator. Lancet 374:1714–1721

4.

Koudriavtseva T, Onesti E, Pestalozza IF, Sperduti I, Jandolo B (2012) The importance of physician–patient relationship for improvement of adherence to long-term therapy: data of survey in a cohort of multiple sclerosis patients with mild and moderate disability. Neurol Sci 33:575–584. https://doi.org/10.1007/s10072-011-0776-0

5.

Maslach C, Jackson S (1986) Maslach burnout inventory manual, 2nd edn. Consulting Psychologist Press, Palo Alto

6.

Nimmo A, Huggard P (2013) A systematic review of the measurement of compassion fatigue, vicarious trauma, and secondary traumatic stress in physicians. Australas J Disaster Trauma Stud 1:37–44

7.

Coetzee SK, Klopper HC (2010) Compassion fatigue within nursing practice: a concept analysis. Nurs Health Sci 12:235–243. https://doi.org/10.1111/j.1442-2018.2010.00526.x

8.

Alkema K, Linton JM, Davies R (2008) A study of the relationship between self-care, compassion satisfaction, compassion fatigue, and burnout among hospice professionals. J Soc Work End Life Palliat Care 4:101–119

9.

Stamm BH (1999) Secondary traumatic stress: self-care issues for clinicians, researchers and educators, 2nd edn. Sidran Press, Baltimore

10.

Shanafelt TD, Hasan O, Dyrbye LN, Sinsky C, Satele D, Sloan J, West CP (2015) Changes in burnout and satisfaction with work-life balance in physicians and the general US working population between 2011 and 2014. Mayo Clin Proc 90:1600–1613

11.

Sigsbee B, Bernat JL (2014) Physician burnout: a neurologic crisis. Neurology 83:2302–2306

12.

Busis NA (2014) To revitalize neurology we need to address physician burnout. Neurology 83:2202–2203

13.

Meier DE, Back AL, Morrison RS (2001) The inner life of physicians and care of the seriously ill. J Am Med Assoc 286:3007–3014

14.

Battaglia MA, Bezzini D (2017) Estimated prevalence of multiple sclerosis in Italy in 2015. Neurol Sci 38:473–479. https://doi.org/10.1007/s10072-016-2801-9

15.

Browne P, Chandraratna D, Angood C, Tremlett H, Baker C, Taylor BV, Thompson AJ (2014) Atlas of multiple sclerosis 2013: a growing global problem with widespread inequity. Neurology 83:1022–1024. https://doi.org/10.1212/WNL.0000000000000768

16.

Lee JY, Chitnis T (2016) Pediatric multiple sclerosis. Semin Neurol 36:148–153

17.

Langer-Gould A, Brara SM, Beaber BE, Zhang JL (2013) Incidence of multiple sclerosis in multiple racial and ethnic groups. Neurology 80:1734–1739. https://doi.org/10.1212/WNL.0b013e3182918cc2

18.

Gajofatto A, Benedetti MD (2015) Treatment strategies for multiple sclerosis: when to start, when to change, when to stop? World J Clin Cases 3(7):545–555 ISSN 2307-8960 (online)

19.

Lorefice L, Fenu G, Trincas G, Moro MF, Frau J, Coghe GC, Cocco E, Marrosu MG, Carta MG (2015) Progressive multiple sclerosis and mood disorders. Neurol Sci 36:1625–1631. https://doi.org/10.1007/s10072-015-2220-3

20.

Gibson J, Frank A (2002) Supporting individuals with disabling multiple sclerosis. J R Soc Med 95:580–586

21.

Greenhalgh T, Hurwitz B (1998) Why study narrative? In: Greenhalgh T, Hurwitz B (eds) Narrative based medicine: dialogue and discourse in clinical practice. BMJ Books, pp 3–16

22.

Marini MG (2016) Bridging the gap between evidence-based care and medical humanities. Springer International Publishing, Switzerland

23.

Kleinman A (1989) The illness narrative, suffering, healing and the human condition. Basic Books, NY

24.

Charon R (2012) At the membranes of care: stories in narrative medicine. Acad Med 87:342–347

25.

Kalitzkus V, Matthiessen PF (2009) Narrative-based medicine: potential, pitfalls, and practice. Perm J 13(1):80–86

26.

Greenhalgh T (2016) Cultural contexts of health: the use of narrative research in the health sector. WHO Regional Office for Europe; Health Evidence Network (HEN) synthesis report 49, Copenhagen Available at: http://www.euro.who.int/__data/assets/pdf_file/0004/317623/HEN-synthesis-report-49.pdf

27.

Charon R (2006) Narrative medicine: honoring the stories of illness. N Engl J Med 355:2160–2161

28.

Langellier KM (2009) Performing narrative medicine. J ApplCommun Res 37(2):151–158

29.

Personal data code protection. Legislat. Decree no.196 of 30 June 2003. Published on the Italian Official Journal n.174, 29th July 2003, Supplementary n.123. Available at: http://194.242.234.211/documents/10160/2012405/Personal+Data+Protection+Code+-+Legislat.+Decree+no.196+of+30+June+2003.pdf

30.

Matteucci I (2014) Comunicare la salute e promuovere il benessere. Teorie e modelli per l'intervento nella scuola. [Communicating health care and promoting wellbeing. Theories and models for interventions at school] Franco Angeli Ed.

31.

Stamm BH (2005) The ProQOL. www.isu.edu/~bhstamm. 5 Aug 2019

32.

Carver CS, Scheier MF, Weintraub JK (1989) Assessing coping strategies: a theoretically based approach. J PersSocPsychol 56(2):267–283

33.

Launer J (2006) New stories for old: narrative-based primary care in Great Britain. Fam Syst Health 24(3):336–344. https://doi.org/10.1037/1091-7527.24.3.336

34.

Germain C (1992) Cultural care: a bridge between sickness, illness, and disease. Holist NursPract 6(3):1–9 NVivo 10, QSR International. http://www.qsrinternational.com/products_nvivo.aspx. Accessed January 30, 2014

35.

Welsh E (2002) Dealing with data: using NVivo in the qualitative data analysis process. Forum Qual Soc Res 3(2):1881

36.

Cappuccio A, Sanduzzi Zamparelli A, Verga M et al (2018) Narrative medicine educational project to improve the care of patients with chronic obstructive pulmonary disease. ERJ Open Res 4:00155–02017. https://doi.org/10.1183/23120541.00155-2017

37.

Vaccarella M (2011) The art of medicine narrative epileptology. Lancet 377(9764):460–461. https://doi.org/10.1016/S0140-6736(11)60150-5

38.

Marini MG, De Nardo D, Chesi P et al (2017) Narrative medicine and fibromyalgia: between facts and fictions, "factions" to be honored. In: Farkas CA (ed) Reading the psychosomatic in medical and popular culture. School of Arts and Sciences Massachusetts College of Pharmacy and Health Science (MCPHS), Boston
Acknowledgements
The authors wish to thank the respondents to the survey, Biogen Italia SRL, Milan for the unconditional support, the Italian Society of Neurology for the patronage and Antonietta Cappuccio from Fondazione ISTUD.
The SMART group composition
- L Alivernini, MS Centre, San Camillo Forlanini Hospital, Roma
- A Bisecco, Neurological Clinic, Università della Campania Vanvitelli, Napoli
- G Borriello, MS Centre, Sant'Andrea Hospital, Sapienza University, Neurological Center of Latium, Neuromed, Roma
- S Bucello, Neurology Department, Muscatello Hospital, Augusta (SR)
- F Caleri, Neurology Department, Franz Tappeiner Hospital, Merano (BZ)
- P Cavalla, City of Health and Science University Hospital of Turin, Turin
- E Cocco, Medical Science and Public Health Department, University of Cagliari
- C Cordioli, MS Centre, Spedali Civili Hospital, Brescia
- M Di Giuseppe, MS Centre, Giuseppe Mazzini Hospital, Teramo
- R Fantozzi, IRCCS Neuromed, Pozzilli (IS)
- M Gattuso, MS Centre, Vittorio Emanuele General Hospital, Catania
- F Granella, Neurology Unit, Department of Medicine and Surgery, University of Parma
- M Liguori, Institute of Biomedical Technologies, Bari Unit
- L Locatelli, MS Centre, Santa Maria degli Angeli Hospital, Pordenone
- A Lugaresi, UOSI MS Rehabilitation—IRCCS "Institute of Neurological Science" of Bologna and Biological and Neuromotor Department, University of Bologna
- S Marangoni, Neurology Unit, Emergency Department, Santa Chiara Hospital, Trento
- L Moiola, MS Centre, San Raffaele Hospital, Milano
- E Mutta, MS Centre, S. Antonio Abate Hospital, Gallarate (VA)
- W Neri, Neurology Department, GB Morgagni Hospital, Forlì
- L Pastò, MS Centre, Careggi Hospital, Firenze
- P Perini, MS Centre, Padova General Hospital, Padova
- M Petruzzo, MS Centre, Federico II General Hospital, Napoli
- K Plewnia, MS Centre, Misericordia Hospital, Grosseto
- AM Repice, Neurology Department 2, Careggi General Hospital, Firenze
- M Rezzonico, MS Centre, Sant'Anna Hospital, Como
- S Romano, Department of Neurosciences, Mental Health and Sensory Organs, Faculty of Medicine and Psychology, Sapienza University, S.Andrea Hospital, Rome
- M Rovaris, MS Centre, Santa Maria Nascente Don Gnocchi Institute for Treatment and Research, Milano
- E Sessa, Neurology Department, Bonino Pulejo Institute for Treatment and Research, Messina
- C Tortorella, Department of Neurosciences, Ospedale San Camillo Forlanini, Roma
- R Totaro, Demyelinating Diseases Centre, San Salvatore Hospital, L'Aquila
- P Valentino, Neurology Department, Mater Domini General Hospital, Catanzaro
Ethics declarations
Conflict of interest
None.
Ethical approval
None.
Additional information
Publisher's note
Springer Nature remains neutral with regard to jurisdictional claims in published maps and institutional affiliations.
Electronic supplementary material
About this article
Cite this article
Chesi, P., Marini, M.G., Mancardi, G.L. et al. Listening to the neurological teams for multiple sclerosis: the SMART project. Neurol Sci 41, 2231–2240 (2020). https://doi.org/10.1007/s10072-020-04301-z
Received:

Accepted:

Published:

Issue Date:
Keywords
Burnout

Compassion fatigue

Narrative medicine