Abstract
More than 100 mutations of the transthyretin gene have been reported in autosomal dominant familial amyloid polyneuropathy. This rare disease causes severe motor and sensory disability, dysautonomia, and in some patients also cardiomyopathy. The diagnosis can be challenging mainly in sporadic adult patients showing clinical, laboratory, and neurophysiological findings overlapping other forms of chronic neuropathy. We describe the clinical features and course of a patient harboring the rare p.V32A (c.155T>C) variant that was previously described in only two patients and whose pathogenicity was unclear.
This is a preview of subscription content, log in to check access.
Access options
Buy single article
Instant access to the full article PDF.
US$ 39.95
Price includes VAT for USA
Subscribe to journal
Immediate online access to all issues from 2019. Subscription will auto renew annually.
US$ 99
This is the net price. Taxes to be calculated in checkout.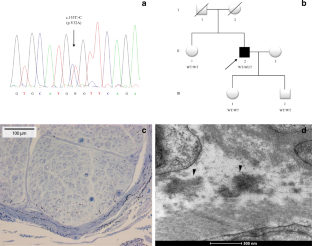 Ethics declarations
Conflict of interest
The authors declare that they have no conflict of interest.
Additional information
Publisher's note
Springer Nature remains neutral with regard to jurisdictional claims in published maps and institutional affiliations.
About this article
Cite this article
Cazzato, D., Dalla Bella, E., Saveri, P. et al. Late-onset and fast progressive neuropathy and cardiomyopathy in Val32Ala transthyretin gene mutation. Neurol Sci 40, 1267–1269 (2019). https://doi.org/10.1007/s10072-019-3716-z
Received:

Accepted:

Published:

Issue Date:
Keywords
Transthyretin

Neuropathy

Cardiomyopathy

Val32Ala