Abstract
Pallidal deep-brain stimulation of the internal globus pallidus (GPi-DBS) is an effective treatment for dystonia. However, GPi-DBS may cause important stimulation-induced side effects such as hypokinetic dysarthria, which is particularly manifested by articulation rate abnormalities. However, little data regarding the effect of the location of the electrode and stimulation parameters for pallidal stimulation on articulation rate in dystonia is available. Speech data were acquired from 18 dystonic patients with GPi-DBS and 18 matched healthy controls. Each of dystonic patients was tested twice within 1 day in both the GPi-DBS ON and GPi-DBS OFF stimulation conditions. Compared to healthy controls, the decreased diadochokinetic rate and slower articulation rate in dystonic patients were observed in both stimulation conditions. No significant differences in speech rate measures between stimulation conditions were detected with no relation to contact localization and stimulation intensity. Our findings do not support the use articulation rate as a surrogate marker of stimulation-induced changes to the speech apparatus in dystonia.
Access options
Buy single article
Instant access to the full article PDF.
USD 39.95
Price excludes VAT (USA)
Tax calculation will be finalised during checkout.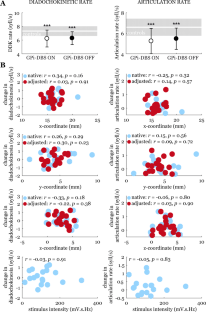 References
Tripoliti E (2010) Effects of deep brain stimulation on speech in patients with Parkinson's disease and dystonia: Thesis submitted for the degree of Ph.D. in Neurological studies at the Institute of Neurology at the University College London, 2010

Risch V, Staiger A, Ziegler W, Ott K, Scholderle T, Pelykh O, Botzel K (2015) How does GPi-DBS affect speech in primary dystonia? Brain Stimul 8:875–880

Pauls KAM, Brockelmann PJ, Hammesfahr S, Becker J, Hellerbach A, Visser-Vandewalle V, Dembeck TA, Meister IG, Timmermann L (2018) Dysarthria in pallidal deep brain stimulation in dystonia depends on the posterior location of active electrode contacts: a pilot study. Park Relat Disord 47:71–75

Jech R, Ruzicka E, Urgosik D, Serranova T, Volfova M, Novakova O, Roth J, Dusek P, Mecir P (2006) Deep brain stimulation of the subthalamic nucleus affects resting EEG and visual evoked potentials in Parkinson's disease. Clin Neurophysiol 117:1017–1028

Ruzicka F, Jech R, Novakova L, Urgosik D, Vymazal J, Ruzicka E (2012) Weight gain is associated with medial contact site of subthalamic stimulation in Parkinson's disease. PLoS One 7:e38020

Rusz J, Megrelishvili M, Bonnet C, Okujava M, Brozova H, Khatiashvili M, Sekhniashvili M, Janelidze M, Tolosa E, Ruzicka E (2014) A distinct variant of mixed dysarthria reflects parkinsonism and dystonia due to ephedrone abuse. J Neural Transm 121:655–664

Duffy JR (2013) Motor speech disorders: substrates, differential diagnosis and management, 3rd ed., Mosby, St. Louis, 2013

Jech R, Mueller K, Urgosik D, Sieger T, Holiga S, Ruzicka F, Dusek P, Havrankova P, Vymazal J, Ruzicka E (2012) The subthalamic microlesion story in Parkinson's disease: electrode insertion-related motor improvement with relative cortico-subcortical hypoactivation in fMRI. PLoS One 7:e49056

Klein A, Andersson J, Ardekani BA, Ashburner J, Avants B, Chiang MC, Christensen GE, Collins DL, Gee J, Hellier P, Song JH, Jenkinson M, Lepage C, Rueckert D, Thompson P, Vercauteren T, Woods RP, Mann JJ, Parsey RV (2009) Evaluation of 14 nonlinear deformation algorithms applied to human brain MRI registration. Neuroimage 46:786–802

Rusz J, Tykalova T, Fecikova A, Stastna D, Urgosik D, Jech R (2018) Dualistic effect of pallidal deep brain stimulation on motor speech disorders in dystonia. Brain Stimul 11:896–903
Funding
This study was financially supported by the grant project offered by the Czech Science Foundation (grant no. GAČR 16-13323S and GAČR 16-19975S), by the Ministry of Health of the Czech Republic (grant no. 15-28038A), by the Research Center for Informatics (grant no. CZ.02.1.01/0.0/0.0/16_019/0000765), and by the Czech ministry of Education (PROGRES-Q27/LF1). All rights reserved.
Ethics declarations
Conflict of interest
The authors declare that they have no conflict of interest.
Ethical approval
Each participant provided written, informed consent, and the study was approved by the Ethics Committee of the General University Hospital in Prague, Czech Republic.
Additional information
Publisher's note
Springer Nature remains neutral with regard to jurisdictional claims in published maps and institutional affiliations.
About this article
Cite this article
Rusz, J., Fečíková, A., Tykalová, T. et al. Effect of pallidal deep-brain stimulation on articulation rate in dystonia. Neurol Sci 40, 869–873 (2019). https://doi.org/10.1007/s10072-019-3702-5
Received:

Accepted:

Published:

Issue Date:

DOI: https://doi.org/10.1007/s10072-019-3702-5
Keywords
Dystonia

Deep-brain stimulation

Pallidal

Dysarthria

Speech

Acoustic analysis