Abstract
Background
Interoception is the basic process enabling evaluation of one's own internal state of body, but its alteration in brain-damaged patients has not been adequately investigated. Our study aimed to investigate awareness of visceral and somatosensorial sensations in brain-damaged patients with unilateral stroke.
Methods
Sixty patients (22 with left brain damage, LP; 25 with right brain damage without neglect, RPN-; and 13 with right brain-damage and extrapersonal and/or personal neglect, RPN+) and 45 healthy controls (HC) completed the Self-Awareness Questionnaire (SAQ), a self-report tool for assessing interoceptive awareness with two domains related to visceral (VD) and somatosensory feelings (SD), respectively.
Results
Comparing the SAQ subdomains scores between three groups of patients (LP, RPN-, and RPN+) and HC, we found that RPN+ had significantly lower scores on VD than HC and LP, whereas no significant difference was found on scores of SD between groups.
Conclusion
Our results support the hypothesis of a right-hemispheric dominance for "interoceptive neural network" suggesting that processing of visceral sensations would be located mainly in the right hemisphere. Therefore, a careful assessment of interoceptive awareness in clinical practice would be useful to improve rehabilitation and to engage patients with deficit of interoceptive awareness in developing greater accuracy of body signals.
Access options
Buy single article
Instant access to the full article PDF.
US$ 39.95
Tax calculation will be finalised during checkout.
Subscribe to journal
Immediate online access to all issues from 2019. Subscription will auto renew annually.
US$ 79
Tax calculation will be finalised during checkout.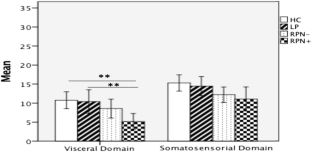 References
1.

Craig AD (2009) How do you feel--now? the anterior insula and human awareness. Nat Rev Neurosci 10(1):59–70

2.

Critchley HD, Wiens S, Rotshtein P, Ohman A, Dolan RJ (2004) Neural systems supporting interoceptive awareness. Nat Neurosci 7(2):189–195

3.

Grossi D, Di Vita A, Palermo L, Sabatini U, Trojano L, Guariglia C (2014) The brain network for self-feeling: a symptom-lesion mapping study. Neuropsychologia 63:92–98

4.

Longarzo M, D'Olimpio F, Chiavazzo A, Santangelo G, Trojano L, Grossi D (2015) The relationships between interoception and alexithymic trait: the self-awareness questionnaire in healthy subjects. Front Psychol 6:1149

5.

Vallar G, Bottini G, Sterzi R, Passerini D, Rusconi ML (1991) Hemianesthesia, sensory neglect, and defective access to conscious experience. Neurology 41(5):650–652

6.

Jehkonen M, Ahonen JP, Dastidar P, Koivisto AM, Laippala P, Vilkki J, Molnár G (2000) Visual neglect as a predictor of functional outcome one year after stroke. Acta Neurol Scand 101(3):195–201

7.

Paolucci S, Antonucci G, Grasso MG, Pizzamiglio L (2001) The role of unilateral spatial neglect in rehabilitation of right brain-damaged ischemic stroke patients: a matched comparison. Arch Phys Med Rehabil 82(6):743–749

8.

Ricciardi L, Demartini B, Crucianelli L, Krahé C, Edwards MJ, Fotopoulou A (2016) Interoceptive awareness in patients with functional neurological symptoms. Biol Psychol 113:68–74

9.

Garfinkel SN, Critchley HD (2012) Interoception, emotion and brain: New insights link internal physiology to social behaviour. Commentary on: "anterior insular cortex mediates bodily sensibility and social anxiety" by Terasawa et al. (2012). Soc Cogn Affect Neurosci 8(3):231–234

10.

Klein TA, Ullsperger M, Danielmeier C (2013) Error awareness and the insula: links to neurological and psychiatric diseases. Front Hum Neurosci 7:14
Acknowledgements
The authors thank Maria Giovanna Caruso for her help with recruitment of patients.
Funding
The present study has been supported by funding from Fondazione con il Sud to Liana Palermo (Brains2South – Project code: 2015-PDR-0248).
Additional information
Publisher's note
Springer Nature remains neutral with regard to jurisdictional claims in published maps and institutional affiliations.
S. Raimo and M. Boccia are co-first authors
Electronic supplementary material
About this article
Cite this article
Raimo, S., Boccia, M., Di Vita, A. et al. Interoceptive awareness in focal brain-damaged patients. Neurol Sci 41, 1627–1631 (2020). https://doi.org/10.1007/s10072-019-04172-z
Received:

Accepted:

Published:

Issue Date:
Keywords
Interoception

Interoceptive awareness

Visceral feelings

Brain damage

Neglect