Abstract
Migraineurs have been identified to have chronically decreased serotonin levels while its concentrations markedly increase during ictal periods. Regarding the importance of adequate tryptophan intake in regulating serotonin homeostasis and subsequent effect on migraine attacks, we designed the current study. The migraine group (n = 514, diagnosed according to the ICHDIII criteria) was recruited from a tertiary headache clinic. The controls consisted of 582 sex-matched healthy volunteers who were randomly selected from general population. After collecting demographic and anthropometric data, a validated 168-item semi-quantitative food frequency questionnaire (FFQ) was used for dietary intake assessments. Multiple regression models were applied to explore the relationship between migraine and tryptophan intake. The mean (SD) of the age of participants in the controls and migraine group was 44.85 (13.84) and 36.20 (9.78) years, respectively. The multiple regression models were adjusted for age (year), sex, body mass index (BMI) (kg/m2), total daily energy intake (kcal/day), dietary intakes of total carbohydrates (g/day), animal-based protein (g/day), plant-based protein (g/day), total fat (g/day), saturated fat (g/day), and cholesterol (mg/day). It was shown that there is a negative association between tryptophan intake and migraine risk ((OR in the 3rd quartile = 0.46; 95% CI = 0.25–0.85) (OR in the 4th quartile = 0.40; 95% CI = 0.16–0.98) compared with the first quartile; P for trend = 0.045). Therefore, our results showed that subjects who had a median intake of 0.84–1.06 g of tryptophan per day had reduced odds of developing migraine by approximately 54–60%, relative to those consumed ≤ 0.56 g/day.
Access options
Buy single article
Instant access to the full article PDF.
USD 39.95
Price excludes VAT (USA)
Tax calculation will be finalised during checkout.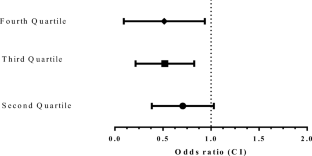 References
Steiner TJ, Stovner LJ, Vos T, Jensen R, Katsarava Z (2018) Migraine is first cause of disability in under 50s: will health politicians now take notice? J Headache Pain 19(1):17. https://doi.org/10.1186/s10194-018-0846-2

Martami F, Ghorbani Z, Abolhasani M, Togha M, Meysamie A, Sharifi A, Razeghi Jahromi S (2018) Comorbidity of gastrointestinal disorders, migraine, and tension-type headache: a cross-sectional study in Iran. Neurol Sci 39(1):63–70. https://doi.org/10.1007/s10072-017-3141-0

Razeghi Jahromi S, Abolhasani M, Ghorbani Z, Sadre-Jahani S, Alizadeh Z, Talebpour M, Meysamie A, Togha M (2018) Bariatric surgery promising in migraine control: a controlled trial on weight loss and its effect on migraine headache. Obes Surg 28(1):87–96. https://doi.org/10.1007/s11695-017-2793-4

Harandi SA, Togha M, Sadatnaseri A, Hosseini SH, Jahromi SR (2013) Cardiovascular risk factors and migraine without aura: a case-control study. Iran J Neurol 12(3):98–101

Kaiser EA, Russo AF (2013) CGRP and migraine: could PACAP play a role too? Neuropeptides 47(6):451–461. https://doi.org/10.1016/j.npep.2013.10.010

Yilmaz G, Sürer H, Inan LE, Coskun Ö, Yücel D (2007) Increased nitrosative and oxidative stress in platelets of migraine patients. Tohoku J Exp Med 211(1):23–30

Olesen J, Thomsen L, Lassen L, Olesen I (1995) The nitric oxide hypothesis of migraine and other vascular headaches. Cephalalgia 15(2):94–100

Lassen L, Christiansen I, Iversen HK, Jansen-Olesen I, Olesen J (2003) The effect of nitric oxide synthase inhibition on histamine induced headache and arterial dilatation in migraineurs. Cephalalgia 23(9):877–886

Borroni B, Rao R, Liberini P, Venturelli E, Cossandi M, Archetti S, Caimi L, Padovani A (2006) Endothelial nitric oxide synthase (Glu298Asp) polymorphism is an independent risk factor for migraine with aura. Headache 46(10):1575–1579

Lippi G, Mattiuzzi C, Meschi T, Cervellin G, Borghi L (2014) Homocysteine and migraine. A narrative review. Clin Chim Acta 433:5–11. https://doi.org/10.1016/j.cca.2014.02.028

Capuano A, De Corato A, Lisi L, Tringali G, Navarra P, Russo CD (2009) Proinflammatory-activated trigeminal satellite cells promote neuronal sensitization: relevance for migraine pathology. Mol Pain 5(1):43

Marashly ET, Bohlega SA (2017) Riboflavin has neuroprotective potential: focus on Parkinson's disease and migraine. Front Neurol 8:333. https://doi.org/10.3389/fneur.2017.00333

Drummond P (2006) Tryptophan depletion increases nausea, headache and photophobia in migraine sufferers. Cephalalgia 26(10):1225–1233

Deen M, Christensen CE, Hougaard A, Hansen HD, Knudsen GM, Ashina M (2017) Serotonergic mechanisms in the migraine brain–a systematic review. Cephalalgia 37(3):251–264

Gasparini CF, Smith RA, Griffiths LR (2017) Genetic and biochemical changes of the serotonergic system in migraine pathobiology. J Headache Pain 18(1):20. https://doi.org/10.1186/s10194-016-0711-0

Deen M, Hansen HD, Hougaard A, Nørgaard M, Eiberg H, Lehel S, Ashina M, Knudsen GM (2018) High brain serotonin levels in migraine between attacks: a 5-HT 4 receptor binding PET study. NeuroImage Clin 18:97–102

Sakai Y, Dobson C, Diksic M, Aube M, Hamel E (2008) Sumatriptan normalizes the migraine attack-related increase in brain serotonin synthesis. Neurology 70(6):431–439. https://doi.org/10.1212/01.wnl.0000299095.65331.6f

Juhasz G, Zsombok T, Modos EA, Olajos S, Jakab B, Nemeth J, Szolcsanyi J, Vitrai J, Bagdy G (2003) NO-induced migraine attack: strong increase in plasma calcitonin gene-related peptide (CGRP) concentration and negative correlation with platelet serotonin release. Pain 106(3):461–470

Gupta S, Nahas SJ, Peterlin BL (2011) Chemical mediators of migraine: preclinical and clinical observations. Headache 51(6):1029–1045. https://doi.org/10.1111/j.1526-4610.2011.01929.x

Maneepak M, Le Grand S, Srikiatkhachorn A (2009) Serotonin depletion increases nociception-evoked trigeminal NMDA receptor phosphorylation. Headache 49(3):375–382

Panconesi A (2008) Serotonin and migraine: a reconsideration of the central theory. J Headache Pain 9(5):267–276

Ferrari MD, Goadsby P, Roon K, Lipton RB (2002) Triptans (serotonin, 5-HT1B/1D agonists) in migraine: detailed results and methods of a meta-analysis of 53 trials. Cephalalgia 22(8):633–658

Stone TW, Darlington LG (2002) Endogenous kynurenines as targets for drug discovery and development. Nat Rev Drug Discov 1(8):609–620. https://doi.org/10.1038/nrd870

van der Stelt HM, Broersen LM, Olivier B, Westenberg HG (2004) Effects of dietary tryptophan variations on extracellular serotonin in the dorsal hippocampus of rats. Psychopharmacology 172(2):137–144

Nishizawa S, Benkelfat C, Young S, Leyton M, Mzengeza SD, De Montigny C, Blier P, Diksic M (1997) Differences between males and females in rates of serotonin synthesis in human brain. Proc Natl Acad Sci 94(10):5308–5313

Drummond PD (2005) Effect of tryptophan depletion on symptoms of motion sickness in migraineurs. Neurology 65(4):620–622

The International Classification of Headache Disorders, 3rd edn (beta version) (2013) Cephalalgia 33(9):629–808. https://doi.org/10.1177/0333102413485658

Esfahani FH, Asghari G, Mirmiran P, Azizi F (2010) Reproducibility and relative validity of food group intake in a food frequency questionnaire developed for the Tehran Lipid and Glucose Study. J Epidemiol 20(2):150–158

Ghafarpour M, Houshiar-Rad A, Kianfar H (1999) The manual for household measures, cooking yields factors and edible portion of food. Nashre Olume Keshavarzy, Tehran

Food and Nutrition Information Center, US Department of Agriculture: Food composition table (FCT). Beltsville, MD. (2009) www.nal.usda.gov/fnic/foodcomp. Accessed 27 June 2011

Azar M, Sarkisian E (1980) Food composition table of Iran. National Nutrition and Food Research Institute, Shaheed Beheshti University, Tehran, p 65

Escott-Stump S (2011) Nutrition and Diagnosis-related Care. Lippincott Williams & Wilkins, Philadelphia

Goadsby PJ, Holland PR, Martins-Oliveira M, Hoffmann J, Schankin C, Akerman S (2017) Pathophysiology of migraine: a disorder of sensory processing. Physiol Rev 97(2):553–622

Marziniak M, Kienzler C, Kuhlenbäumer G, Sommer C, Mössner R (2009) Functional gene variants of the serotonin-synthesizing enzyme tryptophan hydroxylase 2 in migraine. J Neural Transm 116(7):815–819

Curto M, Lionetto L, Fazio F, Mitsikostas DD, Martelletti P (2015) Fathoming the kynurenine pathway in migraine: why understanding the enzymatic cascades is still critically important. Intern Emerg Med 10(4):413–421. https://doi.org/10.1007/s11739-015-1208-6

Bohar Z, Pardutz A, Vecsei L (2016) Tryptophan catabolites and migraine. Curr Pharm Des 22(8):1013–1021

Sicuteri F (1973) The ingestion of serotonin precursors (L-5-hydroxytryptophan and L-tryptophan) improves migraine headache. Headache 13(1):19–22

Gedye A (2001) Hypothesized treatment for migraines using low doses of tryptophan, niacin, calcium, caffeine, and acetylsalicylic acid. Med Hypotheses 56(1):91–94

Unge G, Malmgren R, Olsson P, Theorell H, Tornling G (1983) Effects of dietary protein-tryptophan restriction upon 5-HT uptake by platelets and clinical symptoms in migraine-like headache. Cephalalgia 3(4):213–218

Vetvik KG, MacGregor EA (2017) Sex differences in the epidemiology, clinical features, and pathophysiology of migraine. Lancet Neurol 16(1):76–87. https://doi.org/10.1016/S1474-4422(16)30293-9
Acknowledgements
We thank the participants of the present study. In particular, we extend our gratitude to Ms. Jabbari, and the staff of Sina University Hospital for their kind cooperation. Also, the authors would like to thank the Epidemiology and Biostatistics of the Research Development Center of Sina Hospital for their technical assistance.
Funding
This research was supported by a grant from the Iranian Center of Neurological Research, Neuroscience Institute, Tehran University of Medical Sciences, Tehran, Iran.
Ethics declarations
Registration number
97-03-54-39214, Iranian Center of Neurological Research, Neuroscience Institute, Tehran University of Medical Sciences, Tehran, Iran.
Conflict of interest
The authors declare that they have no conflict of interest.
Additional information
Publisher's note
Springer Nature remains neutral with regard to jurisdictional claims in published maps and institutional affiliations.
Soodeh Razeghi Jahromi and Mansoureh Togha have equally taken part.
About this article
Cite this article
Razeghi Jahromi, S., Togha, M., Ghorbani, Z. et al. The association between dietary tryptophan intake and migraine. Neurol Sci 40, 2349–2355 (2019). https://doi.org/10.1007/s10072-019-03984-3
Received:

Accepted:

Published:

Issue Date:

DOI: https://doi.org/10.1007/s10072-019-03984-3
Keywords
Dietary amino acids

Headache

Migraine

Serotonin

Tryptophan