Abstract
In the last 30 years, improvement of diagnostic methods enabled routine evaluation of small A-delta and C nerve fibers impairment, which results with the clinical condition known as a small-fiber neuropathy (SFN). This syndrome develops as a result of metabolic, toxic, immune-mediated, or genetic factors. The main clinical features include neuropathic pain and autonomic disturbance, which are occasionally disclaimed due to outstanding fatigue, daily performance decline, anxiety, and depression. As clinical, neurological, nerve conduction, and electromyography studies are commonly normal, diagnosis often depends on the finding of decreased intra-epidermal density of nerve fibers, per skin biopsy. This review highlights the etiology, clinical, diagnostic aspects, and SFN treatment.
Access options
Buy single article
Instant access to the full article PDF.
USD 39.95
Price excludes VAT (USA)
Tax calculation will be finalised during checkout.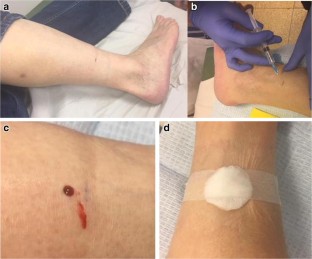 References
Lauria G, Merkies ISG, Faber CG (2012) Small fiber neuropathy. Curr Opin Neurobiol 25:542–549

Brouwer BA, Bakkers M, Hoeijmakers JGJ, Faber CG, Merkies ISJ (2015) Improving assessment in small fiber neuropathy. J Peripher Nerv Syst 20:333–340

Sene D (2018) Small fiber neuropathy: diagnosis, causes and treatment. Joint Bone Spine 85(5):553–559

Voortman M, Fritz D, Vogels OJM, Eftimov F, van de Beek D, Brouwer MC, Drent M (2017) Small fiber neuropathy: a disabling and underrecognized syndrome. Curr Opin Pulm Med 23(5):447–457

Zeng L, Alongkronrusmee D, van Rijet RM (2017) An integrated perspective on diabetic, alcoholic, and drug-induced neuropathy, etiology, and treatment in the US. J Pain Res 10:219–222

Tierney EF, Thurman DJ, Becles JL et al (2013) Association of statin use with peripheral neuropathy in the US population 40 years or older. J Diabetes 5:207–215

Terkelsen AJ, Karlsson P, Lauria G, Freeman R, Finnerup NB, Jensen TS (2017) The diagnostic challenge of small fibre neuropathy: clinical presentations, evaluations, and causes. Lancet Neurol 16:934–944

Birnbaum J, Lalji A, Saed A et al (2018) Biopsy-proven small-Fiber neuropathy in primary Sjögren's syndrome: neuropathic pain characteristics, autoantibody findings, and histopathological features. Arthritis Care Res. https://doi.org/10.1002/acr.23762

Barrett SL, Dellon AL (2016) Small fiber neuropathy. Differential diagnosis and clinical implication. Clin Podiatr Med Surg 33:185–118

Zivkovic SA, Lacomis D, Giuliani MJ (2001) Sensory neuropathy associated with metronidazole: report of four cases and review of the literature. J Clin Neuromuscul Dis 3(1):8–12

Tan IL, Ebenezer GJ, Hauer P et al (2012) Peripheral nerve toxic effects of nitrofurantoin. Arch Neurol 69(2):265–268

Chao CC, Sun HY, Chang YC (2008) Painful neuropathy with skin denervation after prolonged use of linezolid. J Neurol Neurosurg Psychiatry 79:97–99

Giannoccaro MP, Donadio V, Gomis Peres C (2011) Somatic and autonomic small fiber neuropathy induced by bortezomib therapy: an immunofluorescence study. Neurol Sci 32:361–363

Stubgen JP (2008) Tumor necrosis factor-alfa antagonists and neuropathy. Muscle Nerve 37(3):281–292

Adams D et al (2018) Patisiran, an RNAi therapeutic, for hereditary transthyretin amyloidosis. N Engl J Med 379(1):11–21

Levine TD (2018) Small fiber neuropathy: disease classification beyond pain and burning. J Cent Nerv Syst Dis 18(10):1179573518771703. https://doi.org/10.1177/1179573518771703 eCollection 2018

Xiao Y, Barbosa C, Pei Z, Xie W, Strong JA, Zhang JM, Cummins TR (2019) Increased resurgent sodium currents in Nav1.8 contribute to nociceptive sensory neuron hyperexcitability associated with peripheral neuropathies. J Neurosci 39:1539–1550. https://doi.org/10.1523/JNEUROSCI.0468-18.2018

Biegstraaten M, Hollak CEM, Bakkers M, Faber CG, Aerts JMFG, van Schaik IN (2012) Small fiber neuropathy in Fabry disease. Mol Genet Metab 106:135–141

Hobson-Webb LD, Austin SL, Jain S (2015) Small-fiber neuropathy in Pompe disease: first reported cases and prospective screening of a clinic cohort. Am J Case Rep 16:196–201

Cazzato D, Castori M, Lombardi F et al (2016) Small fiber neuropathy is a common feature of Ehlers-Danlos syndromes. Neurology 87(2):155–159

Hovagiumian A, Gibbons CH (2011) Diagnosis and treatment of pain in small fiber neuropathy. Curr Pain Headache Rep 15(3):193–200

Zouari HG, Wahab A, Ng Wing Tin S et al (2019) The clinical features of painful small-fibre neuropathy suggesting an origin linked to a primary Sjögren's syndrome. Pain Pract. https://doi.org/10.1111/papr.12763

Oaklander AL (2016) Immunotherapy prospects for painful small-fiber sensory neuropathies and ganglionopathies. Neurotherapeutics 13:108–117

Magistris MR, Soichot P (2004) Neuropathy versus neuronopathy: distinguish features. Rev Med Liege 59(Suppl 1):208–218

Oaklander AL, Herzog ZD, Downs HM, Klein MM (2013) Objective evidence that small-fiber polyneuropathy underlies some illnesses currently labeled as fibromyalgia. Pain 154(11):2310–2316

Tavee OJ, Stern BJ (2014) Neurosarcoidosis. Continuum (Minneap Minn) 20(3):545–559

Themistocleous AC, Ramirez JD, Serra J, Bennett DLH (2014) The clinical approach to small fiber neuropathy and painful channelopathy. Pract Neurol 14:368–379

Sun B, Li Y, Liu L, Chen Z, Ling L, Yang F, Liu J, Liu H, Huang X (2018) SFN-SIQ, SFNSL, and skin biopsy of 55 cases with small fiber involvement. Int J Neurosci 128(5):442–448

Wang L, Hilliges M, Jernberg T, Wiegleb-Edstrfm D, Johansson O (1990) Protein gene product 9.5-immunoreactive nerve fibers and cells in human skin. Cell Tissue Res 261:25–33

Lawson VH, Grewal J, Hackshaw KV, Mongiovi PC, Stino AM (2018) Fibromyalgia syndrome and small fiber, early or mild sensory polyneuropathyю. Muscle Nerve 58(5):625–630

Kennedy et al (1996) Quantitation of epidermal nerves in diabetic neuropathy. Neurology 47(4):1042–1048

Voortman M, Hendriks CMR, Elfferich P, Bonella F, Møller J, de Vries J, Costabel U, Drent M (2019) The burden of sarcoidosis symptoms from a patient perspective. Lung. https://doi.org/10.1007/s00408-019-00206-7

Hoitsma E, de Vries J, Drent M (2010) The small fiber neuropathy screening list: construction and cross-validation in sarcoidosis. Respir Med 105:95–100

Singleton RJ, Bixby B, Russel JW et al (2008) The Utah Early Neuropathy Scale: a sensitive clinical scale for early sensory predominant neuropathy. J Peripher Nerv Syst 13:218–227

McCarthy BG, Hsieh ST, Stocks A et al (1995) Cutaneous innervation in sensory neuropathies: evaluation by skin biopsy. Neurology 45:1848–1855

Provitera V, Gibbons CH, Wendelschafer-Crabb G, Donadio V, Vitale DF, Stancanelli A, Caporaso G, Liguori R, Wang N, Santoro L, Kennedy WR, Nolano M (2016) A multi-center, multinational age- and gender-adjusted normative dataset for immunofluorescent intraepidermal nerve fiber density at the distal leg. Eur J Neurol 23:333–338

Lauria G, Lombardi R, Camozzi F, Devigili G (2009) Skin biopsy for the diagnosis of peripheral neuropathy. Histopathology 54:273–285

Bakkers M, Merkies ISJ, Lauria G, Devigili G, Penza P, Lombardi R, Hermans MCE, van Nes SI, de Baets M, Faber CG (2009) Intraepidermal nerve fiber density and its application in sarcoidosis. Neurology 73:1142–1148

Nolano M, Biasiotta A, Lombardi R, Provitera V, Stancanelli A, Caporaso G, Santoro L, Merkies ISJ, Truini A, Porretta-Serapiglia C, Cazzato D, Dacci P, Vitale DF, Lauria G (2015) Epidermal innervation morphometry by immunofluorescence and bright-field morphology. J Peripher Nerv Syst 20:387–391

Sopacua M, Hoeijmakers JGJ, Merkies ISG et al (2018) Small fibre neuropathy: expanding the clinical pain universe. J Peripher Nerv Syst 24:19–33. https://doi.org/10.1111/jns.12298

Provitera V, Nolano M, Caporaso G, Stancanelli A, Santoro L, Kennedy WR (2010) Evaluation of sudomotor function in diabetes using the dynamic sweat test. Neurology. 74(1):50–56

McArthur JC (2012) Painful small fiber neuropathies. Continuum Lifelong Learning Neurol 18(1):106–125

Lagerburg V, Bakkers M, Bouwhuis A, Hoeijmakers JGJ, Smit AM, van den Berg SJM, Hordijk-de Boer I, Brouwer-van der Lee MDG, Kranendonk D, Reulen JPH, Faber CG, Merkies ISJ (2015) Contact heat evoked potentials: normal values and use in small-fiber neuropathy. Muscle Nerve 51(5):743–749

Atherton DD, Facer P, Roberts KM, Misra VP, Chizh BA, Bountra C, Anand P (2007) Use of the novel contact heat evoked potential stimulator (CHEPS) for the assessment of small fibre neuropathy: correlations with skin flare responses and intra-epidermal nerve fibre counts. BMC Neurol 7:21

Hadjadj J, Dechartres A, Chapron T, Assala M, Salah S, Dunogué B, Musset L, Baudin B, Groh M, Blanche P, Mouthon L, Monnet D, le Jeunne C, Brézin A, Terrier B (2017) Relevance of diagnostic investigations in patients with uveitis: retrospective cohort study on 300 patients. Autoimmun Rev 16(5):504–511

Grumet P, Kodjikian L, de Parisot A, Errera MH, Sedira N, Heron E, Pérard L, Cornut PL, Schneider C, Rivière S, Ollé P, Pugnet G, Cathébras P, Manoli P, Bodaghi B, Saadoun D, Baillif S, Tieulie N, Andre M, Chiambaretta F, Bonin N, Bielefeld P, Bron A, Mouriaux F, Bienvenu B, Vicente S, Bin S, Labetoulle M, Broussolle C, Jamilloux Y, Decullier E, Sève P, ULISSE group (2018) Contribution of diagnostic tests for the etiological assessment of uveitis, data from the ULISSE study (Uveitis: Clinical and medicoeconomic evaluation of a standardized strategy of the etiological diagnosis). Autoimmun Rev 17(4):331–343

Delvigili G, Tugnoli V, Penza P et al (2008) The diagnostic criteria for small fibreneuropathy: from symptoms to neuropathology. Brain. 131:1912–1925

Chiang M-C, Tseng M-T, Pan C-L, Chao CC, Hsieh ST (2015) Progress in the treatment of small fiber peripheral neuropathy. Expert Rev Neurother 15(3):305–313

Tavee JO, Karwa K, Ahmed Z, Thompson N, Parambil J, Culver DA (2017) Sarcoidosis-associated small fiber neuropathy in a large cohort: clinical aspects and response to IVIG and anti-TNF alpha treatment. Respir Med 126:135–138

Dabby R, Gilad R, Sadeh M et al (2006) Acute steroid responsive small-fiber neuropathy: a new entity? J Peripher Nerv Syst 11(1):47–52

Wakasugi D, Kato T, Gono T (2009) Extreme efficacy of intravenous immunoglobulin therapy for severe burning pain in a patient with small fiber neuropathy associated with primary Sjorgen syndrome. Mod Rheumatol 19:437–440
Funding
This work is supported by the grant of the Government of the Russian Federation for the state support of scientific research carried out under the supervision of leading scientists, agreement 14.W03.31.0009, on the basis of SPbU projects of 13.02. 2017.
Additional information
Publisher's note
Springer Nature remains neutral with regard to jurisdictional claims in published maps and institutional affiliations.
About this article
Cite this article
Basantsova, N.Y., Starshinova, A.A., Dori, A. et al. Small-fiber neuropathy definition, diagnosis, and treatment. Neurol Sci 40, 1343–1350 (2019). https://doi.org/10.1007/s10072-019-03871-x
Received:

Accepted:

Published:

Issue Date:

DOI: https://doi.org/10.1007/s10072-019-03871-x
Keywords