Abstract
The preservation of the meningeal artery in ancient mummified bodies, particularly in anthropogenic Egyptian mummies, is a highly controversial topic in neuroscience and anthropological research. A recent (2015) debate between Wade and Isidro, based on the interpretation of the meningeal grooves and cast in a skull from the necropolis of Kom al-Ahmar Sharuna (Egypt), highlighted both the necessity of having clear radiological descriptions of this anatomical structure and of assessing large collections of mummified crania. Here, we present for the first time an instance of extremely well-preserved middle meningeal artery in the mummy of the ancient Egyptian dignitary Nakht-ta-Netjeret (ca. 950 BC), still inside the meninx, using paleo-radiological techniques. We finally link this find with experimental data from the neurological literature on the methodology of excerebration implemented by ancient Egyptian embalmers.
Access options
Buy single article
Instant access to the full article PDF.
USD 39.95
Price excludes VAT (USA)
Tax calculation will be finalised during checkout.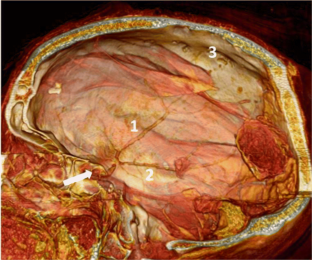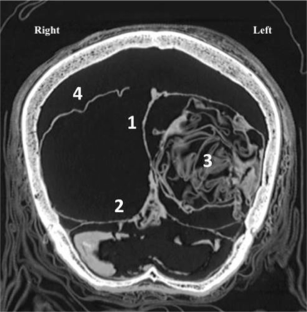 References
Isidro A, Gonzálvez LM, Arboix A (2015) Brain vessels mummification in an individual of ancient Egypt. Cortex 63:217–219

Jones FW (1912) On the grooves upon the Ossa Parietalia commonly said to be caused by the Arteria Meningea Media. J Anat Physiol 46:228–238

Wade AD (2015) A commentary on "brain vessels mummification in an individual of ancient Egypt" by Isidro et al. Cortex 66:166–167

Isidro A (2015) A reply to Wade. Cortex 66:168–169

Küffer A, Siegmann R (2007) Unter dem Schutz der Himmelsgöttin. Chronos Verlag, Zürich, pp 78–84

Sudhoff K (1911) Ägyptische Mumienmacher-Instrumente. Eine Untersuchung. Archiv für Geschichte der Medizin 5(3):161–171

Brier B, Wade RS (2001) Surgical procedures during ancient Egyptian mummification. Chungará Revista de Antropología Chilena 33(1):117–123
Acknowledgements
The authors thank the team of the Institute of Forensic Medicine of the University of Zurich (Zurich, Switzerland), under the direction of Prof. Michael Thali, for permission to perform the CT examination at their facilities and technical support. Thanks also go to the staff of the Musée d'Ethnographie (Neuchâtel, Switzerland) for their precious cooperation and kind permission to use the images of the discussed mummy.
Funding
The authors received financial support of their research from the following sponsoring bodies: The Swiss National Science Foundation (The Canopic Jar Project—grant number: 162803); The Mäxi Foundation, Zurich, Switzerland.
Ethics declarations
Conflict of interest
The authors declare that they have no conflict of interest.
About this article
Cite this article
Seiler, R., Habicht, M.E., Rühli, F.J. et al. First-time complete visualization of a preserved meningeal artery in the mummy of Nakht-ta-Netjeret (ca. 950 BC). Neurol Sci 40, 409–411 (2019). https://doi.org/10.1007/s10072-018-3565-1
Received:

Accepted:

Published:

Issue Date:

DOI: https://doi.org/10.1007/s10072-018-3565-1
Keywords
Meningeal artery

Neuroanatomy

Neuro-imaging

Ancient Egypt

Mummies

Anthropology