Abstract
Despite the availability of nucleic acid amplification tests (NAATs), most of aseptic acute meningitides, encephalitides, and meningoencephalitides (AAMEMs) in adults remain of unknown etiology so far. To shed light on such topic, we aimed to evaluate potential predictors for AAMEMs of unknown origin. We collected retrospectively data from all consecutive cases of AAMEMs in adults discharged from an Italian referral hospital, from January 2004 to December 2016. Laboratory analysis included common immunometric methods and NAATs. Potential predictors for unknown etiology (age, seasonality, serum C-reactive protein value, antibiotic use before lumbar puncture, immunodeficiency conditions, clinical symptoms and signs) were evaluated by a logistic regression analysis model. A p value ≤ 0.05 was considered to indicate statistical significance. The study included 92 patients (median age 39 years; 54.3% males) affected by meningitis (n = 57), encephalitis (n = 25), and meningoencephalitis (n = 10). The identified agents that cause AAMEMs were herpesviruses (20.7%), enteroviruses (5.4%), tick-borne encephalitis virus (3.3%), influenza virus A (2.2%), West Nile virus (1.1%), and parvovirus B19 (1.1%), while 66.3% of cases were of unknown etiology. No predictor was found to be significantly associated with AAMEMs of unknown etiology. We suggest that potential infectious agents causing undiagnosed cases should be investigated among non-bacterial, non-opportunistic, and non-seasonal organisms.
Access options
Buy single article
Instant access to the full article PDF.
US$ 39.95
Tax calculation will be finalised during checkout.
Subscribe to journal
Immediate online access to all issues from 2019. Subscription will auto renew annually.
US$ 79
Tax calculation will be finalised during checkout.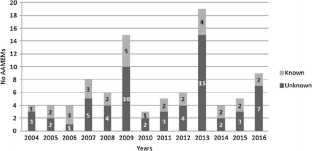 References
1.

Somand D, Meurer W (2009) Central nervous system infections. Emerg Med Clin North Am 27:89–100

2.

Tunkel AR, Glaser CA, Bloch KC, Sejvar JJ, Marra CM, Roos KL, Hartman BJ, Kaplan SL, Scheld WM, Whitley RJ, Infectious Diseases Society of America (2008) The management of encephalitis: clinical practice guidelines by the Infectious Diseases Society of America. Clin Infect Dis 47:303–327

3.

Irani DN (2008) Aseptic meningitis and viral myelitis. Neurol Clin 26:635–655

4.

Graus F, Titulaer MJ, Balu R, Benseler S, Bien CG, Cellucci T, Cortese I, Dale RC, Gelfand JM, Geschwind M, Glaser CA, Honnorat J, Höftberger R, Iizuka T, Irani SR, Lancaster E, Leypoldt F, Prüss H, Rae-Grant A, Reindl M, Rosenfeld MR, Rostásy K, Saiz A, Venkatesan A, Vincent A, Wandinger KP, Waters P, Dalmau J (2016) A clinical approach to diagnosis of autoimmune encephalitis. Lancet Neurol 15(4):391–404

5.

Marchioni E, Ravaglia S, Montomoli C, Tavazzi E, Minoli L, Baldanti F, Furione M, Alfonsi E, Bergamaschi R, Romani A, Piccolo L, Zardini E, Bastianello S, Pichiecchio A, Ferrante P, Delbue S, Franciotta D, Bono G, Ceroni M (2013) Postinfectious neurologic syndromes: a prospective cohort study. Neurology 80(10):882–889

6.

Gable MS, Sheriff H, Dalmau J, Tilley DH, Glaser CA (2012) The frequency of autoimmune N-methyl-D-aspartate receptor encephalitis surpasses that of individual viral etiologies in young individuals enrolled in the California Encephalitis Project. Clin Infect Dis 54:899–904

7.

Chen X, Li JM, Liu F, Wang Q, Zhou D, Lai X (2016) Anti-N-methyl-d-aspartate receptor encephalitis: a common cause of encephalitis in the intensive care unit. Neurol Sci 37(12):1993–1998

8.

Granerod J, Tam CC, Crowcroft NS, Davies NWS, Borchert M, Thomas SL (2010) Challenge of the unknown. A systematic review of acute encephalitis in non-outbreak situations. Neurology 75:924–932

9.

Kupila L, Vuorinen T, Vainionpaa R, Hukkanen V, Marttila RJ, Kotilainen P (2006) Etiology of aseptic meningitis and encephalitis in an adult population. Neurology 66:75–80

10.

Granerod J, Cunningham R, Zuckerman M et al (2010) Causality in acute encephalitis: defining aetiologies. Epidemiol Infect 138:783–800

11.

Schwaiger M, Cassinotti P (2003) Development of a quantitative real-time RT-PCR assay with internal control for the laboratory detection of tick borne encephalitis virus (TBEV) RNA. J Clin Virol 27:136–145

12.

ISTAT. http://www.regione.fvg.it/rafvg/cms/RAFVG/GEN/statistica/SCHEDA2. Accessed 26 Aug 2016

13.

Stahl JP, Mailles A, Dacheux L, Morand P (2011) Epidemiology of viral encephalitis in 2011. Med Mal Infect 41:453–464

14.

Frantzidou F, Kamaria F, Dumaidi K, Skoura L, Antoniadis A, Papa A (2008) Aseptic meningitis and encephalitis because of herpesviruses and enteroviruses in an immunocompetent adult population. Eur J Neurol 15:995–997

15.

Ihekwaba UK, Kudesia G, McKendrick MW (2008) Clinical features of viral meningitis in adults: significant differences in cerebrospinal fluid findings among herpes simplex virus, varicella zoster virus, and enterovirus infections. Clin Infect Dis 47:783–789

16.

Beghi E, Nicolosi A, Kurland LT, Mulder DW, Hauser WA, Shuster L (1984) Encephalitis and aseptic meningitis, Olmsted County, Minnesota, 1950-1981: I. Epidemiology. Ann Neurol 16:283–294

17.

Koskiniemi M, Rantalaiho T, Piiparinen H et al (2001) Infections of the central nervous system of suspected viral origin: a collaborative study from Finland. J Neuro-Oncol 7:400–408

18.

Rezza G, Farchi F, Pezzotti P et al (2015) Tick-borne encephalitis in north-east Italy: a 14-year retrospective study, January 2000 to December 2013. Euro Surveill 20(40):30034. https://doi.org/10.2807/1560-7917.ES.2015.20.40.30034

19.

Rizzo C, Napoli C, Venturi G et al (2016) West Nile virus transmission: results from the integrated surveillance system in Italy, 2008 to 2015. Euro Surveill 21(37):30340. https://doi.org/10.2807/1560-7917.ES.2016.21.37.30340

20.

Donoso Mantke O, Escadafal C, Niedrig M et al (2011) Tick-borne encephalitis in Europe, 2007 to 2009. Euro Surveill 16(39):19976. https://doi.org/10.2807/ese.16.39.19976-en

21.

Barah F, Whiteside S, Batista S, Morris J (2014) Neurological aspects of human parvovirus B19 infection: a systematic review. Rev Med Virol 24:154–168

22.

Chan BK, Wilson T, Fischer KF, Kriesel JD (2014) Deep sequencing to identify the causes of viral encephalitis. PLoS One 9(4):e93993
Acknowledgments
We thank Mrs. Elena Samar for her excellent technical assistance.
Ethics declarations
Conflict of interest
The authors declare that they have no conflict of interest.
Ethical approval
All procedures performed in studies involving human participants were in accordance with the ethical standards of the institutional and/or national research committee and with the 1964 Helsinki declaration and its later amendments or comparable ethical standards. For this type of study, formal consent is not required.
About this article
Cite this article
Monticelli, J., Geremia, N., D'Agaro, P. et al. Aseptic central nervous system infections in adults: what predictor for unknown etiological diagnosis?. Neurol Sci 39, 863–870 (2018). https://doi.org/10.1007/s10072-018-3274-9
Received:

Accepted:

Published:

Issue Date:
Keywords
Encephalitis

Meningitis

Etiology

Unknown origin

Risk factors