Abstract
Multiple sclerosis (MS) is an immune-mediated chronic inflammatory disease of the central nervous system. Various exposures to heavy metals can lead to toxicity and oxidative stress. While glutathione-S-transferases are known as oxidative stress-related genes and involved in metal biotransformation. The aim of the present study is to investigate the correlation of GSTM1 polymorphism in MS patients and the possible association with blood concentration of arsenic (As) and cadmium (Cd) as major heavy metal pollutants. This study included 69 relapsing–remitting multiple sclerosis patients and 74 age/gender-matched healthy subjects. The genetic profile was analyzed by PCR, and heavy metal concentrations were measured by electrothermal atomic absorption spectrometry. Our results demonstrated that patients with the GSTM1 null genotype had considerably lower age of onset. However, the frequency of the GSTM1 null genotype was not significantly different between MS and control groups. In addition, the blood As and Cd concentrations were considerably higher in MS patients in comparison with healthy individuals. Also, it revealed that the GSTM1 null genotype associated with high Cd level in MS patients. There was also a trend toward an increase in As level in MS patients. These data may point to susceptibility to cadmium toxicity especially in RR–MS patients with smoking habit. Furthermore, the M1 null genotype will help in a prognosis of MS considering the age of onset. It confirms that the long-term prognosis in MS and patient's disability are influenced by their ability to remove the toxic products and perhaps to decrease oxidative stress.
Access options
Buy single article
Instant access to the full article PDF.
USD 39.95
Price excludes VAT (USA)
Tax calculation will be finalised during checkout.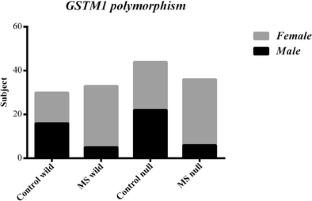 References
Goldenberg MM (2012) Multiple sclerosis review. Pharmacol Ther 37(3):175

Browne P, Chandraratna D, Angood C, Tremlett H, Baker C, Taylor BV et al (2014) Atlas of multiple sclerosis 2013: a growing global problem with widespread inequity. Neurology 83(11):1022–1024

Naghdi S, Ansari NN, Ghorbani-rad S, Senobari M, Sahraian MA (2016) Intra-rater reliability of the Modified Tardieu Scale in patients with multiple sclerosis. Neurol Sci:1–7

Oliveira SR, Kallaur AP, Simão ANC, Morimoto HK, Lopes J, Panis C et al (2012) Oxidative stress in multiple sclerosis patients in clinical remission: association with the expanded disability status scale. J Neurol Sci 321(1):49–53

Nicoletti A, Messina S, Bruno E, Mostile G, Quattrocchi G, Raciti L et al (2016) Risk factors in multiple sclerosis: a population-based case–control study in Sicily. Background and methods. Neurol Sci 37(12):1931–1937

Farzin L, Amiri M, Shams H, Faghih MAA, Moassesi ME (2008) Blood levels of lead, cadmium, and mercury in residents of Tehran. Biol Trace Elem Res 123(1–3):14–26

Bian B, Zhou LJ, Li L, Lv L, Fan YM. (2015) Risk assessment of heavy metals in air, water, vegetables, grains, and related soils irrigated with biogas slurry in Taihu Basin, China. Environ Sci Pollut Res 1–14

Attia AM, Ibrahim FA, EL-Latif NAA, Aziz SW (2014) Antioxidant effects of curcumin against cadmium chloride-induced oxidative stress in the blood of rats. J Pharmacogn Phytother 6(3):33–40

Jomova K, Valko M (2011) Advances in metal-induced oxidative stress and human disease. Toxicology 283(2):65–87

Patrick L (2006) Lead toxicity part II: the role of free radical damage and the use of antioxidants in the pathology and treatment of lead toxicity. Altern Med Rev: a J of Clin Ther 11(2):114–127

Wang T (2015) Glutathione S-transferases variants as risk factors in Alzheimer's disease. Neurol Sci 36(10):1785–1792

Hsu L-I, Chen W-P, Yang T-Y, Chen Y-H, Lo W-C, Wang Y-H et al (2011) Genetic polymorphisms in glutathione S-transferase (GST) superfamily and risk of arsenic-induced urothelial carcinoma in residents of southwestern Taiwan. J Biomed Sci 18:51

Jozefczak M, Remans T, Vangronsveld J, Cuypers A (2012) Glutathione is a key player in metal-induced oxidative stress defenses. Int J Mol Sci 13(3):3145–3175

Živković M, Životić I, Dinčić E, Stojković L, Vojinović S, Stanković A (2013) The glutathione S-transferase T1 deletion is associated with susceptibility to multiple sclerosis. J Neurol Sci 334(1):6–9

Sharma A, Pandey A, Sardana S, Sehgal A, Sharma JK (2012) Genetic polymorphisms of GSTM1 and GSTT1 genes in Delhi and comparison with other Indian and global populations. Asian Pac J Cancer Prev 13(11):5647–5652

Polman CH, Reingold SC, Banwell B, Clanet M, Cohen JA, Filippi M et al (2011) Diagnostic criteria for multiple sclerosis: 2010 revisions to the McDonald criteria. Ann Neurol 69(2):292–302

Rebbeck TR (1997) Molecular epidemiology of the human glutathione S-transferase genotypes GSTM1 and GSTT1 in cancer susceptibility. Cancer Epidemiol Biomark Prev 6(9):733–743

Vasconcellos EA (2001) Urban Transport Environment and Equity: The case for developing countries. Routledge, USA

Etemadifar M, Maghzi A-H (2011) Sharp increase in the incidence and prevalence of multiple sclerosis in Isfahan. Iran Mult Scler J 17(8):1022–1027

Fischer MT, Wimmer I, Höftberger R, Gerlach S, Haider L, Zrzavy T et al (2013) Disease-specific molecular events in cortical multiple sclerosis lesions. Brain 136(6):1799–1815

Mann C, Davies M, Boggild M, Alldersea J, Fryer A, Jones P et al (2000) Glutathione S-transferase polymorphisms in MS: their relationship to disability. Neurology 54(3):552–557

Stavropoulou C, Korakaki D, Rigana H, Voutsinas G, Polyzoi M, Georgakakos V et al (2007) Glutathione-S-transferase T1 and M1 gene polymorphisms in Greek patients with multiple sclerosis: a pilot study. Eur J Neurol 14(5):572–574

Saitou M, Ishida T (2015) Distributions of the GSTM1 and GSTT1 null genotypes worldwide are characterized by latitudinal clines. Asian Pac J Cancer Prev 16(1):355–361

Saeedi M, Li LY, Salmanzadeh M (2012) Heavy metals and polycyclic aromatic hydrocarbons: pollution and ecological risk assessment in street dust of Tehran. J Hazard Mater 227:9–17

Heydarpour P, Amini H, Khoshkish S, Seidkhani H, Sahraian MA, Yunesian M (2014) Potential impact of air pollution on multiple sclerosis in Tehran. Iran Neuroepidemiology 43(3–4):233–238

Batáriová A, Spěváčková V, Beneš B, Čejchanová M, Šmíd J, Černá M (2006) Blood and urine levels of Pb, Cd and Hg in the general population of the Czech Republic and proposed reference values. Int J Hyg Environ Health 209(4):359–366

Vahter M, Åkesson A, Lidén C, Ceccatelli S, Berglund M (2007) Gender differences in the disposition and toxicity of metals. Environ Res 104:85–95 Find this article online

Pashapour S, Mousavi Z, Ziarati P, Najafabadi KE (2015) Comparison of the level of cadmium and lead between the cigarette filters of different Iranian and non-Iranian Brands. Iranian J Toxicol 9(29)

Aliomrani M, Sahraian MA, Shirkhanloo H, Sharifzadeh M, Khoshyand MR, Ghahremani MH (2016) Blood concentrations of cadmium and lead in multiple sclerosis patients from Iran (Autumn 2016). Iranian J Pharm Res

Roy A, Manna P, Sil PC (2009) Prophylactic role of taurine on arsenic mediated oxidative renal dysfunction via MAPKs/NF-κ B and mitochondria dependent pathways. Free Radic Res 43(10):995–1007

Huang C, Ke Q, Costa M, Shi X (2004) Molecular mechanisms of arsenic carcinogenesis. Mol Cell Biochem 255(1–2):57–66

Mishra D, Flora S (2008) Differential oxidative stress and DNA damage in rat brain regions and blood following chronic arsenic exposure. Toxicol Ind Health 24(4):247–256

Yousefi B, Ahmadi Y, Ghorbanihaghjo A, Faghfoori Z (2014) Serum arsenic and lipid peroxidation levels in patients with multiple sclerosis. Biol Trace Elem Res 158(3):276–279

Patrick L (2006) Lead toxicity, a review of the literature. Part 1: exposure, evaluation, and treatment. Altern Med Rev: a J of Clin Ther 11(1):2–22

Khansakorn N, Wongwit W, Tharnpoophasiam P, Hengprasith B, Suwannathon L, Chanprasertyothin S, et al. (2012) Genetic variations of glutathione s-transferase influence on blood cadmium concentration. J Toxicol 2012

Ognjanović B, Pavlović S, Maletić S, Zikić R, Stajn A, Radojicić R et al (2003) Protective influence of vitamin E on antioxidant defense system in the blood of rats treated with cadmium. Physiol Res 52(5):563–570

Alimonti A, Ristori G, Giubilei F, Stazi MA, Pino A, Visconti A et al (2007) Serum chemical elements and oxidative status in Alzheimer's disease, Parkinson disease and multiple sclerosis. Neurotoxicology 28(3):450–456

Piadé J-J, Jaccard G, Dolka C, Belushkin M, Wajrock S (2015) Differences in cadmium transfer from tobacco to cigarette smoke, compared to arsenic or lead. Toxicol Rep 2:12–26

Correale J, Farez MF (2015) Smoking worsens multiple sclerosis prognosis: two different pathways are involved. J Neuroimmunol 281:23–34
Acknowledgments
This work is financially supported by Grant No. 92-01-33-22101 Deputy of Research, Tehran University of Medical Sciences, to MHG.
Ethics declarations
Conflict of interest
The authors declare that they have no conflict of interest.
About this article
Cite this article
Aliomrani, M., Sahraian, M.A., Shirkhanloo, H. et al. Correlation between heavy metal exposure and GSTM1 polymorphism in Iranian multiple sclerosis patients. Neurol Sci 38, 1271–1278 (2017). https://doi.org/10.1007/s10072-017-2934-5
Received:

Accepted:

Published:

Issue Date:

DOI: https://doi.org/10.1007/s10072-017-2934-5
Keywords