Abstract
Emotion and pain are closely intertwined in the brain, as the human experience of pain includes both affective and nociceptive components. Although each of these components relies on a different system in the brain, the two systems converge on the anterior cingulate and insular cortices, which interact with the prefrontal cortex and other frontal structures to influence behavior. Both emotional and physical pain elicit activity in these common areas, and conditions that affect one system (e.g., drugs, neural plasticity) may affect the function of the other—ultimately altering the experience of pain. Changes in these areas and their connections may even contribute to the chronification of pain. This relationship should not be overlooked in the treatment of painful conditions, including headache. Nonpharmacological therapies, such as cognitive behavioral therapy, yoga, biofeedback, and meditation, that are often used for enhancing emotional regulation, are increasingly being turned to for augmenting management of migraine and pain. Because of the overlap between emotion and pain, these therapies are likely acting through similar mechanisms, and emotional cues can be sensitive indicators of treatment-related changes in patients.
Access options
Buy single article
Instant access to the full article PDF.
USD 39.95
Price excludes VAT (USA)
Tax calculation will be finalised during checkout.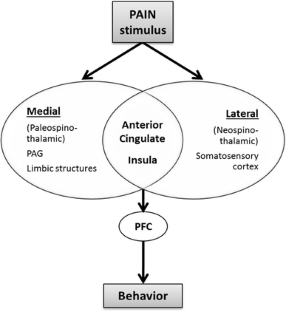 References
IASP Task Force on Taxonomy (1994) Part III: pain terms, a current list with definitions and notes on usage. In: Merskey H, Bruyn GW (eds) Classification of chronic pain, 2nd edn. IASP Press, Seattle, pp 209–214

Williams AC, Craig KD (2016) Updating the definition of pain. Pain 157(11):2420–2423

Bussone G, Grazzi L, Panerai AE (2012) Pain, emotion, headache. Headache 52(S2):98–101

Bussone G, Grazzi L (2013) Understanding the relationship between pain and emotion in idiopathic headaches. Neurol Sci 34(S1):S29–S31

Melzack R, Casey KL (1968) Sensory, motivational and central control determinants of pain: a new conceptual model. In: Kenshalo DR (ed) The skin senses. Thomas, Springfield, pp 423–443

Sturgeon JA (2014) Psychological therapies for the management of chronic pain. Psychol Res Behav Manag 7:115–124

Jensen MP, Turk DC (2014) Contributions of psychology to the understanding of treatment of people with chronic pain: why it matters to all psychologists. Am Psychol 69(2):105–118

Flor H (2014) Psychological pain interventions and neurophysiology: implications for a mechanism-based approach. Am Psychol 69(2):188–196

Price DD (2000) Psychological and neural mechanisms of the affective dimension of pain. Science 288(5472):1769–1772

Elman I, Zubieta J-K, Borsook D (2012) The missing "p" in psychiatric training: why is it important to teach pain to psychiatrists? Arch Gen Psychiatry 68(1):12–20

Lumley MA, Cohen JL, Borszcz GS, Cano A, Radcliffe AM, Porter LS, Schubiner H, Keefe FJ (2011) Pain and emotion: a biopsychosocial review of recent research. J Clin Psychol 67(9):942–968

Simons L, Elman I, Borsook D (2014) Psychological processing in chronic pain: a neural systems approach. Neurosci Biobehav Rev 39:61–78

MacDonald G, Leary MR (2005) Why does social exclusion hurt? The relationship between social and physical pain. Psychol Bull 131(2):202–223

Eisenberger NI (2012) The neural bases of social pain: evidence for shared representations with physical pain. Psychosom Med 74(2):126–135

Antonaci F, Nappi G, Galli F, Manzoni GC, Calabresi P, Costa A (2011) Migraine and psychiatric comorbidity: a review of clinical findings. J Headache Pain 12(2):115–125

Minen MT, Begasse De Dhaem O, Kroon Van Diest A, Powers S, Schwedt TJ, Lipton R, Silbersweig D (2016) Migraine and its psychiatric comorbidities. J Neurol Neurosurg Psychiatry 87(7):741–749

Bair MJ, Wu J, Damush TM, Sutherland JM, Kroenke K (2008) Association of depression and anxiety alone and in combination with chronic musculoskeletal pain in primary care patients. Pyschosom Med 70(8):890–897

Raphael KG, Widom CS (2011) Post-traumatic stress disorder moderates the relation between documented childhood victimization and pain 30 years later. Pain 152(1):163–169

Vogt BA, Sikes RW, Vogt LJ (1993) Anterior cingulate cortex and the medial pain system. In: Vogt BA, Gabriel M (eds) Neurobiology of cingulate cortex and limbic thalamus: a comprehensive handbook. Brikhäuser, Boston, pp 313–344

Craig AD (2003) A new view of pain as homeostatic emotion. Trends Neurosci 26(6):303–307

Peyron R, Laurent B, Garcia-Larrea L (2000) Functional imagining of brain responses to pain: a review and meta-analysis. Neurophysiol Clin 30(5):263–288

Cauda F, Torta DME, Sacco K, Geda E, D'Agata F, Costa T, Duca S, Geminiani G, Amanzio M (2012) Shared "core" areas between the pain and other task-related networks. PLoS One 7(8):e41929. doi:10.1371/journal.pone.0041929

Villemure C, Bushnell MC (2009) Mood influences supra-spinal pain processing separately from attention. J Neurosci 29(3):705–715

Stevens FL, Hurley RA, Taber KH (2011) Anterior cingulate cortex: unique role in cognition and emotion. J Neuropsychiatry Clin Neurosci 23(2):120–125

Bushnell MC, Čeko M, Low LA (2013) Cognitive and emotional control of pain and its disruption in chronic pain. Nature Rev Neurosci 14:502–511

DeWall CN, MacDonald G, Webster GD, Masten CL, Baumeister RF, Powell C, Combs D, Schurtz DR, Stillman TF, Tice DM, Eisenberger NI (2010) Acetaminophen reduces social pain: behavioral and neural evidence. Psychol Sci 21(7):931–937

Kulkarni B, Bentley DE, Elliot R, Julyan PJ, Boger E, Watson A, Boyle Y, El-Deredy W, Jones AK (2007) Arthritic pain is processed in brain areas concerned with emotions and fear. Arthritis Rheum 56(4):1345–1354

Hashmi JA, Baliki MN, Huang L, Baria AT, Torbey S, Hermann KM, Schnitzer TJ, Apkarian AV (2013) Shape shifting pain: chronification of back pain shifts brain representation from nociceptive to emotional circuits. Brain 135(Pt 9):2751–2768

Bliss TV, Collingridge GL, Kaang BK, Zhuo M (2016) Synaptic plasticity in the anterior cingulate cortex in acute and chronic pain. Nature Rev Neurosci 17(8):485–496

Mathur VA, Moayedi M, Keaser ML, Khan SA, Hubbard CS, Goyal M, Seminowicz DA (2016) High frequency migraine is associated with lower acute pain sensitivity and abnormal insula activity related to migraine pain intensity, attack frequency, and pain catastrophizing. Front Hum Neurosci 10:489. doi:10.3389/fnhum.2016.00489

Andreatta M, Puschmann AK, Sommer C, Weyers P, Pauli P, Mühlberger A (2012) Altered processing of emotional stimuli in migraine: an event-related potential study. Cephalalgia 32(15):1101–1108

Seminowicz DA, Shpaner M, Keaser ML, Krauthamer GM, Mantegna J, Dumas JA, Newhouse PA, Filippi C, Keefe FJ, Naylor MR (2013) Cognitive behavioral therapy increases prefrontal cortex gray matter in patients with chronic pain. J Pain. doi:10.1016/j.pain.2013.07.020

Jin C, Yuan K, Zhao L, Yu D, von Deneen KM, Zhang M, Qin W, Sun W, Tian J (2012) Structural and functional abnormalities in migraine patients without aura. NMR Biomed 26(1):58–64

Jensen KB, Kosek E, Wicksell R, Kemani M, Olsson G, Merle JV, Kadetoff D, Ingvar M (2012) Cognitive behavioral therapy increases pain-evoked activation of the prefrontal cortex in patients with fibromyalgeia. Pain 153(7):1495–1503

Andrasik F, Grazzi L, D'Amico D et al (2016) Mindfulness and headache: a "new" old treatment, with new findings. Cephalalgia 36(12):1192–1205

Zeidan F, Martucci KT, Kraft RA, Gordon NS, McHaffie JG, Coghill RC (2011) Brain mechanisms supporting modulation of pain by mindfulness meditation. J Neurosci 31(14):5540–5548

Grant JA, Courtemanche J, Rainville P (2011) A non-elaborative mental stance and decoupling of executive and pain-related cortices predicts low pain sensitivity in Zen meditators. Pain 152(1):150–156

Gard T, Hölzel BK, Sack AT et al (2012) Pain attenuation through mindfulness is associated with decreased cognitive control and increased sensory processing in the brain. Cereb Cortex 22(11):2692–2702

Holroyd KA, O'Donnell FJ, Stensland M, Lipchik GL, Cordingley GE, Carlson BW (2001) Management of chronic tension-type headache with tricyclic antidepressant medication, stress management therapy, and their combination: a randomized controlled trial. JAMA 285(17):2208–2215

Holroyd KA, Cottrell CK, O'Donnell FJ, Cordingley GE, Drew JB, Carlson BW, Himawan L (2010) Effect of preventive (beta blocker) treatment, behavioural migraine management, or their combination on outcomes of optimized acute treatment in frequent migraine: randomised controlled trial. BMJ 341:c4871. doi:10.1136/bmj.c4871
Ethics declarations
Conflict of interest
The authors of this article certify that there is no actual or potential conflict of interest in relation to this article.
Ethical standards
This article does not contain any study with human subjects performed by any of the authors.
About this article
Cite this article
Dahlke, L.AM., Sable, J.J. & Andrasik, F. Behavioral therapy: emotion and pain, a common anatomical background. Neurol Sci 38 (Suppl 1), 157–161 (2017). https://doi.org/10.1007/s10072-017-2928-3
Published:

Issue Date:

DOI: https://doi.org/10.1007/s10072-017-2928-3
Keywords
Behavioral therapy

Brain

Emotion

Headache

Pain