Abstract
Parkinson's disease, the most common cause of parkinsonism is often difficult to distinguish from its second most common etiology due to exposure to dopamine receptor blocking agents such as antiemetics and neuroleptics. Dual axis accelerometry was used to quantify tremor in 158 patients with parkinsonism; 62 had Parkinson's disease and 96 were clinically diagnosed with dopamine receptor blocking agent-induced parkinsonism. Tremor was measured while subjects rested arms (resting tremor), outstretched arms in front (postural tremor), and reached a target (kinetic tremor). Cycle-by-cycle analysis was performed to measure cycle duration, oscillation amplitude, and inter-cycle variations in the frequency. Patients with dopamine receptor blocker induced parkinsonism had lower resting and postural tremor amplitude. There was a substantial increase of kinetic tremor amplitude in both disorders. Postural and resting tremor in subjects with dopamine receptor blocking agent-induced parkinsonism was prominent in the abduction–adduction plane. In contrast, the Parkinson's disease tremor had equal amplitude in all three planes of motion. Tremor frequency was comparable in both groups. Remarkable variability in the width of the oscillatory cycles suggested irregularity in the oscillatory waveforms in both subtypes of parkinsonism. Quantitative tremor analysis can distinguish Parkinson's disease from dopamine receptor blocking agent-induced parkinsonism.
This is a preview of subscription content,
to check access.
Access this article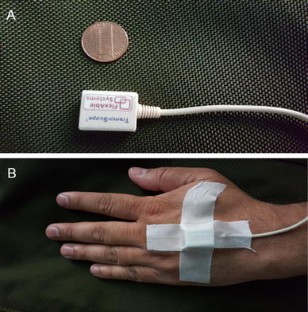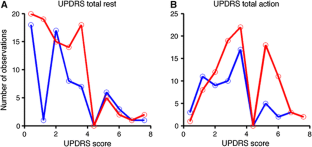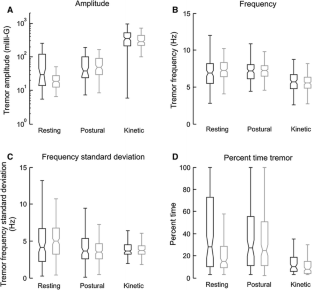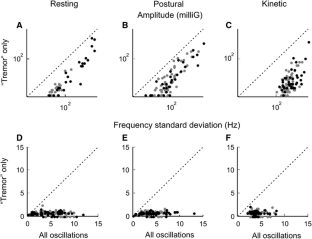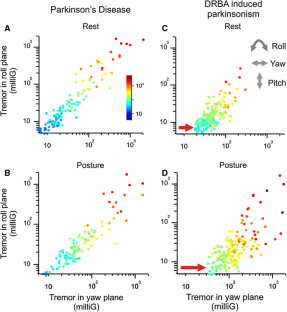 Similar content being viewed by others
References
Bower JH, Maraganore DM, McDonnell SK, Rocca WA (1999) Incidence and distribution of parkinsonism in Olmsted County, Minnesota, 1976–1990. Neurology 52(6):1214–1220

Marsden CD, Tarsy D, Baldessarini RJ (1975) Spontaneous and drug-induced movement disorders in psychiatric patients. Grune & Stratton Inc, New York

Rapoport A, Stein D, Shamir E, Schwartz M, Levine J, Elizur A, Weizman A (1998) Clinico-tremorgraphic features of neuroleptic-induced tremor. Int Clin Psychopharmacol 13(3):115–120

Hassin-Baer S, Sirota P, Korczyn AD, Treves TA, Epstein B, Shabtai H, Martin T, Litvinjuk Y, Giladi N (2001) Clinical characteristics of neuroleptic-induced parkinsonism. J Neural Transm (Vienna) 108(11):1299–1308

Sethi KD, Zamrini EY (1990) Asymmetry in clinical features of drug-induced parkinsonism. J Neuropsychiatry Clin Neurosci 2(1):64–66

Wilson JA, Primrose WR, Smith RG (1987) Prognosis of drug-induced Parkinson's disease. Lancet 1(8530):443–444

Melamed E, Achiron A, Shapira A, Davidovicz S (1991) Persistent and progressive parkinsonism after discontinuation of chronic neuroleptic therapy: an additional tardive syndrome? Clin Neuropharmacol 14(3):273–278

Zutshi D, Cloud LJ, Factor SA (2014) Tardive syndromes are rarely reversible after discontinuing dopamine receptor blocking agents: experience from a university-based movement disorder clinic. Tremor Other Hyperkinet Mov (N Y) 4:266

Postuma RB, Gagnon JF, Pelletier A, Montplaisir J (2013) Prodromal autonomic symptoms and signs in Parkinson's disease and dementia with Lewy bodies. Mov Disord 28(5):597–604

Postuma RB, Gagnon JF (2013) Parkinson's disease—how do sleep and dementia interact? Sleep Med 14(2):129–130

Savica R, Rocca WA, Ahlskog JE (2010) When does Parkinson disease start? Arch Neurol 67(7):798–801

Haehner A, Hummel T, Hummel C, Sommer U, Junghanns S, Reichmann H (2007) Olfactory loss may be a first sign of idiopathic Parkinson's disease. Mov Disord 22(6):839–842

Varrone A, Marek KL, Jennings D, Innis RB, Seibyl JP (2001) [(123)I]beta-CIT SPECT imaging demonstrates reduced density of striatal dopamine transporters in Parkinson's disease and multiple system atrophy. Mov Disord 16(6):1023–1032

Tolosa E, Coelho M, Gallardo M (2003) DAT imaging in drug-induced and psychogenic parkinsonism. Mov Disord 18(Suppl 7):S28–S33

Shin HW, Chung SJ (2012) Drug-induced parkinsonism. J Clin Neurol 8(1):15–21

Shaikh AG, Zee DS, Jinnah HA (2015) Oscillatory head movements in cervical dystonia: dystonia, tremor, or both? Mov Disord 30(6):834–842

Shaikh AG, Wong AL, Zee DS, Jinnah HA (2013) Keeping your head on target. J Neurosci 33(27):11281–11295

Shaikh AG, Jinnah HA, Tripp RM, Optican LM, Ramat S, Lenz FA, Zee DS (2008) Irregularity distinguishes limb tremor in cervical dystonia from essential tremor. J Neurol Neurosurg Psychiatry 79(2):187–189
Ethics declarations
Conflict of interest
The author has no conflict of interest.
Electronic supplementary material
Below is the link to the electronic supplementary material.
About this article
Cite this article
Shaikh, A.G. Tremor analysis separates Parkinson's disease and dopamine receptor blockers induced parkinsonism. Neurol Sci 38, 855–863 (2017). https://doi.org/10.1007/s10072-017-2852-6
Received:

Accepted:

Published:

Issue Date:

DOI: https://doi.org/10.1007/s10072-017-2852-6
Keywords