This is a preview of subscription content, log in to check access.
Access options
Buy single article
Instant access to the full article PDF.
US$ 39.95
Price includes VAT for USA
Subscribe to journal
Immediate online access to all issues from 2019. Subscription will auto renew annually.
US$ 99
This is the net price. Taxes to be calculated in checkout.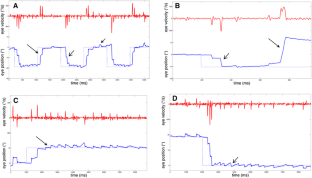 References
1.

Mignarri A, Vinciguerra C, Giorgio A, Ferdinandusse S, Waterham H, Wanders R, Bertini E, Dotti MT, Federico A (2012) Zellweger spectrum disorder with mild phenotype caused by PEX2 gene mutations. JIMD Rep 6:43–46

2.

Noguer MT, Martinez M (2010) Visual follow-up in peroxisomal disorders patients treated with docosahexaenoic acid ethyl ester. Invest Ophthalmol Vis Sci 51(4):2277–2285

3.

Kori AA, Robin NH, Jacobs JB, Erchul DM, Zaidat OO, Remler BF, Averbuch-Heller L, Dell'Osso LF, Leigh RJ, Zinn AB (1998) Pendular nystagmus in patients with peroxisomal assembly disorders. Arch Neurol 55:554–558

4.

Leigh RJ, Zee DS (2015) The neurology of eye movements, 5th edn. Oxford University Press, New York

5.

Rosini F, Federighi P, Pretegiani E, Piu P, Leigh RJ, Serra A, Federico A, Rufa A (2013) Ocular-motor profile and effects of memantine in a familiar form of adult cerebellar ataxia with slow saccades and square wave saccadic intrusions. PLoS One 8:e69522
Ethics declarations
Conflict of interest
The authors declare that they have no conflict of interest.
Ethical standard
Patient's anonymity was protected in this case report.
About this article
Cite this article
Rosini, F., Vinciguerra, C., Mignarri, A. et al. Eye movement abnormalities in a patient with Zellweger spectrum disorder. Neurol Sci 37, 1013–1015 (2016). https://doi.org/10.1007/s10072-016-2499-8
Received:

Accepted:

Published:

Issue Date:
Keywords
Zellweger spectrum disorders

Peroxisomal diseases

Eye movement abnormalities

Gaze-evoked nystagmus