Abstract
Raynaud's phenomenon (RP), an episodic vasospasm of the peripheral arteries, is quite common in general population. The current therapies of RP are limited by efficacy, side effects, and polypharmacy concerns. Botulinum toxin type A (BTX-A) local injections have been reported for the treatment of RP, but the injection sites, concentration and dose of BTX-A were different from each other in previous trials. In addition, so far, there have been no reports concerning local injection of BTX-A in Asian RP patients. Ten patients with RP in China were included in this retrospective study. All the patients had intractable pain and were non-responsive to conservative and/or medical therapy. A patterned BTX-A injection was performed in RP patients, guided by ultrasonography. BTX-A was injected as 20 u/ml devoid of preservatives. Outcomes were measured by ultrasonography, surface temperature, visual analog scale (VAS) for clinical symptoms (pain, numbness, stiffness and swelling), and changes in ulcers or gangrene. Overall, a great improvement in artery flow velocity (P < 0.01), surface temperature (P < 0.01), ulcer and VAS for clinical symptoms, was observed after BTX-A local injection. Complications were very rarely found, and no patients complained of hand weakness and bruise. BTX-A patterned injection guided by ultrasonography might be a useful therapeutic tool in the management of intractable RP.
Access options
Buy single article
Instant access to the full article PDF.
USD 39.95
Price includes VAT (USA)
Tax calculation will be finalised during checkout.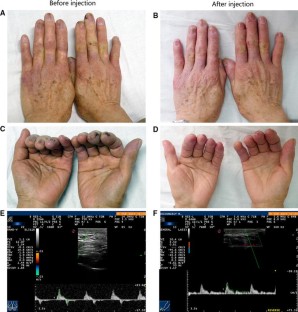 References
1.

Goundry B, Bell L, Langtree M, Moorthy A (2012) Diagnosis and management of Raynaud's phenomenon. BMJ 344:e289

2.

Garcia-Carrasco M, Jimenez-Hernandez M, Escarcega RO, Mendoza-Pinto C, Pardo-Santos R, Levy R, Maldonado CG, Chavez GP, Cervera R (2008) Treatment of Raynaud's phenomenon. Autoimmun Rev 8(1):62–68

3.

Carpentier PH, Satger B, Poensin D, Maricq HR (2006) Incidence and natural history of Raynaud phenomenon: a long-term follow-up (14 years) of a random sample from the general population. J Vasc Surg 44(5):1023–1028

4.

Devulder J, van Suijlekom H, van Dongen R, Diwan S, Mekhail N, van Kleef M, Huygen F (2011) Ischemic pain in the extremities and Raynaud's phenomenon. Pain Pract 11(5):483–491

5.

Levien TL (2010) Advances in the treatment of Raynaud's phenomenon. Vasc Health Risk Manage 6:167–177

6.

Vaya A, Alis R, Romagnoli M, Todoli J, Calvo J, Ricart JM (2013) Hemorheological profile in primary and secondary Raynaud's phenomenon. influence of microangiopathy. Clin Hemorheol Microcirc 56(3):259–264

7.

Vaya A, Sanchez F, Todoli J, Calvo J, Alis R, Collado S, Ricart JM (2014) Homocysteine levels in patients with primary and secondary Raynaud's phenomenon. Its association with microangiopathy severity. Clin Hemorheol Microcirc 56(2):153–159

8.

Mannava S, Plate JF, Stone AV, Smith TL, Smith BP, Koman LA, Tuohy CJ (2011) Recent advances for the management of Raynaud phenomenon using botulinum neurotoxin A. J Hand Surg 36(10):1708–1710

9.

Trindade De Almeida AR, Secco LC, Carruthers A (2011) Handling botulinum toxins: an updated literature review. Dermatol Surg 37(11):1553–1565

10.

Jin L, Kollewe K, Krampfl K, Dengler R, Mohammadi B (2009) Treatment of phantom limb pain with botulinum toxin type A. Pain Med 10(2):300–303

11.

Jensen TS, Madsen CS, Finnerup NB (2009) Pharmacology and treatment of neuropathic pains. Curr Opin Neurol 22(5):467–474

12.

Bertram K, Sirisena D, Cowey M, Hill A, Williams DR (2013) Safety and efficacy of botulinum toxin in primary orthostatic tremor. J Clin Neurosci 20(11):1503–1505

13.

Sycha T, Graninger M, Auff E, Schnider P (2004) Botulinum toxin in the treatment of Raynaud's phenomenon: a pilot study. Eur J Clin Invest 34(4):312–313

14.

Iorio ML, Masden DL, Higgins JP (2012) Botulinum toxin A treatment of Raynaud's phenomenon: a review. Semin Arthritis Rheum 41(4):599–603

15.

Flatt AE (1980) Digital artery sympathectomy. J Hand Surg 5(6):550–556

16.

Balogh B, Mayer W, Vesely M, Mayer S, Partsch H, Piza-Katzer H (2002) Adventitial stripping of the radial and ulnar arteries in Raynaud's disease. J Hand Surg 27(6):1073–1080

17.

Ward WA, Van Moore A (1995) Management of finger ulcers in scleroderma. J Hand Surg 20(5):868–872

18.

Yee AM, Hotchkiss RN, Paget SA (1998) Adventitial stripping: a digit saving procedure in refractory Raynaud's phenomenon. J Rheumatol 25(2):269–276

19.

Wheeler A, Smith HS (2013) Botulinum toxins: mechanisms of action, antinociception and clinical applications. Toxicology 306:124–146

20.

Van Beek AL, Lim PK, Gear AJ, Pritzker MR (2007) Management of vasospastic disorders with botulinum toxin A. Plast Reconstr Surg 119(1):217–226

21.

Fregene A, Ditmars D, Siddiqui A (2009) Botulinum toxin type A: a treatment option for digital ischemia in patients with Raynaud's phenomenon. J Hand Surg 34(3):446–452

22.

Neumeister MW (2010) Botulinum toxin type A in the treatment of Raynaud's phenomenon. J Hand Surg 35(12):2085–2092

23.

Neumeister MW, Chambers CB, Herron MS, Webb K, Wietfeldt J, Gillespie JN, Bueno RA Jr, Cooney CM (2009) Botox therapy for ischemic digits. Plast Reconstr Surg 124(1):191–201

24.

Setler PE (2002) Therapeutic use of botulinum toxins: background and history. Clin J Pain 18(6 Suppl):S119–S124

25.

Flavahan NA, Vanhoutte PM (1986) Effect of cooling on alpha-1 and alpha-2 adrenergic responses in canine saphenous and femoral veins. J Pharmacol Exp Ther 238(1):139–147

26.

Jinsi-Parimoo A, Deth RC (1997) Reconstitution of alpha2D-adrenergic receptor coupling to phospholipase D in a PC12 cell lysate. J Biol Chem 272(23):14556–14561
Acknowledgments
The authors sincerely thank the patients for their help and willingness to participate in this study. The work was supported by "Fundamental Research Funds for Central Universities" (No: 1508219065) and "National Natural Science Foundation of China" (No: 81470582). We thank Dr. Qianglin Duan for critical review of this manuscript.
Conflict of interest
The authors declare that there is no financial or other conflict of interest in relation to this research and its publication.
About this article
Cite this article
Zhang, X., Hu, Y., Nie, Z. et al. Treatment of Raynaud's phenomenon with botulinum toxin type A. Neurol Sci 36, 1225–1231 (2015). https://doi.org/10.1007/s10072-015-2084-6
Received:

Accepted:

Published:

Issue Date:
Keywords
Botulinum toxin

Raynaud's phenomenon

Ultrasonography

Therapy