Abstract
Alzheimer's disease (AD) is a progressive neurological disorder that mostly affects the elderly population. Learning and memory impairment as the most characteristic manifestation of dementia could be induced chemically by scopolamine, a cholinergic antagonist. Cholinergic neurotransmission mediated brain oxidative stress. Citrus aurantium (CA) has traditionally been used for the treatment of insomnia, anxiety and epilepsy. The present study was designed to investigate the effect of Citrus aurantium on scopolamine-induced learning and memory deficit in rats. Forty-two Wistar rats were divided into six equal groups. (1) Control (received saline), (2) SCOP (scopolamine at a dose of 1 mg/kg for 15 days), (3) and (4) SCOP + CA (scopolamine and CA extract at doses of 300 and 600 mg/kg per day for 15 days), (5) and (6) intact groups (CA extract at 300 and 600 mg/kg per day for 15 days, respectively). Administration of CA flower extract significantly restored memory and learning impairments induced by scopolamine in the passive avoidance test and also reduced escape latency during trial sessions in the Morris water maze test. Citrus aurantium flower extract significantly decreased the serum malondialdehyde (MDA) levels. Citrus aurantium flower extract has repairing effects on memory and behavioral disorders produced by scopolamine and may have beneficial effects in the treatment of AD.
Access options
Buy single article
Instant access to the full article PDF.
USD 39.95
Price includes VAT (USA)
Tax calculation will be finalised during checkout.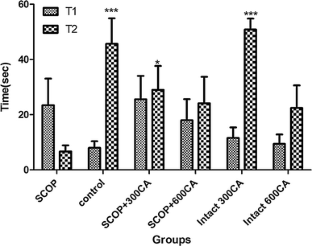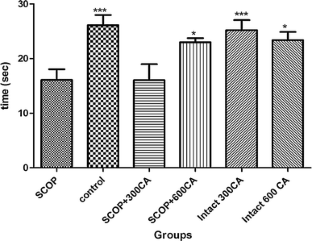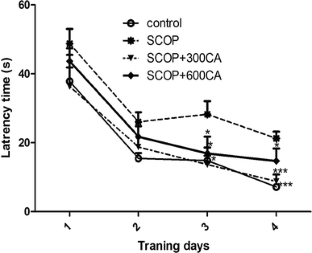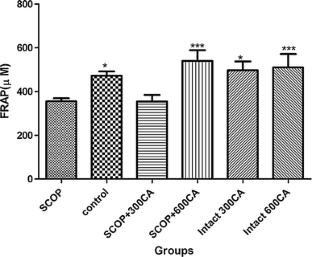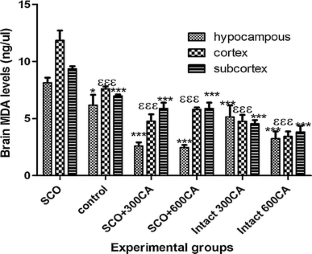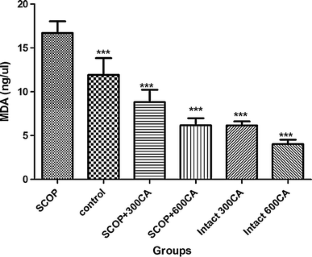 References
1.

Parihar MS, Hemnani T (2004) Alzheimer's disease pathogenesis and therapeutic interventions. J Clin Neurosci 11(5):456–467

2.

Nie K, Yu J-C, Fu Y, Cheng H-Y, Chen F-Y, Qu Y et al (2009) Age-related decrease in constructive activation of Akt/PKB in SAMP10 hippocampus. Biochem Biophys Res 378(1):103–107

3.

Small G, Bullock R (2011) Defining optimal treatment with cholinesterase inhibitors in Alzheimer's disease. Alzheimers Dement 7(2):177–184

4.

Rezvani AH, Cauley M, Sexton H, Xiao Y, Brown ML, Paige MA et al (2011) Sazetidine-A, a selective α4β2 nicotinic acetylcholine receptor ligand: effects on dizocilpine and scopolamine-induced attentional impairments in female Sprague-Dawley rats. Psychopharmacology 215(4):621–630

5.

Hashimoto M, Hashimoto T, Kuriyama K (1991) Protective effect of WEB 1881 FU on AF64A (ethylcholine aziridinium ion)-induced impairment of hippocampal cholinergic neurons and learning acquisition. Eur J Pharmacol 209(1):9–14

6.

Kvaltinova Z, Juranek I, Machova J, Stolc S (1993) Effect of oxidative stress on (3H) N-methylscopolamine binding and production of thiobarbituric acid reactive substances in rat cerebral cortex membranes. Gen Physiol Biophys 12:155–164

7.

Vasco VRL (2012) Phosphoinositide pathway and the signal transduction network in neural development. J Neurosci Res 28(6):789–800

8.

Floyd RA, Hensley K (2002) Oxidative stress in brain aging: implications for therapeutics of neurodegenerative diseases. Neurobiol Aging 23(5):795–807

9.

Zhang Z-J (2004) Therapeutic effects of herbal extracts and constituents in animal models of psychiatric disorders. Life Sci 75(14):1659–1699

10.

Akhlaghi M, Shabanian G, Rafieian-Kopaei M, Parvin N, Saadat M, Akhlaghi M (2011) Citrus aurantium blossom and preoperative anxiety. Rev Bras Anestesiol 61(6):702–712

11.

Pereira R, Andrades N, Paulino N, Sawaya A, Eberlin M, Marcucci M et al (2011) Synthesis and characterization of a metal complex containing naringin and Cu, and its antioxidant, antimicrobial, antiinflammatory and tumor cell cytotoxicity. Molecules 12(7):1352–1366

12.

Tundis R, Loizzo MR, Bonesi M, Menichini F, Mastellone V, Colica C et al (2012) Comparative study on the antioxidant capacity and cholinesterase inhibitory activity of Citrus aurantifolia swingle, C. aurantium L., and C. bergamia Risso and Poit. Peel essential oils. J Food Sci 77(1):40–46

13.

Jazayeri B, Amanlou A, Ghanadian N, Pasalar P, Amanlou M (2014) A preliminary investigation of anticholinesterase activity of some Iranian medicinal plants commonly used in traditional medicine. DARU J PharmSci 22:17

14.

Rabiei Z, Rafieian-kopaei M, Heidarian E, Saghaei E, Mokhtari S (2013) Effects of Zizyphus jujube extract on memory and learning impairment induced by bilateral electric lesions of the nucleus basalis of meynert in rat. Neurochem Res 36:1–8

15.

Morris R (1984) Developments of a water-maze procedure for studying spatial learning in the rat. J Neurosci Methods 11(1):47–60

16.

Ellman GL, Courtney KD, Featherstone RM (1961) A new and rapid colorimetric determination of acetylcholinesterase activity. Biochem Pharm 7(2):88–95

17.

Ballard CG, Greig NH, Guillozet-Bongaarts AL, Enz A, Darvesh S (2005) Cholinesterases: roles in the brain during health and disease. Curr Alzheimer Res 2(3):307–318

18.

Yamada N, Hattori A, Hayashi T, Nishikawa T, Fukuda H, Fujino T (2004) Improvement of scopolamine-induced memory impairment by Z-ajoene in the water maze in mice. Pharmacol Biochem Behav 78:787–791

19.

Lorenzini CA, Baldi E, Bucherelli C, Sacchetti B, Tassoni G (1996) Role of dorsal hippocampus in acquisition, consolidation and retrieval of rat's passive avoidance response: a tetrodotoxin functional inactivation study. Brain Res 730(1–2):32–39

20.

Nakajima A, Yamakuni T, Matsuzaki K, Nakata N, Onozuka H, Yokosuka A et al (2007) Nobiletin, a citrus flavonoid, reverses learning impairment associated with N-methyl-D-aspartate receptor antagonism by activation of extracellular signal-regulated kinase signaling. J Pharm Exp Ther 321(2):784–790

21.

Pereira R, Andrades N, Paulino N, Sawaya A, Eberlin M, Marcucci M et al (2007) Synthesis and characterization of a metal complex containing naringin and Cu, and its antioxidant, antimicrobial, antiinflammatory and tumor cell cytotoxicity. Molecules 12(7):1352–1366

22.

Carvalho-Freitas MIR, Costa M (2002) Anxiolytic and sedative effects of extracts and essential oil from Citrus aurantium L. Biol Pharm Bull 25(12):1629–1633

23.

Vazquez J, Baghdoyan HA (2003) Muscarinic and GABAA receptors modulate acetylcholine release in feline basal forebrain. Eur J Neurosci 17:249–259
Acknowledgments
This study was conducted with the assistance of Medical Plants Research Center of Shahrekord University of Medical Science and was approved by the Ethics Committee of Shahrekord University of Medical Sciences. Authors also would like to thank Research and Technology Deputy of Shahrekord University of Medical Sciences for their financial support.
About this article
Cite this article
Rahnama, S., Rabiei, Z., Alibabaei, Z. et al. Anti-amnesic activity of Citrus aurantium flowers extract against scopolamine-induced memory impairments in rats. Neurol Sci 36, 553–560 (2015). https://doi.org/10.1007/s10072-014-1991-2
Received:

Accepted:

Published:

Issue Date:
Keywords
Citrus aurantium

Memory impairment

Scopolamine

Alzheimer's disease

MDA

Shuttlebox