Abstract
Although cluster headache (CH) is the most disabling form of primary headache, little evidences regarding alternative and complementary therapies are available. Only few dated studies and some isolated cases are described. We describe four patients with CH treated with acupuncture as a preventive treatment, combined with verapamil or alone. All patients received acupuncture treatment twice/week for 2 weeks, then once/week for 8 weeks, and then once/alternate weeks for 2 weeks. According to Traditional Chinese Medicine the acupoints selected were: Ex HN-5 Taiyang, GB 14 Yangbai (both only on the affected side), GB 20 Fengchi (on both sides), LI 4 Hegu, LR 2 Xingjiang, SP 6 Sanyinjiao, ST 36 Zusanli (all on both sides). At each point, after the insertion of the needle, the feeling of "De Qi" was evoked; after obtaining this sensation the acupoints were not further stimulated for a period of 20 min, until their extraction. In all patients an interruption of cluster attacks was obtained. To our knowledge, this is the first report concerning acupuncture in CH patients which details the protocol approach, acupoints and duration of the treatment. Our results offer the opportunity to discuss the emerging role of acupuncture in the therapy of CH, assuming a possible influence on opioid system.
Access options
Buy single article
Instant access to the full article PDF.
US$ 39.95
Tax calculation will be finalised during checkout.
Subscribe to journal
Immediate online access to all issues from 2019. Subscription will auto renew annually.
US$ 79
Tax calculation will be finalised during checkout.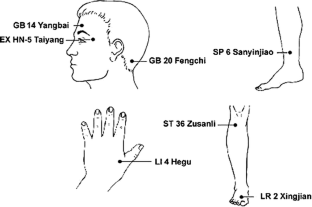 References
1.

Jensen RM, Lyngberg A, Jensen RH (2007) Burden of cluster headache. Cephalalgia 27:535–541

2.

Headache Classification Committee of the International Headache Society (IHS) (2013) The international classification of headache disorders, 3rd ed. Cephalalgia 33:629–808

3.

Bilchik TR (2004) A review of nonvalidated and complementary therapies for cluster headache. Curr Pain Headache Rep 8:157–161

4.

Dodick DW, Rozen TD, Goadsby PJ, Silberstein SD (2000) Cluster headache. Cephalalgia 20:787–803

5.

May A, Leone M, Afra J, Linde M, Sándor PS, Evers S, Goadsby PJ, Task Force EFNS (2006) EFNS guidelines on the treatment of cluster headache and other trigeminal-autonomic cephalalgias. Eur J Neurol 13:1066–1077

6.

Sewell RA, Halpern JH, Pope HG Jr (2006) Response of cluster headache to psilocybin and LSD. Neurology 66:1920–1922

7.

Gwan KH (1977) Treatment of cluster headache by acupuncture. Am J Chin Med 5:91–94

8.

Thoresen A (1998) Alternative therapy of cluster headache. Tidsskr Nor Laegeforen 118:3508

9.

Cheng AC (1975) The treatment of headaches employing acupuncture. Am J Chin Med 3:181–185

10.

Ernst E (2000) Prevalence of use of complementary/alternative medicine: a systematic review. Bull World Health Organ 78:252–257

11.

Fisher P, Ward A (1994) Complementary medicine in Europe. BMJ 309:107–111

12.

Woollam CHM, Jackson AO (1998) Acupuncture in the management of chronic pain. Anaesthesia 53:589–603

13.

Linde K, Allais G, Brinkhaus B, Manheimer E, Vickers A, White AR (2009) Acupuncture for migraine prophylaxis. Cochrane Database Syst Rev 21:CD001218

14.

Vickers A, Rees R, Zollman C, Smith C, Ellis N (1999) Acupuncture for migraine and headache in primary care: a protocol for a pragmatic, randomized trial. Complement Ther Med 7:3–18

15.

Jena S, Witt CM, Brinkhaus B, Wegscheider K, Willich SN (2008) Acupuncture in patients with headache. Cephalalgia 28:969–979

16.

Melchart D, Weidenhammer W, Streng A, Hoppe A, Pfaffenrath V, Linde K (2006) Acupuncture for chronic headaches: an epidemiological study. Headache 46:632–641

17.

Sjolund B, Terenius L, Ericsson M (1977) Increased cerebrospinal fluid levels of endorphins after electro-acupuncture. Acta Physiol Scand 100:382–384

18.

Han JS (2003) Acupuncture: neuropeptide release produced by electrical stimulation of different frequencies. Trends Neurosci 26:17–22

19.

Bing Z, Villanueva L, Le Bars D (1991) Acupuncture-evoked responses of subnucleus reticularis dorsalis neurons in the rat medulla. Neuroscience 44:693–703

20.

Le Bars D, Dickenson AH, Besson JM (1979) Diffuse noxious inhibitory control (DNIC): effects on dorsal hom convergent neurones in the rat. Pain 6:283–304

21.

Hardebo JE, Ekman R, Eriksson M (1989) Low CSF met-enkephalin levels in cluster headache are elevated by acupuncture. Headache 29:494–497

22.

Leone M, Sacerdote P, D'Amico D, Panerai AE, Bussone G (1993) Beta-endorphin levels are reduced in peripheral blood mononuclear cells of cluster headache patients. Cephalalgia 13:413–416
Conflict of interest
All the authors certify that there is no actual or potential conflict of interest in relation to this article.
About this article
Cite this article
Fofi, L., Allais, G., Quirico, P.E. et al. Acupuncture in cluster headache: four cases and review of the literature. Neurol Sci 35, 195–198 (2014). https://doi.org/10.1007/s10072-014-1769-6
Keywords
Acupoints

Acupuncture

Cluster headache

Preventive treatment