Abstract
Autosomal recessive spastic ataxia of Charlevoix–Saguenay (ARSACS) is a rare neurodegenerative disorder characterized by ataxia, spastic paraparesis, polyneuropathy, and evidence of superior cerebellar vermis atrophy at magnetic resonance imaging (MRI). Reports of atypical presentations and additional clinical or MRI findings have been recently published, but psychiatric disturbances have never been associated with ARSACS. We describe four ARSACS patients manifesting severe psychiatric symptoms including psychosis, panic disorder, and depression during the course of the disease. Our case reports further expand the ARSACS phenotype and add clinical data in favor of the hypothesized relationship between cerebellar dysfunction and psychiatric disorders.
This is a preview of subscription content, log in to check access.
Access options
Buy single article
Instant access to the full article PDF.
US$ 39.95
Price includes VAT for USA
Subscribe to journal
Immediate online access to all issues from 2019. Subscription will auto renew annually.
US$ 99
This is the net price. Taxes to be calculated in checkout.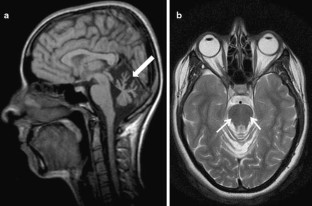 References
1.

Bouchard JP, Barbeau A, Bouchard R, Bouchard RW (1978) Autosomal recessive spastic ataxia of Charlevoix–Saguenay. Can J Neurol Sci 5:61–69

2.

Gazulla J, Benavente I, Vela AC, Marín MA, Pablo LE, Tessa A, Barrena MR, Santorelli FM, Nesti C, Modrego P, Tintoré M, Berciano J (2012) New findings in the ataxia of Charlevoix–Saguenay. J Neurol 259:869–878

3.

Synofzik M, Soehn AS, Gburek-Augustat J, Schicks J, Karle KN, Schüle R, Haack TB, Schöning M, Biskup S, Rudnik-Schöneborn S, Senderek J, Hoffmann KT, MacLeod P, Schwarz J, Bender B, Krüger S, Kreuz F, Bauer P, Schöls L (2013) Autosomal recessive spastic ataxia of Charlevoix–Saguenay (ARSACS): expanding the genetic, clinical and imaging spectrum. Orphanet J Rare Dis 8:41

4.

Duquette A, Brais B, Bouchard JP, Mathieu J (2013) Clinical presentation and early evolution of spastic ataxia of Charlevoix–Saguenay. Mov Disord. doi:10.1002/mds.25604

5.

Verhoeven WM, Egger JI, Ahmed AI, Kremer BP, Vermeer S, van de Warrenburg BP (2012) Cerebellar cognitive affective syndrome and autosomal recessive spastic ataxia of Charlevoix–Saguenay: a report of two male sibs. Psychopathology 45:193–199

6.

Schmahmann JD, Weilburg JB, Sherman JC (2007) The neuropsychiatry of the cerebellum—insights from the clinic. Cerebellum 6:254–267

7.

Tavano A, Grasso R, Gagliardi C, Triulzi F, Bresolin N, Fabbro F, Borgatti R (2007) Disorders of cognitive and affective development in cerebellar malformations. Brain 130:2646–2660

8.

Stoodley CJ, Schmahmann JD (2010) Evidence for topographic organization in the cerebellum of motor control versus cognitive and affective processing. Cortex 46:831–844
About this article
Cite this article
Mignarri, A., Tessa, A., Carluccio, M.A. et al. Cerebellum and neuropsychiatric disorders: insights from ARSACS. Neurol Sci 35, 95–97 (2014). https://doi.org/10.1007/s10072-013-1592-5
Received:

Accepted:

Published:

Issue Date:
Keywords
ARSACS

Sacsin

Neuropsychiatric disorders

Cerebellum

Psychosis