Abstract
Most of causative mutations of the cerebral autosomal dominant arteriopathy with subcortical infarcts and leukoencephalopathy (CADASIL) are missense point mutations either creating or deleting one cysteine residue, inherited in a heterozygous state. Only few homozygous patients are reported to date and some of them showed phenotypic peculiarities. We here describe a CADASIL family in which a member showed homozygous mutation and compare its clinical profile with five subjects throughout three generation of the pedigree, carrying the same mutation in heterozygosity. The index patient was a 44-year-old Italian man, born from consanguineous parents (first cousins). Symptoms started at 23 years and progressing with recurrent ischemic stroke episode. Diffuse leukoencephalopathy and a severe cognitive impairment were evident, GOMs were detected in skin specimens and a homozygous p.Cys183Ser mutation of the NOTCH3 gene was found. Among the other five heterozygous relatives for the same mutation, both parents developed stroke in advanced age and all the others were clinically asymptomatic. We discuss these findings in relationship to previous data from the literature in CADASIL and in other dominant neurological disorders.
This is a preview of subscription content, log in to check access.
Access options
Buy single article
Instant access to the full article PDF.
US$ 39.95
Price includes VAT for USA
Subscribe to journal
Immediate online access to all issues from 2019. Subscription will auto renew annually.
US$ 99
This is the net price. Taxes to be calculated in checkout.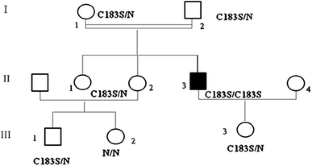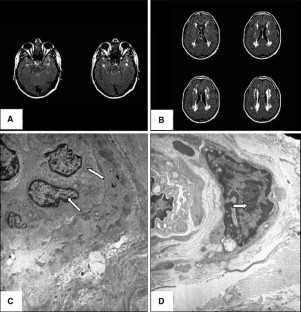 References
1.

Chabriat H, Joutel A, Dichgans M et al (2009) Cadasil. Lancet Neurol 8:643–653

2.

Federico A, Di Donato I, Bianchi S et al (2012) Hereditary cerebral small vessel diseases: a review. J Neurol Sci 322:25–30

3.

Liem MK, Oberstein SA, Vollebregt MJ et al (2008) Homozygosity for a Notch3 mutation in 65-year-old Cadasil patient with mild symptoms. J Neurol 255:1978–1980

4.

Soong BW, Liao YC, Tu PH et al (2013) A homozygous NOTCH3 mutation p. R544C and a heterozygous TREX1 variant p.C99MfsX3 in a family with hereditary small vessel disease of the brain. J Chin Med Assoc 76:319–324

5.

Tuominen S, Juvonen V, Amberla K et al (2001) Phenotype of homozygous CADASIL patient in comparison to 9 age-matched heterozygous patients with the same R133c Notch3 mutation. Stroke 32:1767–1774

6.

Takeda M, Cacabelos R, Kudo T et al (2011) Apolipoprotein E and neuro-psychiatric diseases. Seishin Shinkeigaku Zasshi 113:773–781

7.

Ragno M, Pianese L, Morroni M, et al (2013) CADASIL coma in an Italian homozygous CADASIL patient: comparison with clinical and MRI findings in age-matched heterozygous patients with the same G528C NOTCH3 mutation. Neurol Sci (in press)

8.

Squiteri F, Falleni A, Cannella M et al (2010) Abnormal morphology of peripheral cell tissues from patients with Huntington disease. J Neural Transm 117:77–83

9.

Sturtz FG, Latour P, Mocquard Y et al (1997) Clinical and electrophysiological phenotype of a homozygously duplicated Charcot-Marie-Tooth (type 1A) disease. Eur Neurol 38:26–30

10.

Al-Khedhairy AA, Bin-Dukhyil AA, Arfin MM et al (2005) Novel presenilin 1 mutation associated with early-onset Alzheimer's disease in a Saudi patient. Neurosciences 10:301–303
Acknowledgments
Research in part supported by a grant from Ministry of Health and Tuscany Region ("Evaluation of Notch3 mutations" 2009 and "Investigations on MCI". resolution n.78-01/03/1 1) to AF and a grant from the Ministry of University to MTD.
Conflict of interest
All authors declare no conflict of interest.
About this article
Cite this article
Vinciguerra, C., Rufa, A., Bianchi, S. et al. Homozygosity and severity of phenotypic presentation in a CADASIL family. Neurol Sci 35, 91–93 (2014). https://doi.org/10.1007/s10072-013-1580-9
Received:

Accepted:

Published:

Issue Date:
Keywords
CADASIL

Homozygosity

Early onset

GOMs